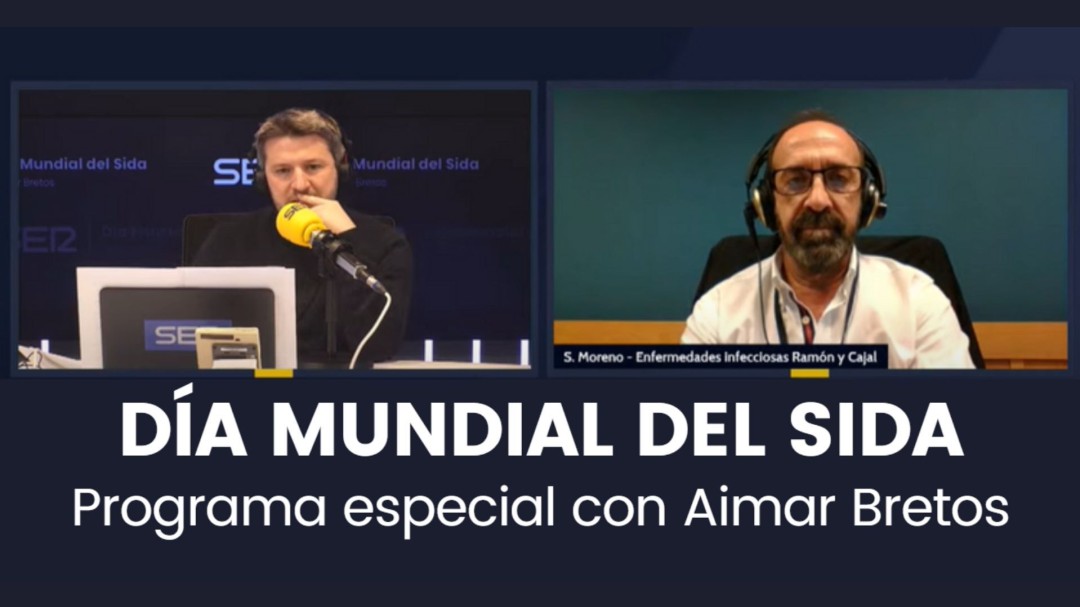 Forty years ago, the world faced another pandemic, the HIV pandemic. In the 1980s, getting infected was a death sentence. The virus gradually destroyed the immune system, until the patient could not live any longer. Today, you can have HIV and be sure that if you take the medication you will not die of AIDS. Problem solved? No, far from it. The research continues because there is no vaccine, because there are many people who have HIV and do not know it; and because they are still looking for a way not to live medicated for life. This Wednesday is World AIDS Day, a day in which those who were infected with HIV celebrate that they can have a normal life and a day in which researchers take stock of where they are. Special directed by Aimar Bretos in all the social networks of Cadena SER: YouTube, Facebook, Twitter and Twitch.
They have chatted with Aimar Bretos:
Santiago Moreno, Head of the Infectious Diseases Service at the Ramón y Cajal Hospital.

Eva Poveda, researcher at the Galician Health Service and coordinator of the Virology and Pathogenesis Group at the Galicia Sur Health Research Institute.

José Ignacio Bernardino, Associate Physician of the HIV Unit of the La Paz University Hospital.
Difference HIV and AIDS
Santiago Moreno: "HIV is the virus that causes AIDS disease, just as SARSCOV-2 is the virus that causes COVID-19."
"The vast majority of the damage that HIV causes is that it slowly destroys the cells that defend our bodies."
Eva Poveda: "In most cases, HIV cannot be cured, it is a chronic infection that is controlled and can be treated with retrovirals. There are cases of cure but with risky transplant treatments that are not scalable to the entire population."
"In the end we will have a vaccine against HIV"
Santiago Moreno: "HIV is very different from SARSCOV-2, in their genetic material is the rna, that is, they are capable of mutating. The mutation rate of HIV is in the hundreds of thousands a month, so it is feasible to have a vaccine. Furthermore, it is not yet well understood what is important when it comes to protecting with the vaccine. there have been many trials but they have all failed. "
"I am convinced that in the end we will have a vaccine against HIV, Moderna is investigating, for example, it would be to prevent infection".
Jose Ignacio Bernardino: "There are already people who have been cured of HIV, with bone marrow transplants it is possible to eliminate the virus, but today there is no way to know where these cells are with the virus: it is integrated into cells of the immune system, and that is one of the main problems for not being able to cure the HIV virus for now ".
Eva Poveda: "Today HIV patients live with one pill a day. It was a milestone."
José Ignacio Bernardino: "The problem of the sick is that they continue to live with a tremendous stigma, the daily pill has an important emotional charge".
"HIV treatment is 100% effective"
Santiago Moreno: "No one in the world who follows retroviral treatment, whatever the practice, has transmitted HIV. In the case of HIV, the treatment is 100% effective."
"In two weeks after a patient stops retroviral treatment, the infection can reappear."
José Ignacio Bernardino: "The late diagnosis of HIV is at 44%. The challenge is to avoid complications towards AIDS".
"The vast majority of infected people are asymptomatic or have a cold, a flu-like illness. We should all get tested for HIV."
Santiago Moreno: "In 2022 the long-awaited vaccine will not arrive but we will start with long-term treatments: you will be able to choose between a pill a day or injections every two months. The dispensing of this injection will be hospitalized for now because it needs to be stored cold and will be covered for Social Security ".
Eva Poveda: "Everyone is susceptible to HIV infection. Today the main route of transmission is sexual, the data say that in relationships between men and men and the average age of infected people is 36 to 40 years."
Santiago Moreno: "There is a preventive treatment (PrEP) for people who are exposed to the risk of HIV infection: one pill before intercourse and two pills afterwards. It is a complementary measure to treatment with retrovirals … and if the risk is raised, the condom always ahead ".
"The research budget is insufficient"
Santiago Moreno: "45 research groups worked on AIDS, very powerful people: they gave us 1.2 million in recent years; in France they gave the group of a friend of mine 20 million euros per year. Research in Spain is tremendously poorly funded, and the AIDS does not escape that reality. "
Jose Ignacio Bernardino: "The budget is insufficient compared to what is done in other countries."
Eva Poveda: "It is something that is suffered every day. Lack of funding is a classic. And after the year and a half that we have lived, knowing that it is important to have solid research groups … Despite that, the work of Research is of the highest quality thanks to the efforts of many researchers.
Jose Ignacio Bernardino: "We need to fight against the stigma of the HIV infection disease. It is the pending issue as a society."
Eva Poveda: "Scientific advances have been extraordinary but they have not been accompanied by advances in society. The stigma is totally unacceptable and we must move forward, because that stigma is a bar for the diagnosis. Undetectable = untransmissible."
Santiago Moreno: "There is little progress at the social level, but now people with HIV can already apply for positions that a few years ago they could not. It continues to be a frowned upon disease and unjustified today."



cadenaser.com