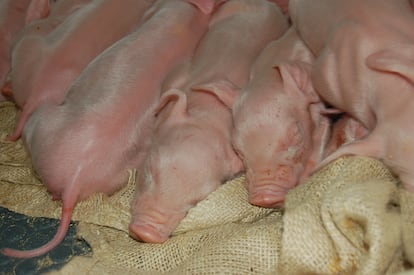 With almost 11.4 million head in 2021, the pig herd is of great economic importance for the Netherlands. In a densely populated land, however, intensive exploitation carries risks to health and the environment, and the sector faces a double problem: it must reduce its polluting emissions and become sustainable. Since 2019, the Dutch Ministry of Agriculture has subsidized the voluntary closure of farms of various sizes near populated areas to avoid the nuisance of odors. For its part, the new center-right government, which it plans to present to its ministers on January 10, includes a Ministry of Nature and Nitrogen, in charge of reducing emissions from the entire national livestock sector. Nitrates, derived from nitrogen, can contaminate soils through agricultural fertilizers or animal excrement.
Pig farms have been reducing their numbers in recent years due to the retirements of their owners, closures due to odor and increased demands for sustainability. In 2000 there were 14,520, while in 2020 the figure was 3,600. However, there has been a greater concentration of animals in each one: if in 2011 there were 1,900 pigs per farm, in 2021 there were 3,400, according to official statistics. The number of heads has remained stable in the last decade, with about 12 million animals in a country of 17.4 million inhabitants. For comparison, in Spain (47 million inhabitants), where macro-farms are stirring up many towns in empty Spain, the figure has gone from about 25 million animals in 2011 to more than 32 million in 2020, according to the Ministry of Agriculture Spanish.
From a technical point of view, in the Netherlands a macro-farm is understood as having more than 7,500 piglets reared for meat, or more than 1,200 breeding sows. The odor, mainly due to ammonia, can reach houses a kilometer away and is especially noticeable in the southern and eastern regions. 83% of these companies are concentrated there nationwide. "The smells are easy to explain: pigs don't go outside like cows. They fulfill their life cycle in the spaces where they are housed, and manure is usually stored [como medio líquido o semisólido] underneath the animals themselves generating gases ", says, on the phone, Frederieke Schouten, veterinarian and director of the Dutch NGO Varkens in Nood (pigs in distress).
In addition to the characteristic odor, the expert adds that these confinement conditions can damage the respiratory system of animals. "There are ventilation systems that blow the air out, but they make the situation worse for the pigs because everything is closed and toxic gases accumulate inside. The new government talks about a circular economy and the reduction of gases such as nitrogen. You have to see the effect that this has on the limitation of the livestock sector as a whole requested by the people ", he says. He also points out that by 2030 a thousand pig farms are expected to remain, "a trend that should stop because some colleagues separate others from the business due to the need to grow." In his opinion, the risk to animals increases as livestock increases, because "pigs need to be outdoors for their health and well-being."
The Agriculture plan to combat the smell of pig farms contemplates the permanent closure as well as the dismantling of the facilities whose owners are willing to do so for this reason. According to the letter sent to Congress in June 2021 by Carola Schouten, minister of the branch who does not repeat in the position in the new Cabinet, at that time 430 requests for compensation had been approved. Once confirmed, the business owner had eight weeks to sign the agreement to end the breeding. It also promised not to reopen a similar firm.
Information is the first tool against climate change. Subscribe to it.
Subscribe
"In practice, we have seen that they needed more time to make a considered decision, and although the term was extended, in the end only 278 signed," the note continues. Ministerial spokesmen add that if the 278 farms close, this will mean for the farmer "a reduction of 580,477 pig production rights, which does not exactly equal the number of animals on each farm," they point out. Each animal has a different category due to its impact on the environment, whether they are pregnant females, pigs for meat or piglets.
In the same note, Minister Schouten explains that she had reserved 430 million euros to implement this plan, "but as fewer farmers have signed up, the final amount remains at 277 million." For those who opt for the sustainable transition, prevention is required "at the source of emissions of ammonia, methane, odor and suspended particles". To achieve this, they can benefit from a grant that has a total budget of 172 million euros. The project will go ahead in 2022.
Return the space to nature
The Organization of Pig Producers (POV, in its Dutch acronym) says that the agreement of the government coalition indicates that "many farms – between 20% and 30% – will be bought in the next 14 years to return that space to nature, dedicate it to the construction of houses or to agriculture ". "It is not known at this time what effect it will have on pig farming apart from the voluntary closures," their spokesmen say.
The program, developed by the sector itself to be more sustainable, presents several challenges. Among them, caring for the environment, being at the center of a circular economy, contributing to the energy transition and raising healthy animals on farms that respect their well-being. In the organization they add that the pig farmers that close "tend to be older and retire. Some open a different business, for example transport, and others go to agricultural companies ". They conclude by pointing out that the plans announced in the government pact "promise an economic improvement, and within POV we have many questions about how it will achieve this. In our opinion, there will be room for large and small farms in the country ".
About 1.5 million piglets are exported to Spain from the Netherlands per year. Veterinarian Schouten points out that "Dutch farmers are concerned that their piglets will not be welcomed in Spain given that local production continues to grow there."
The adaptation of the livestock production model also occupies the Spanish Government. This December, the Minister of Consumption, Alberto Garzón, pointed out that "intensive livestock is not a sustainable system, it pollutes and does not generate employment, and has to be replaced by extensive livestock, which does protect the environment." Two months earlier, a report by Ecologistas en Acción compared hundreds of municipalities with fewer than 5,000 inhabitants far from a big city and with intensive pig farms, with others with a similar population without these farms. According to their conclusions, "there is no positive relationship between industrial pig farming and the fight against depopulation." For its part, the employers' association Interporc, which groups together the Spanish pig sector, points out that the more than 86,000 pig farms present in Spain employ 400,000 families, either directly or indirectly, most of them in rural areas.
You can follow CLIMA AND ENVIRONMENT at Facebook Y Twitter, or sign up here to receive our weekly newsletter



elpais.com
George Holan is chief editor at Plainsmen Post and has articles published in many notable publications in the last decade.