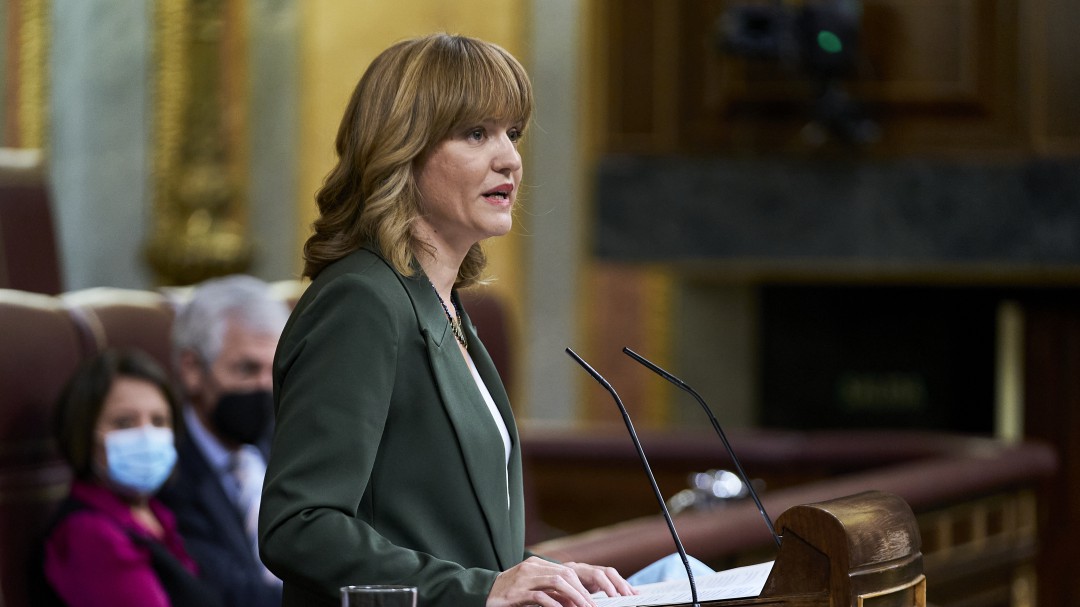 Today Congress has given the green light to the new Vocational Training law. A text created by Isabel Celaá, but which is now being carried out by Pilar Alegría. The new law aims to resize the Spanish labor market because 48% of the workforce, some 11 million Spaniards, do not have their professional skills recognized. For example, in Germany dual vocational training is close to 60% while in Spain it barely exceeds 4%. Thus, Spain seeks to solve the deficit of workers with intermediate training because, according to the Executive, in a few years 49% of workers with this type of qualification will be needed. About all this and more we asked Pilar Alegría in Hour 25.
The departure from Castells
Tomorrow the president will make a statement on the matter.
Lack of consensus with the FP law
It is a widely demanded law and, therefore, I think it is magnificent news that so many parliamentary groups have approved it and only one has decided to get out of that consensus. I would not like to give prominence to the PP because it does not deserve it.
A few weeks ago when the presentation was voted, it came out without any vote against. The party will have to explain why it is voting against a law that aims to improve the training of its workers and improve the competitiveness of its companies. It is a law that has been born of a very broad consensus. We have worked for consensus, since we started working on this law. Almost half of the amendments have been accepted and the will for consensus was clear. When an objective is shared, agreement and consensus are possible and today the only one that has wanted to turn its back on it has been the PP
VET in Spain
In the year 2030 we will need 50% of medium technicians. Within the technology sector, more than 300,000 new jobs, new profiles are being demanded of us and we want to respond to that demand.
One of the keys to the success of this law is that all VET is dual. A part of their training will have to be done in companies. There is a general VET and an intensive VET and the latter, at least 35%, will be carried out in companies and will also have a contract combined. This push towards this dual character has been one of the main novelties. The coalition or union of several SMEs that work in various fields is made possible.
The public demonstrations of CEOE, Cepyme and others about this have been supportive. We have exchanged several calls and they have told me that they continue to support this law, their most absolute support and asking that it be put into effect as soon as possible. We have not investigated more, but the surprise of the change of vote of the PP today has been strange for everyone. They are the ones who will have to explain the change in vote and it is still a shame that for this country a party that claims to be a State party has not been able to understand the importance of supporting this law. Today is the first step, now it goes to the Senate and it will return to Congress. There are still a few months ahead and I hope the PP reflects and is able to join the consensus, the dialogue that has been manifested today in Congress.
The offer of places of any training is a competence that the CCAA have. From there, we have been very aware of the increase in demand among young people and, seeing this increase, the Government has supported the approval of more places to distribute them in the different communities.
The case of Canet de Mar
Without any doubt, it condemns and rejects any type of threat or harassment of any minor child. I believe that the administrations and the different political parties have an absolute responsibility not to involve the school in political confrontations. You have to be very careful and protect the welfare of minors and guarantee coexistence. We are called all public administrations. At the moment that 25% is being applied in that classroom where this girl is studying. I have spoken with many people to be informed of what was happening in Canet de Mar.
I perform and speak on a daily basis with all counselors. Two or three days ago I spoke with the one from Madrid. When I learned about Canet's situation, I called the counselor to convey to him the collaboration of the Government in enforcing the law.
We have the responsibility to take care of coexistence and above all to protect minors.
Spanish classes in Catalonia and Aragonese ads
The language immersion program in Catalonia has had a successful model for a long time. It is a model that has reasonably worked and can be improved, but in order to do so it has to start from the same premise: that there is a broad consensus. When we approved the new Education Law we made it clear: that those children who are educated in autonomous communities with co-official languages ​​have the same competences as in other communities. That is the main challenge and objective. We can hardly reach consensus if we use the tongue as a throwing weapon.
I don't know how this ad is going to be executed. The autonomous communities obviously have powers, but I do not know how they are going to implement this type of measure that we have just heard.
Judicial sentences are carried out. There is no debate about it. At this time, the TSJC has transferred or will transfer a final judgment and the Generalitat must comply. I hope that the Generalitat acts responsibly. I have to respect the times of Justice, but the sentences have to be fulfilled. That is so and there is no further debate. The organic laws have been approved by an absolute majority and are mandatory for all administrations and I hope that the Generalitat will act responsibly.
COVID in the classroom
The percentage of confined classrooms is lower this week, but obviously we are learning about this increase in cases in the same way that, as you know, since yesterday we started vaccinating the little ones and the response is going to be very positive. Logically it corresponds to us to continue in that policy of care. We are going to continue and above all do it well to prevent education from continuing to be face-to-face.
The possible return of the emeritus
I do not know it completely.



cadenaser.com
George Holan is chief editor at Plainsmen Post and has articles published in many notable publications in the last decade.