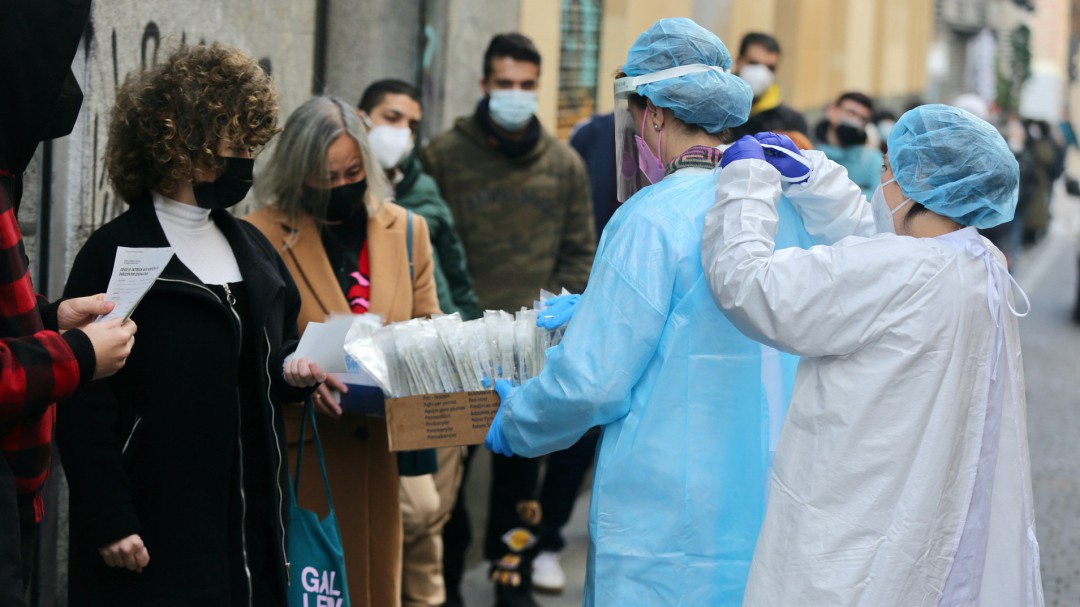 With the accumulated incidence of COVID-19 in Spain above 600 cases per 100,000 inhabitants after the rise of almost 100 points this weekend and the increase in the omicron variant, which already accounts for 47% of new cases , Spain arrives at the Conference of Presidents to be held this Wednesday in a situation of extreme risk due to the pandemic.
For this reason, the Government is considering several measures that could be proposed in the Conference of Presidents and in the meeting of the Public Health Commission this Tuesday, as recognized in a draft entitled 'Proposal of public health measures against COVID -19 for the celebration of the Christmas holidays 2021-2022 'to which Cadena SER has had access.
The document explains that the moment of "increasing incidence of COVID-19" and the "increase in primary care and hospital occupation" make it necessary "to modify some customs to guarantee security and control of the pandemic." These measures would be taken to have the "least possible impact on the holidays" and "prioritizing those measures that have proven to be effective."
Limit meeting attendees at Christmas
One of the measures being considered is to limit the maximum number of people present at Christmas gatherings, as proposed on Monday by the Generalitat of Catalonia, which asked the Justice to limit to 10 the maximum number of attendees at these events so common in these dates.
"In the meetings in the family and social sphere, it is recommended to limit the number of participants," says the draft of recommendations that the Government handles. The text also suggests that people "with catarrhal or flu symptoms" or who are awaiting the results of a COVID test do not attend these dinners or meals. Furthermore, "it is recommended that attendees perform an antigen self-test prior to the meetings," paying special attention to this if there are vulnerable people or people with chronic diseases.
Horseback riding and parades: yes, but complying with all the measures
Christmas events are another aspect in which the Government is studying whether to raise restrictions at the meeting of presidents this Wednesday. The draft to which the SER has had access explains that "an assessment of the events should be made to ensure that those that pose a risk of increased transmission are established the relevant measures for their celebration, guaranteeing security conditions"
However, it is explained that events typical of these dates such as parades or parades will be allowed "in places where access can be controlled, avoiding crowds, always guaranteeing compliance with all hygiene regulations and prevention measures, use of mask and distance. interpersonal security ".
10 people in restaurants
If the document does not include a maximum number of people at Christmas family gatherings, it does so when referring to meetings inside hospitality establishments. The draft establishes a maximum of 10 people per table, as long as the distance between the diners at different tables is kept one and a half meters apart. In addition, they recommend using the mask while you are not drinking or eating.
More serious measures at risk levels 3 and 4
The aforementioned measures are those that are being considered at the national level. However, the document managed by the Government provides other measures for regions that exceed levels 3 and 4 of risk from COVID.
At this time, according to the latest Health report, dated December 15, Asturias, Castilla y León, Euskadi, La Rioja, Navarra, Aragon, Catalonia and the Valencian Community are at level 3.
At this level, the document to which the SER has had access and which is not definitive, proposes reinforcement measures such as limiting Christmas meetings to 10 people and two family groups or company dinners to 6 people, as well as limiting the number of capacity in hotels and closing at 23 hours of these establishments. These are all of the following reinforcement measures for level 3:
Reinforce the application of prevention measures, placing emphasis on the use of a mask indoors and on proper ventilation.
Family reunions: It is recommended not to exceed 10 attendees or 2 stable coexistence groups.
Business dinners: It is recommended not to exceed 6 people.
Catering establishments: The maximum capacity is limited to 50%, a maximum occupancy of 6 people per table, guaranteeing the distance between tables of at least 1.5 meters between chairs at different tables, and establishments close at 23:00.
Nightlife: Capacity at 50%. Establishments close at 01:00. Guarantee the distance between tables of at least 1.5 meters between chairs of different tables. Maximum occupancy of 6 people per table or group of tables. Prohibition of consumption in bars.
Religious celebrations (indoor): 50% capacity
Massive or Christmas events: Events and activities, which take place both outdoors and indoors, may be held with a capacity limit of 50%, and in no case may they exceed 150 people. It is recommended in these events, avoid crowds, stepped access, use of a mask and enable specific areas for the sale and consumption of beverages and food. Static horseback riding will be allowed in places where access can be controlled.
Shops and shopping centers: 50% capacity and closure of non-essential common areas.
In the event that any CCAA reaches risk level 4 due to COVID (currently there is none, according to Health), other measures would be added such as reducing the maximum number of diners at Christmas meetings to 6, not holding company dinners or mass events, as well such as the closure of the interior of the hotel business and the closure of nightlife.
These are the measures to study in case a region reaches level 4:
Reinforce the application of prevention measures, placing emphasis on the use of a mask indoors and on proper ventilation.
Family reunions: It is recommended not to exceed 6 attendees or more from a group with a stable coexistence.
Business dinners: not recommended.
Massive events or Christmas s: no celebration.
Hospitality establishments: closure of the use of the interior spaces of the hospitality industry.
Nightlife: Closing of establishments.
Religious celebrations (indoors): 25% capacity, guaranteeing the use of a mask, the distance between attendees, and adequate ventilation measures.
Shops and shopping centers: 50% capacity and closure of non-essential common areas.



cadenaser.com
George Holan is chief editor at Plainsmen Post and has articles published in many notable publications in the last decade.