Khaby Lame's career as an internet star begins in the spring of 2020, in full lockdown, following a dismissal due to the pandemic. In March last year Lame, 21, of Senegalese origin and living in Italy for two decades, lost his job at a factory in the northern city of Chivasso and returned to his parents' home. There he began to post videos on TikTok in which he repeated a simple pattern: he takes other viral recordings, usually crazy and even useless, about tricks for everyday life, and responds by providing much simpler solutions.
In his images he does not pronounce a single word, nor does he need to; they are easily understood. For example, while a user cuts the banana skin with a knife, he peels it with his hands. Then, he points to the fruit with his hand, making a face, as if to say: "That's it, it's that simple." This has catapulted him to stardom. He himself confirms that simplicity is one of his strengths. "My videos are not complicated, I think that's the secret," he tells this newspaper in a video call.
He began recording with an old phone that he supported on a plastic bottle, with poor lighting. Within weeks of posting a few posts, for fun and without pretense – "my only goal was to make people happy," he says – his followers numbered in the hundreds of thousands. Now they exceed 121 million. It has long been among the 10 most followed profiles in the world on the platform.
From TikTok she made the leap to other social networks, such as Instagram, where she has a legion of more than 58 million followers, much more than the influential Chiara Ferragni and her husband, the rapper Fedez, together, the kings of the networks in Italy, and well above the nearly eight million followers accumulated by Mark Zuckerberg, the creator of Facebook and also the owner of Instagram. "I did not expect any of this," he reveals. When asked if he thinks he has served his purpose of amusing people, he smiles and a few seconds later babbles, "Well … I hope so."
He is aware that the pandemic has been an opportunity for him, that it has opened the doors to a world of possibilities. "Unfortunately, I lost my job, but that happened to a lot of people. When I was fired and I had to stay home, I was finally able to do what I wanted and focus on what I like, make videos, make people laugh, "he explains. Now, having fun and amusing others is a full-time job for him, although he doesn't like to call it that, "I do it because I like it, it entertains me," he says.
Now he has a team that works for him, including a representative, that takes care of the accounting or helps him with the videos and earns much more than he would have imagined. He is also aware that although he is dedicated to entertainment, he has a moral obligation to his followers. "You have a huge responsibility, you can influence many people, I joke in my videos and I always try not to disrespect anyone, not to fall into any form of discrimination," he says.
His life has radically changed, although he shyly admits it. "Now it's a bit different to go out into the street, some recognize me and stop me," he explains. In Italy the paparazzi chase him to portray him, for example, on an afternoon shopping in Milan, Italian brands raffle him off, he has fan pages in English, German, Arabic, Portuguese and Spanish, among others; Other influencers, such as King Bach, have contacted him to make collaborations and celebrities, such as Alessandro Del Piero, the soccer player of his idolized team, Juventus, love to appear in his videos.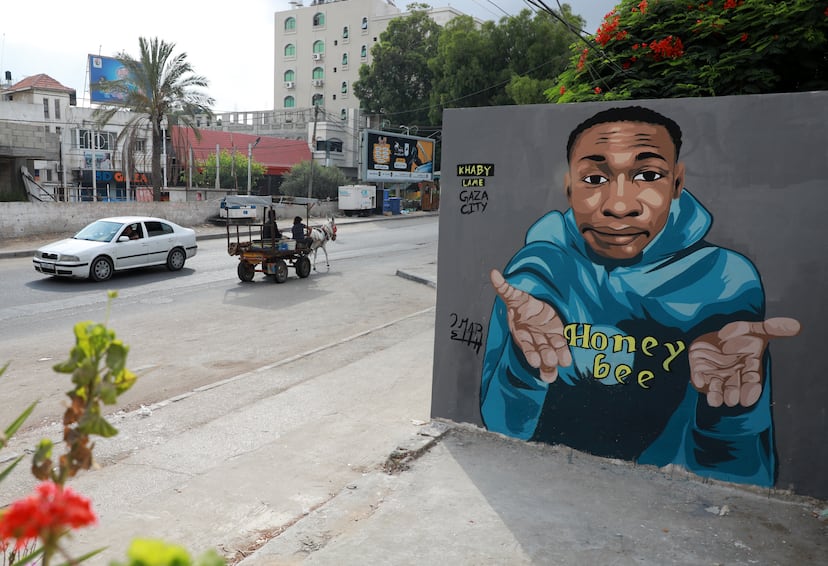 The turnaround has been total, especially if its history is taken into account. Khaby came to Italy from Senegal when he was one year old and since then and until recently he lived in a house given by the City Council for people in a situation of social exclusion, where he shared a room with his older brother and in which his parents continue to live. He has just moved to Milan. "It's easier because of work, so I don't have to come and go as much," he says.
Although it is the tiktoker The best known Italian in the world, he has neither the Italian citizenship nor the Italian passport. The harsh immigration laws of the transalpine country have not allowed him to do so, and he is still dealing with paperwork, although it is not a problem for him. "One is where you feel, I don't need a role to feel Italian," he confesses. Although he acknowledges that this bureaucratic issue has complicated, for example, obtaining a visa to travel to the United States for promotion. "If they give me nationality, there will still be millions of people who are fighting to get it," he says. Lame would like his case to make visible the situation of thousands of people who, like him, do not enjoy the same rights as Italians.
He has a dream to fulfill: to act, reach Hollywood, try his hand at comedy and make a movie with Will Smith, his great idol. He will pursue it with a motto: "You always have to overcome your own limits and, above all, the limits set by others."



elpais.com
George Holan is chief editor at Plainsmen Post and has articles published in many notable publications in the last decade.