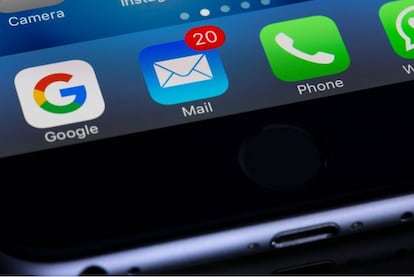 The first e-mail sent over a network made its journey in 1971. It was sent by Ray Tomlison, a computer programmer with the research firm Bolt, Beranek and Newman. The message, according to his own website, was possibly a string of characters such as "QWERTYUIOP or something similar." Fifty years later, more than half of the world's population has at least one email account, according to data from Radicati. However, although the oldest and most logical use is to send and receive messages, on a personal level it is not the most common. Just like physical mailboxes now only receive invoices and not letters, electronic inboxes are full of emails that are not messages from friends.
"With the arrival of other types of instant messaging tools, the email has lost weight in communicating with friends and family, although it still continues to be a key channel for professional communications ", explains Bea Redondo Tejedor, head of content at the company de marketing via email Pathwire. That does not mean that we do not receive mails. According to the study Email usage habits in 2021, prepared by the same company, in Spain more than 60% of people receive more than 10 mails per day and more than 25% receive more than 20 emails daily. "The vast majority of them come from companies or services that use the email marketing as a way of reaching its users or potential clients ", adds Redondo Tejedor.
But nobody opens an email account to receive advertising campaigns. If more than half the world uses this system, it is because today it is essential to use many services. "Email has a transactional aspect that right now is practically irreplaceable: it is the channel we use to buy things online, to register on different pages or platforms, to reset passwords, receive notifications of shipments or reminders …", he explains Round Weaver. Although there are platforms where it is possible to register only with the phone number (Twitter and Facebook, for example), there are many more that require an email address.
It is not uncommon to have more than one email account (72.4% of respondents in the same Pathwire study claim to have more than one address), many times created precisely to organize the type of messages that are received: an account for personal messages, another for advertising campaigns, another for registration in social networks and other platforms, etc.
The workplace
Unlike what happens with personal email, the work email inbox still receives messages from the classics: those that a person has typed thinking of you (and of all the people they have copied) . Despite this – or perhaps precisely because of this – email is in the crosshairs of many new and not so new applications that want to end it in the workplace. The email It is for many the time thief par excellence (according to a study by the company Workmeter, every time an employee connects to the mail, they spend 67 seconds there) and these applications, among which Slack stands out, want to give that time back to companies.
"Email was very inefficient for everything that can be resolved informally," says digitization expert Genís Roca. "For example, to say to a colleague 'can you give me a cable with this topic?', A wasap or a message in Slack that a mail". In his opinion, email has not been completely eliminated in the world of work – and he does not think that will happen – but it has been replaced in situations where it was not the best system. "There is a very high percentage of wasaps or messages through Slack that were previously mails", He says.
E-mail, meanwhile, is maintained because it plays a notary role. For Roca, "it is a way of recording that something was said." Many times things are discussed, like the date for a meeting or a meal, by instant messaging. Once decided, the email is sent as an official call. "The mail it will continue to be used for a long time because it is a tool that serves to formalize things, "says the expert, who thinks that there may be a generational component related to who goes to applications like Slack and who does not. "In the classical generation, the formal is in writing and the informal is by voice. The one you do not see on Slack, you will have him on the phone or face to face. And whoever is on Slack, doesn't call on the phone, "he explains.
Another factor that plays in favor of email is habit, all those years in which it has been the undisputed king of electronic communication. "The email It's not perfect, it's true, but it works ", says Silvia Leal, an expert in innovation and digital transformation. For her, the tool has important weaknesses, such as searching for information when a chain is long. However, "it serves its purpose and we are used to it," he says. Applications that want to replace it many times do manage to improve many aspects, but users do not always want to learn. "That is the reason why I think the alternatives do not work, why there is no one killer app [literalmente, aplicación asesina, los programas que se convierten en esenciales en nuestra vida] finish with the mail. These applications offer some better functionalities, but with a qualitative leap that does not make it worthwhile for many of us to change the way we do things, what we are used to ", adds Leal.
The rebirth of newsletters
One of the signs of the good health that e-mail currently enjoys is the rebirth that the newsletters or newsletters. These mass emails sent by a company or a person to their subscribers are nothing new – the first one was sent in 1977 – but for some time now they have become fashionable again among brands, the media and people who They are looking for a way of expression that goes beyond the characters of Twitter or the dances of TikTok.
For companies, attracting the attention of users through social networks is increasingly complicated, since the algorithm does not show all the content. "In social networks there is no traceability, you do not know who has opened it and who has not. And user control is on the network, not yours. If you have 15,000 followers on Facebook and you post something on your wall, most will not see it. With the newsletter you know exactly how many people have opened it and you have control over the additions and terminations, "says Genís Roca.
Email campaigns They also have in their favor that they are not as ephemeral as what is published on social networks, adds Bea Redondo Tejedor. "The newsletters they can stay in your inbox for years. Maybe today is not the day to use that discount, but if in two weeks I have to buy something and I have it in my mailbox, I can go back to it and rescue it. That doesn't happen with social media posts or YouTube ads, "he explains.
In addition to these newsletters, which are pure marketing, the so-called newsletters personal or literary, written by a person and that in a way replace what were blogging a few years ago. "It is a good way to make ourselves heard, and we all like to be heard," says Silvia Leal, who does not believe that all these electronic bulletins are going to make us stop using social networks. Even so, the expert is convinced that they will continue to grow.
"I am often asked how I am trained and the newsletters they occupy a very important place because, among others, they work great as news aggregators. For this reason, I believe that they are in their rebirth and that when society sees this they will grow more and more. In addition, they are a great tool to retain customers, who receive these communications very well when they are not daily and are elaborate ", he adds.
You can follow EL PAÍS TECNOLOGÍA at Facebook and Twitter or sign up here to receive our newsletter semanal.



elpais.com