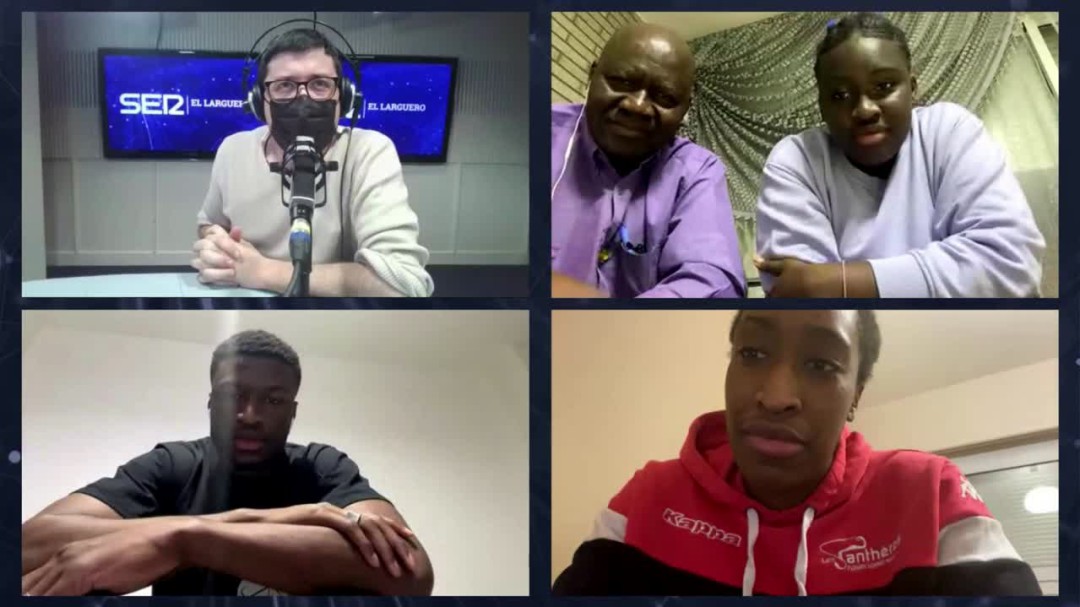 The Gassama family and sports are closely linked. Three of the four children of Issaga Gassama and Foune Cissokho are engaged in sports professionally.
The oldest, Mamadou, 28, plays handball for Sporting de Portugal. The second, Sekou, 26, is a Málaga striker and Kaba, 24, is a French Fleury player. Kaba achieved a fourth place in the Women's Handball World Cup with the 'Warriors'. The youngest of the Gassamas, Goundo (16 years old), is a handball goalkeeper and I have even made my debut with the lower categories of the Spanish team.
Issaga Gassama, padre
Issaga Gassama 59 years old, he came to Spain, specifically to Mataró, coming from Senegal in search of an opportunity. His first hours in Spain were spent in a taxi touring Mataró looking for a place to stay.
How was your arrival in Spain?
"Next month I am going to turn 40 here. The moment of my arrival was very hard, because of the work issue. It was a very complicated situation, it was impossible to get papers and work even if I wanted to. I had a very bad time."
"I came as a tourist, I came to Las Palmas. Then to Barcelona. Then I didn't know anything and I told the taxi driver that I was going to Mataró. From 1:00 to 6:00 I went around and he asked me where and told him that I did not know ".
"At six I saw a black man who was going to the country. I stopped the taxi and asked him and he spoke fula. I gave all the money I had to the taxi driver. I had nothing left. He left very pissed off because he didn't even arrive. I was home. that person, on the couch, for six months. Then I had to take out some loans to live in a house without electricity or water. "
Why have your children ended up so involved in sports?
"It was thanks to God. God helps what is on the way. When I began to make my life in Spain, my thought when I was not working was to play sports."
Rude
Gassama, national team handball player
"For me my parents are an example to follow. Whenever they ask me about a reference, I tell them. They left their countries so that their family could have a good future. The truth is that it is to be appreciated. My brothers and I try May they have a quieter life now, since when they were young they couldn't ".
"I started when I was 12 years old, but before in school I already played handball. By then Mamadou I was already playing. "
Sekou
Gassama, soccer player for Málaga
"You realize that we are privileged. My parents suffered so that my sisters and I were athletes. If they had not left Senegal and had not suffered, this would never have happened. We would be in town. Many times I have thought about it when we have gone to town, the luck we have had is not others. Without them we would not have this present or the future that they have given us. "
"I started playing soccer and I didn't like it. I don't remember very well, but from what they tell me I really liked fighting, karate. I said I wanted karate. And they told me soccer. And they told me that if I scored goals they would make me a lamb sandwich ".
"It is one of lime and another of sand: you see yourself as a professional because you do not lack anything and then when you leave you see the reality that is there. It cost me because in Granollers there were not many players. There my father pushed me to continue supporting. At Barça he was defense and then when I left he was a center forward.
Goundo Gassama
"I wanted to play soccer. In the summer I joined a campus, my father insisted on basketball because he was tall. Like Kaba, at school we did tournaments and he saw that I was good at it. At the age of six I already signed up."



cadenaser.com
George Holan is chief editor at Plainsmen Post and has articles published in many notable publications in the last decade.