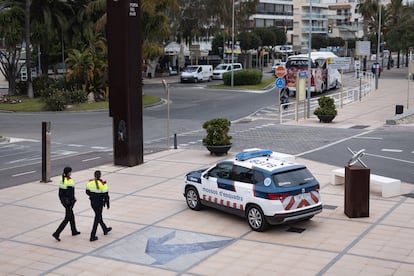 "No police officer is prepared for a situation like that. I acted like I did because I was alert. But I could have been stuck. And now he would be dead.
For the first time, the Mossos d'Esquadra agent baptized, with or without success, as the Cambrils hero, agrees to chat with a journalist in a cafeteria in a town that should be skipped. More than four years have passed, but the fear endures. "No one can assure me that nothing is going to happen to me. They say that these four boys were poor devils, but a terrorist can always come to kill me or to find out who killed his people ".
For his safety and common sense, few biographical details should transcend this ordinary and kind-looking man who, on the night of August 18, 2017, killed four of the five terrorists who sowed chaos on the Cambrils seafront ( Tarragona). It is enough to point out that he is a patrolman, that he is in the middle of life, that he is married and that he is a father. He is a seasoned agent and a lover of the profession (and reader of a detective novel!), But he does not respond to the prototype of a muscular policeman who wields a submachine gun and then a pistol to end the lives of four young men who pursue him, armed, shouting "Allahu Akbar!"
Arturo's head (the name must also be invented) returns to that instant, barely thirty seconds, which has defined his entire subsequent life. He analyzes it, dissects it, dreams that night that he has been branded with fire, that has stressed his family, that has finally forced him to hang up his uniform. Last year he summarized his experience in the trial of the National High Court against three alleged terrorists from the Ripoll cell that caused 17-A. In the attacks in Barcelona and Cambrils, 16 people died and hundreds more were injured physically and, like Arturo, with insurmountable mental injuries. His statement, prepared to the millimeter to prevent emotions from boycotting him, could only be heard with his fingers stiff on the keyboard.
After the multiple hit-and-run on La Rambla, on the afternoon of August 17, the Mossos mobilized all their resources to arrest the homicidal driver, Younes Abouyaaqoub, and prevent further attacks. They installed static points in various locations. At the entrance of the Nautical Club of the tourist Cambrils Arturo and a move whom I did not know at all. The invisible thread of a shared experience that is, to some extent, non-transferable, has bound them forever. "We talk from time to time. We both know what we've been through ", he says.
From that summer night, Arturo remembers the festive atmosphere: the pleasant temperature, the live music of an orchestra, the carefree walks of the vacationers. And how later, around one o'clock in the morning on the 18th, a black Audi A3 burst into the roundabout at high speed and hit the move. The man who was about to unknowingly and unintentionally become a hero, and who probably saved a few lives along the way, had time to yell "watch out!" Afterwards, he could only worry about saving his neck. Five young people got out of the vehicle, overturned on the asphalt by the impact; four of them ran at full speed towards the agent.
What affects the most is what happens closer. To not miss anything, subscribe.
Subscribe
The first of the terrorists pounced on him with an ax and a belt of explosives which, it turned out, turned out to be false. But at the time, Arturo recalls, the silver glow of the artifact made it very real. "I was carrying the submachine gun. When the individual was a few meters away, I shot him down. I don't know how much I shot. When it fell, I saw three more people coming running to my position. I ran to the right. He had no ammunition in the submachine gun. I hung it around my neck and was able to grab my service weapon. I had no more time to open fire and shoot them down ", he detailed at the trial with his arms crossed, as if protecting himself from a vivid threat, and in full view of the three terrorists on trial, including Driss Oukabir, brother of one of those who was shot. . The president of the court, Félix Alfonso Guevara, did not allow Arturo to testify as a protected witness despite the efforts of his lawyer, José Antonio Bitos. Anyone who wanted to could look at him from behind, appreciate his complexion, intuit the color of his hair or calculate his height: the view was broadcast live on YouTube.
Time passes and, in the peace of the cafeteria, Arturo allows himself a more relaxed reflection. At the Mollet police school, where the new batches of mossos, their performance is often mentioned as an example of reaction to an unexpected and violent event. But training on the handling of weapons, he regrets, is scarce. Above all, for low-level police officers like him, those who are at street level, the most exposed. "Long after I finished the academy, I did some punctual practice with the submachine gun. But he never touched it. That night when they gave it to me, I didn't even know how to adjust the strap. Running out of bullets, I didn't know what to do with it. I couldn't throw it on the ground, so I put it around my neck to keep my hands free. "
At trial, Arturo said he felt "guilty" for what happened. He clarifies it: "When I spoke of the feeling of guilt, I was referring above all to my family," he says about that vicious and long-winded enemy. Because the man who returned home on August 18, 2017, still shocked by the event, has not been the same man who, the previous afternoon, had left the door to join the Cronos device. With his wife and children in need of care, it was the worst time to be out of the game, touched, and nearly sunk. "Perhaps in other circumstances, I would have faced what happened to me with more integrity. But that was the final straw. In the end, you see life and its priorities differently. I want to turn the page. Now I am going to be able to dedicate myself to what is really important: the family ", says Arturo who, after a long battle with the Administration and in the courts, has just finally achieved total permanent disability recognition. And the right to collect a pension for "work accident derived from terrorist action."
At first glance, Arturo's seems like a story about heroism, about how an ordinary individual gives his best — without being able to explain himself why — in the face of a terrible event. Seen up close, it is above all a drama about injustice, about the inability of the bureaucratic machinery to offer the sufferer a quick and painless way out. Killing four people to save one's life was not easy. Dealing with a cold and unforgiving administration, he sums up, it wasn't either.
A few days after 17-A, President Carles Puigdemont visited the Cambrils police station to thank the police for the work. Only some voices, such as the CUP, then broke away from the general applause and spoke of "extrajudicial executions." While false rumors about his identity began to spread – it was said that he had been a legionary – the Government turned to the process and, without further noise, Arturo returned to his work station. Bad fortune would have it that, in one of his first interventions on the street, he came across an Arab-looking individual; they both ended up rolling on the ground in a struggle. The undigested nightmare returned to the fore.
"They ask me if I'm happy, and I say no. I have been through 20 doctors and I have explained the same story to them. And that the reports have always said the same thing. In this country there is no extraordinary solution for an extraordinary circumstance ", claims Arturo, tired of an odyssey of papers and procedures that has been difficult for him and has not helped him, precisely, to improve his health.
Seven months after the attack, he explored the possibility of joining the Mossos environment unit, much more relaxed than the patrol trench. The idea was unsuccessful. He immediately took the leave and began the process to achieve disability. He no longer seemed capable of continuing to be a policeman. The reports were very clear: Arturo suffered from severe post-traumatic stress disorder, required psychoactive drugs, and was receiving psychological and psychiatric support.
In August 2019, coinciding with the second anniversary of the jihadist attack, the National Social Security Institute recognized his partial permanent disability. Perhaps he could not be a policeman like the others, but he could dedicate himself to "other jobs with different requirements." Bitos, his lawyer, fought and won. Last month, a social court recognized his total disability. The sentence includes a string of forensic medical concepts that, despite their complexity, illustrate what a life of prolonged anguish has been.
The hero cannot "cope with stressful situations" or perform "the fundamental tasks" of a policeman. The hero shows "phobic fear" of everything related to the event of August 18, 2017. The hero is "demotivated". The hero is head and foot slow, has "limited concentration" and "generalized anxiety." The hero suffers from sleep disorders, as the sentence also points out: insomnia and "early awakening anxious about dreams about the attack." The hero experiences "invasive ruminative thoughts" and lives in a permanent "state of hyper alertness". His state of health "has not improved, but has worsened."
Arturo's life has completely changed. The reports speak of "domestic, family, social and playful distancing." He intimately thinks that he has failed his family. And he wants to give him time after 17 years of career in which he has faced other complex situations (sexist violence, knives), none like the one in Cambrils. "This profession has given me a lot… It has given me everything. But it has also taken a lot from me ", he reflects on what he has just left behind. A policeman leaves, forced by circumstances, who after the shooting in Cambrils and "without understanding what had happened" (are his words in the trial) still had time to see his bloodied companion and call, with the telephone number of a citizen (his station had fallen to the ground) to the ambulance to ask for help. The move he lives with the same fears as him — taking children out to the streets is an odyssey; running, a sign of threat — but, like Arturo, live.

elpais.com
George Holan is chief editor at Plainsmen Post and has articles published in many notable publications in the last decade.