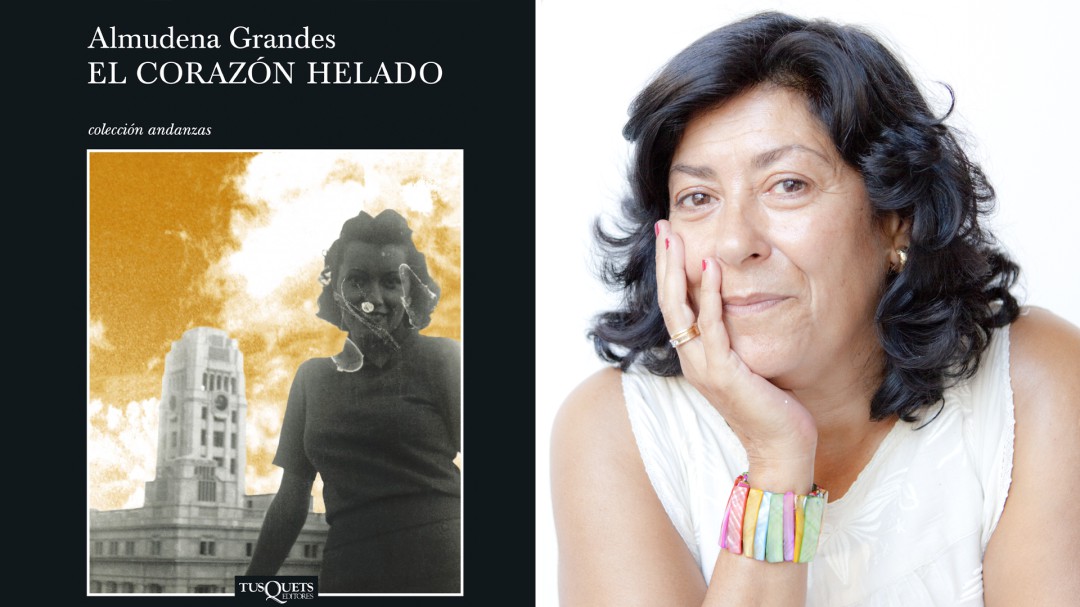 One's heart continues to shrink when one has to say that Almudena Grandes was born in Madrid in 1960 and died on November 27, 2021. She has been an extraordinary, committed, necessary writer. She is the author of 'The ages of Lulú', 'Malena is a tango name', 'Atlas of human geography', 'The difficult airs', among others, of magnificent stories and of the extraordinary series' Episodes of an endless war ', which leaves unfinished.
In 'A book one hour' we wanted to pay our particular tribute and make a chapter on 'The frozen heart'. It is one of the most exciting novels we have ever read. But the best tribute we can all do is read Almudena Grandes.
It is a prodigy to see how in 'The Frozen Heart' he builds a world page by page and enjoy all its details. It tells not one, but several wonderful love stories, but it also tells the story of those who lost, those who had to leave, and those who stayed. And that of the Spain of those who won.
His voice has also appeared on the program. We have recovered, thanks to the Documentation Department of Cadena Ser, two interviews. The first in 'La Ventana', with Gemma Nierga, on February 14, 2007, and another in 'Las ten de …' with Sira Fernández on August 4, 2013 in which she said things like these:
"It is a complicated novel. Let's say structurally complicated. I hope that for the reader it is not complicated. But it takes place during almost a century of the life of our country. And it is a novel that advances in two stages, let's say. The main plot passes in 2005. It is a novel of the present ".
"Despite what it may seem, it is not a novel about history but a novel about memory. History and memory are two very close concepts. Because, of course, without history there is no memory. But this is a novel about the present. It is not a novel about the events of the past in Spain, but about how the events of the past are now sentimentally elaborated or re-elaborated by the Spaniards right now ".
"If my book serves to convince a reader younger than me of that, it will have already served a lot"
"I would very much like my book to awaken the desire to know from people, from people of my generation and from younger people, because I really believe and I have said it many times and I am going to say it one more time. that the Second Spanish Republic and the Civil War are one of the great moments of humanity and that is why they never end. I believe that in this country we have not yet assumed that. Just as the Roman Empire never ends, the same that the French Revolution never ends. The great epic, the great democratic epic of 20th century Spain will never end. So if my book serves to convince a reader younger than me of that, it will have already served a lot " .
"This novel circulates between two quotes by Antonio Machado, who is a writer that all listeners of this program know to what extent I love. There is a very famous quote at the beginning of the book which is" One of the two Spains: it has to freeze you the heart. "That's where the title comes from. The frozen heart is a two-line thing. And there's a very little-known quote at the end that is a response by Machado to an interview that a Soviet writer named Iliá Ehrenburg gave him in the year 38 and Machado said at that time: "For historians, for politicians, for strategists it will be clear we have lost the war, but humanly perhaps we have won it."
"It is the story of what happens when Álvaro Carrión's father dies and he discovers by a series of coincidences that he was not what he thought he was. And then he comes into contact with a mysterious and fascinating woman at the same time that he is called Raquel Fernández Perea. It is the story of her love and it is the story of an epiphany too. The story of her discovery, of the past and future of her reality. "
"The history of Spain is like the blood sausage of my town"
"It is also a deconstruction, to say and to become modern and posh, of the great themes and the great principles that in the end remain there. They remain as simple as that. That the history of Spain is like blood sausage from my town. I have wanted to write a novel about little Spaniards. A novel about little Spaniards. Of ordinary people called Fernández, whose name is García. "
"The novel also deals a bit with that of 'I don't know, nothing is done.' That is, the price of knowledge and Álvaro is a normal, ordinary man, who at a given moment begins to discover that things are not They are as he thinks they are. That his father was not what he thought he was. That his family has not been what he thought they had been. And he faces a dilemma, which I think is very well understood on the other hand. Even anyone who has not read the novel understands it. Because it is a dilemma that we have all faced many times in life, which is: "I can also do nothing." In other words, I can also stand here, pretend not to Whole and such. And yet he is capable of asking. He is a brave man and is willing to pay the price of knowledge. Which I think is always profitable for many problems that I look for in the short term. In the long term it always seems to me profitable".
"When I started to write this novel, I thought I had a sufficient knowledge of the history of Spain in the 20th century. I thought: 'Well, I'm going to start reading about the issues that I had the most doubtful about. What was the Blue Division, That is a topic that is little known. The second generation of exile, of which nothing is said because it seems that we all think that the exiles and we see them in 39 crossing the Pyrenees and 77 getting off a plane. they would have done nothing between '39 and '77. So I started writing, I started reading about those topics and the first thing I learned is that I didn't know anything. So what I knew was practically nothing. "
"And suddenly I discovered that my grandmother has been the most modern of the three"
Referring to a time when his mother told him about Josephine Baker, he said: "For me, in 1972, that my grandmother had seen a naked woman dance in a Madrid theater with my grandfather, it seems frivolous, but to I was the tip of the iceberg, it completely messed me up, because until then I believed that progress was a straight line, that I was going to be more modern than my mother, that my mother had been more modern than my grandmother, and Suddenly I discovered that my grandmother was the most modern of the three. And from that moment I tried to understand why, being my grandmother's granddaughter, I could not believe her true life, what had happened in this country so that the grandchildren we couldn't believe the lives of our grandparents. "
The last audios of A Book One Hour



cadenaser.com