[ad_1]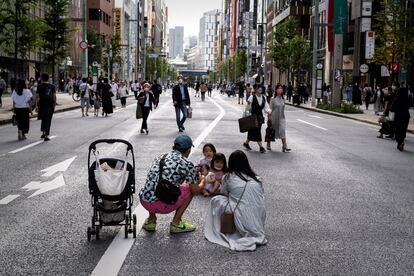 Harnessing the skills of women in the labor market is economically beneficial and improves the well-being of children after their first year of life. Greater father involvement in those early parenting years also has clear benefits for the child. Thus, a social contract that rebalances caring responsibilities between men and women and makes the unpaid work of the latter paid would make our societies richer and fairer. Our children will do better both academically and psychologically if, in their first months of life, they are raised by involved parents and if, after that very early childhood, they have access to quality childcare and preschool services. The beneficial effect that is observed is especially important for children who grow up in poorer families, and also improves social mobility.
There are many models that imply a greater allocation of public resources to the provision of affordable and quality child care. Whether this support prioritizes more family-based care or one more focused on services outside the home is a choice that, ideally, should be left to individuals and families. That the costs of these parental leaves and that child care were financed by the State instead of by companies and employers in general would help to equalize more the conditions for men and women at work. The key is that public policies support men and women equally so that each one has the freedom to choose and so that the allocation of skills in the economy is optimal.
Ideally, governments would provide a menu of options for families – maternity and paternity leave, or better yet, parental leave that can be shared – with public funding for both institutionalized out-of-home child care and out-of-home care. In the home. The choices and decisions made in this regard are very personal and depend largely on individual circumstances. The critical change that must occur is that care for members of the younger generation is no longer ignored, or taken for granted or taken for granted, by being pigeonholed into the category of unpaid work. It has to become an essential part of the infrastructure of public services, such as health or education. It must also be flexible to accommodate the ways in which the organization of both work and families is changing. Doing so will improve the lives of both men and women, make children more effectively supported, and create employment that will be female in many cases.
If you want to support the development of quality journalism, subscribe.
subscribe
Now, although the provision of child care is key, there are many policies that can also help us move forward on the path of a more equal labor market. A more flexible employment and with benefits linked to the worker —so that they are not lost when changing jobs or companies and that can be adjusted depending on whether they work part-time or full-time— would help both men and women to balance their responsibilities as caregivers with the changing work model. A tax system in which people pay taxes as individuals is better than one that encourages joint taxation by couples, for example. When married couples file joint returns, the second payer (who is usually the woman) sees their income taxed at the same marginal rate as their partner, which usually means that they pay more than they would on an individual return and therefore discourage female labor participation. For their part, school calendars with long summer vacations represent a problem for working parents and do not make much sense in societies where very few people are employed in the agricultural sector and where child labor is illegal. It will be vital, therefore, to move towards a type of social contract that supports families with double earners in all these aspects.
However, policies alone are not enough; the social contract has to change within the home as well. As we have already seen in Japan and Korea, even the world's most generous paternity leave policy will not work without an adjustment in social attitudes. The Nordic countries serve as an interesting contrast in this regard. There the social contract has evolved over decades into what it is today: a contract characterized by high levels of female employment, generous public support from the state, and a greater assumption of unpaid work by men. This model has managed to sustain high levels of income and fertility, which have in turn served to sustain population levels. The contrast is offered by, for example, Korea, where, despite increasingly generous policies in this field, currently has the lowest fertility rate in the world, of only 0.9 children per woman (and it would have to be 2.1 to ensure the stability of the country's population level), because social attitudes have not changed.
Can we afford to introduce such a substantial change in our social contract? I would rather say that what we cannot afford is not to do it. Family structures are evolving rapidly: couples are marrying later and women are starting to have children at an older age; there are more single-parent families; populations are ageing, and birth rates are falling all over the world except in Africa. We need our social contract to catch up with the needs of modern families and economies. Enabling more women to use their talents in the workplace will serve to increase output, productivity and tax revenue well above the cost of providing better public support for childcare services. Involving fathers more in that care will also improve children's well-being and allow us to raise a more productive young generation, whose higher incomes also provide added tax revenue for pensions and health care for an older generation that will not leave to grow up Instead of trying to manage intergenerational compromises within families—a path that has led to the very inequitable results we have achieved in that arena throughout history—we need to share those risks together.
subscribe here to the weekly newsletter of Ideas.
Exclusive content for subscribers
read without limits
[ad_2]
elpais.com
George Holan is chief editor at Plainsmen Post and has articles published in many notable publications in the last decade.