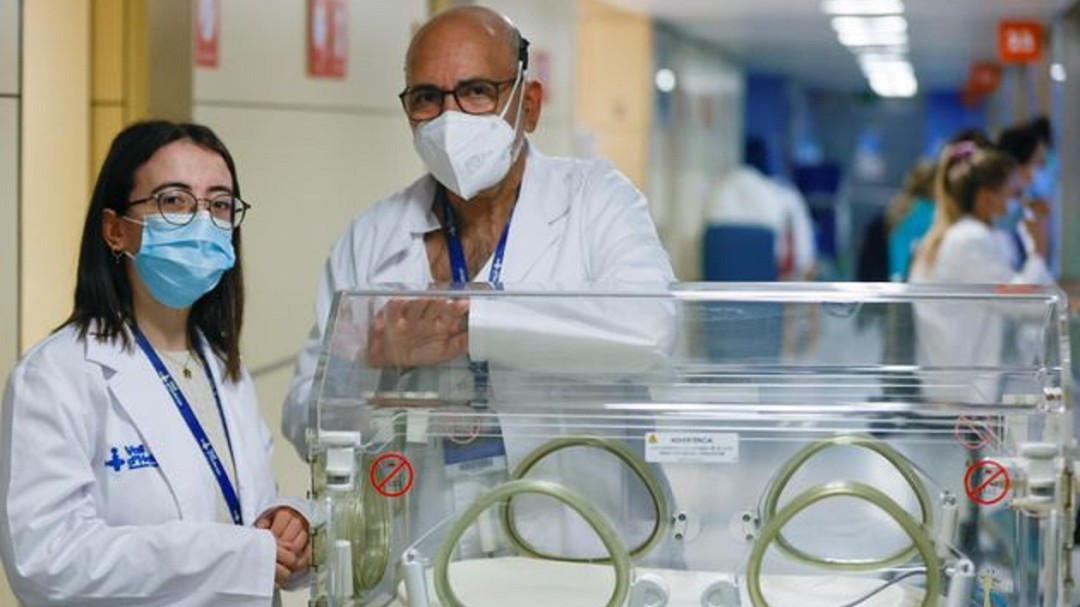 Noelia Ruiz weighed just 800 grams at birth with only 24 weeks of gestation, but survived without sequelae after spending three months in the incubator thanks to the care, among others, of the head of Neonatology at Hospital Vall d'Hebron, Félix Castillo, with who has been rediscovered 24 years later working as a nursing assistant.
The young woman was born in the Hospital de Vall d'Hebron on December 14, 1997 at 6 months of pregnancy, a fact that, at that time, and according to what Félix Castillo (Barcelona, ​​1962) told Efe, was "dangerous" because "most children who were born at 24 weeks died." The doctor emphasizes that the fact that Ruiz survived was "great news" and that, to a certain extent, "it was the newborn's credit" for "her strength, her will to live, her genetics and, possibly, for being a woman. ", a fact that Castillo considers beneficial in many cases.
The doctor received a young nursing assistant in his office a few weeks ago, who is in the last year of nursing, who had come to work at the hospital and who he did not recognize at all, but she revealed to him that it was the girl he was the one who had saved her life 24 years ago and who now worked in the same building of the Vall d'Hebron children's hospital where she was born.
The story of the doctor and the assistant
Doctor and assistant have met to talk with Efe about this emotional reunion. Ruiz explains that the moment she learned that Dr. Castillo worked in the same building as her and with a similar schedule, she decided "to knock on the door of her office to introduce herself", an experience that she describes as "unforgettable."
The doctor, who has been working in Vall d'Hebron for 33 years, acknowledges that when he was presented he thought: "not only has he survived, but he also has no serious sequelae", something that left him "totally perplexed" because of those cases that "will never forget". "At that time, 24 years ago, we did not have the same respirators, incubators, knowledge or tools that we have now, but with what we had, we did the best we knew how," recalls the neonatologist.
The nursing student highlights the difference in conditions that the parents had in the hospital more than 20 years ago in relation to those they have now, because during the three months that she was in the incubator they were able to visit her "relatively little" and remarks that the "kangaroo method" – that mothers can hold their premature babies on the breast, skin to skin – barely existed in Spain. "In the incubator I weighed about 800 grams and it could fit in the palm of my father's hand. My mother did not understand how being so small she could survive and they feared that, if she did so, she would have very serious consequences", confesses Ruiz, who told him. most serious that it has suffered have been "bronchitis at the age of five and six years".
"I work in Pediatric Nephrology and I am happy"
For Ruiz, his prematurity "was always something important" and it became the main reason why he decided to pour his professional career into the health and sanitation sector and train as a nursing assistant, a trade that he now develops in Vall d ' Hebron while combining her nursing studies. "I work in the Pediatric Nephrology Service and the Oncoematology Service, and I like it a lot, I am happy. In the future, when I finish nursing, I would like to take a master's degree in pediatrics or neonatology, it is still not clear to me", says the young man, who ensures that contact with patients is what he likes the most about the profession.
Since Ruiz was born, obstetrics, neonatology and gynecology have evolved a lot, because among other things, according to Castillo, in the current action protocol for this type of case "the involvement of the family is a key factor." "Resources such as the kangaroo method with the mother or the father greatly benefit the newborn. The accompaniment of the family is essential and our care is more exhaustive and personalized, and the babies are not so sedated", informs Castillo, who is not used to it. to have a premature baby visit him when he is an adult.
Doctor and premature nurse now coexist in the same health building, although they hardly see each other because they are in different services, but both one and the other keep a special memory of a shared experience.
About premature births
In Catalonia, during 2020, 7% of births were premature and, in Spain, 7.4%, an average very similar to that of the rest of developed countries, according to Dr. Castillo. Prematurity causes 75% of neonatal mortality, and in 2020 there were 27,000 premature births in Spain, according to data from the National Institute of Statistics (INE).
"In a year there are approximately 3,000 births in Vall d'Hebron, of which between 450 and 500 are premature, except in 2020, when the decline in the birth rate caused there to be about 340 cases," says the head of the Neonatology Service. Looking to the future, the doctor concludes that the solution to premature births is to develop alternatives to avoid or prevent premature birth, because "no matter how much the placenta or uterus is copied through an artificial one, the baby always it will be better in the mother's body. "



cadenaser.com
George Holan is chief editor at Plainsmen Post and has articles published in many notable publications in the last decade.