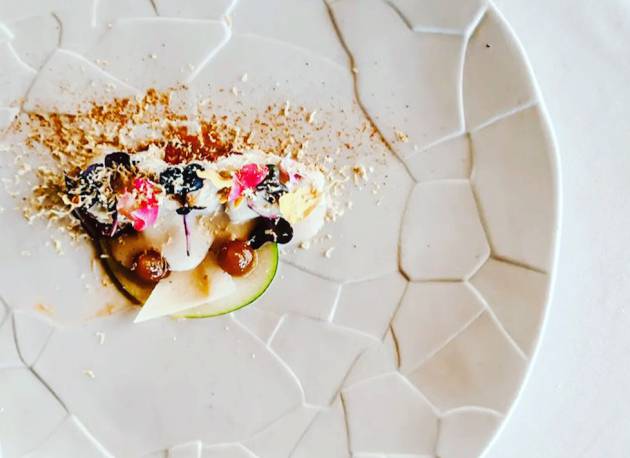 The January slope is not easy for anyone, huh? Well, for soccer players who earn two million a month, yes, it's a little flatter, but for the rest… well. Even so, as we are irrational mammals, our small ruins will not prevent us from paying homage in agape format. If this is your case, keep reading.
In Spain there are 253 restaurants distinguished by the Michelin Guide where you can eat for less than 40 euros. Seven have a star -o macaroonas people who understand it call it- while the remaining 246 are Bib Gourmand, a lesser-known badge but very suitable for the holey pockets of my pants and, increasingly, those of more people.
The stars probably don't need an explanation. The mysterious inspectors of the Red Guide can assign a maximum of three and to do so they are based on criteria such as cuisine, service or restaurant facilities. The more stars, the better the restaurant -supposedly- and the more expensive the food is (that's for sure).
However, it won't cost you much in one of the cheapest star hotels in Spain (the cheapest is Silabario, in Vigo, for a difference of two euros). Coto de Quevedo is the restaurant of a rural hotel of the same name located in Torre de Juan Abad (Ciudad Real). There they serve, at midday on weekdays, a menu of the day for 27 euros made up of four snacks which are pure filigree, a succulent starter and a main course to choose between meat or fish as well as dessert. How do they manage to offer so much for such a reasonable price?
"We manage because we really like the spoon and we always offer some stew and local products. Last week the menu had all four snacksa creamy rice with partridge and then, to choose from, lamb cannelloni or salmon with sauce dashi; and dessert" explains José Antonio Medina, chef and owner of the Coto, and adds: "We are in Campo de Montiel, the region with the lowest per capita income in the entire province of Ciudad Real, so we have to go along with our customers ". José Antonio, who recently increased the price of his most competitive menu by 35 percent to compensate for the higher cost of raw materials and supplies, says that since November, when he was awarded the star, he has noticed a change in his clientele : they continue to welcome their countrymen but people from all over Spain are beginning to arrive and stay at the hotel and take the opportunity to try their other two more elaborate menus, those for 60 and 75 euros.
While Michelin does not pay attention to the price of the starred, it does pay attention to that of the Bib Gourmand. These are restaurants where you eat very well but they must also offer a menu that does not exceed 35 euros. Sounds good but you have to be careful: as it says growtxothe tweeter who transmits the annual Michelin star gala with the most restraint, it is easy for the account to skyrocket in a restaurant of this type.
The cheapest Bib Gourmand in our country is Granero (Quintanar de la Orden, Toledo). There, on weekdays, they serve a daily menu for ten euros that includes a starter, main course, dessert, bread and a drink. Of course, they serve it in the bar area, and in the dining room they serve the tasting menu (45 euros) and the dishes from the menu. This polarity has served you very well.
"Granero was a roadside bar until 14 years ago, when Alfonso and José Antonio, grandsons of the founder, built a more spacious dining room, but the bar continues as usual. So, there are two environments but the same clientele, who in addition to frequenting the bar also go to the dining room on some occasions. Surely this coexistence harms us in the eyes of gastronomes and gourmets but thanks to our most popular option we have resisted all crises", says Adán Israel Aguilar, sommelier and head of the restaurant.
Although this is not the case with Granero, the gastronomic offer of the Bib Gourmand is usually based on the traditional cuisine of the area where they are located. This would be the case of Casa Chongastán (Chía, Huesca) in whose menu they offer collection, a vegetable stew from Huesca, or wild boar stew. But, clearly, localism is not essential. To give two other examples, in addition to Granero, the Asian tavern Kimtxu (Bilbao), which we have already talked about in El Comidista, or Az Zait, a Sevillian restaurant whose menu features dishes as ubiquitous as an egg, do not stick to the traditional cookbook either. at low temperature with octopus and truffle oil.
You will find a cheap Michelin restaurant in at least 48 of the 50 Spanish provinces. The only exceptions are Guadalajara and Lugo (and the autonomous cities of Ceuta and Melilla). I don't want to offend but the Michelin inspectors must feel a certain resentment towards these destinations. At least towards Lugo: in Lugo you eat very well.
The seven starred restaurants in Spain where you can eat for less than 40 euros are the following.
Watchtower
In Atalaya they cook dishes with local products, such as artichokes and red prawns, which they combine with elaborations without ties to the territory. Their cuisine mixes French and international influences and they have a menu based on rice that changes every week.
Watchtower: Carrer del Camí de L'Atall, 1A. Alcalà de Xivert, Castelló. Tel: 964 967 107. Map. From 35 euros.
chiron
Chef Iván Muñoz takes the classic Madrid cookbook and turns it upside down. Dishes as traditional as tripe, cooked croquettes or Pavia soldiers become in his hands innovative recipes with contemporary presentations.
chiron: C. Alarcón, 27. Valdemoro, Madrid. Phone: 918 956 974. Map. From 29.95 euros.
Quevedo preserve
José Antonio Medina also reinterprets the recipe book from La Mancha. In his menu there is no lack of ratatouille, suckling pig or spoon dishes, but the chef uses modern techniques to rescue them from the past.
Quevedo preserve: Las Tejeras Viejas area, Juan Abad Tower, Ciudad Real. Phone: 649 842 901. Map. From 27 euros.
Garena
The gastronomic offer of this eating house is very wide. They dare with tavern preparations such as Russian salad, croquettes or steak; and also with a daily menu with dishes made with what is on the market and another more creative and signature one.
Garena: Bº Iturriotz, 1. Lamindao, Bizkaia. Phone: 946 317 215. Map. From 35 euros.
mune
Dishes such as their cecina de chivo croquettes or the interpretation of the botillo del Bierzo reveal that Muna's cuisine is deeply rooted in León, although in this restaurant they do not renounce contemporary presentations and techniques. To eat below 40 euros you have to choose a la carte.
mune: C. Gil y Carrasco, 25. Ponferrada, León. Phone: 693 762 370. Map. From 36 euros.
Syllabary
The Berbés menu, the most economical, includes an appetizer and a starter, a main course and a dessert of your choice. The dishes are made up of what is on the market and the combinations of ingredients are imaginative and not tied to any tradition. It is a succulent and technically modern kitchen.
Syllabary: Rúa do Príncipe, 44. Vigo, Pontevedra. Tel: 986 077 363. Map. From 25 euros.
Versatile
In the most informal area of ​​the restaurant, the Bodega, they prepare a wide variety of grilled meats and fish, as well as starters such as Russian salads and croquettes and desserts as sweet as French toast.
Versatile: C. el Lagar, 6. Zarza de Granadilla, Cáceres. Phone: 927 486 236. Map. From 34 euros.
As for the Bib Gourmand, you can consult the complete list on the Michelin Guide website, but we will not say goodbye without sharing the favorites of the El Comidista team.
Bib Gourmand favorites of the El Comidista team
Abastos 2.0 Tables: Praza de Abastos, Rúa das Ameas, 13 -18. Santiago de Compostela, A Coruña. Map.
Rice shop Maribel: Carrer de Francisco Monleón, 5. El Palmar, Valencia. Phone: +34961620060. Map.
Atelier House of Food: C. Sos del Rey Católico, nº7, Local 3. Granada. Phone: +34858708057. Map.
Bacira: C. del Castillo, 16. Madrid. Phone: +34918664030. Map. Read more.
Berbena: Carrer de Minerva, 6. Barcelona. Phone: +34691957797. Map.
Brots: Carrer Nou, 45. Poboleda, Tarragona. Phone: +34977827328. Map.
Cadelo: Calle Sta. Lucía, 33. Santander, Cantabria. Phone: +34942221051. Map.
Cal Travé: Carr. from Montblanc to Artesa, 56. Solivella, Tarragona. Phone: +34977892165. Map.
Camí Vell: C/ Colon, 51. Alzira, Valencia. Phone: +34962412521. Map.
Mustache House: C. Pórtico Bajo de Guía, 10. Sanlúcar de Barrameda, Cádiz. Phone: +34956362696. Map.
Cruix: C/ d'Entença, 57. Barcelona. Phone: +34935252318. Map. Read more.
Two Cuiners: Muralla de Sant Llorenç, 18. Mataró, Barcelona. Phone: +34930029093. Map.
The Llar de Viri: Trasquilos 22., Asturias. Phone: +34985828022. Map.
El Molín de Mingo: Finca Molín de Mingo. Peruyes, Asturias. Phone: +34676255374. Map.
The Origin: Pl. del Justicia, 4. Huesca. Phone: +34974229745. Map. Read more.
El Risco: C. Montaña Clara, 30. Urb. Famara, Las Palmas. Phone: +34928528550. Map.
Kimtxu: Henao Kalea, 17. Bilbo, Bizkaia. Phone: +34946527892. Map. Read more.
The Factory: C. Briviesca, 4. Burgos. Phone: +34947040420. Map.
La Finca – Villa Xarahiz: Km. 32.8, EX-203, 4. Jaraíz de la Vera, Cáceres. Phone: +34927665150. Map.
La Mundana: Carrer del Vallespir, 93. Barcelona. Phone: +34934088023. Map.
The Tavern of Almodóvar: C. Benito Pérez Galdós, 1. Córdoba. Phone: +34957940333. Map.
Lalola de Javi Abascal: C. Count of Torrejón, 9. Seville. Phone: +34633457162. Map. Read more.
Gabino's Tortillas: C. de Rafael Calvo, 20. Madrid. Phone: +34913197505. Map.
Les Moles: Carretera de la Sénia, Km. 2. Ulldecona, Tarragona. Phone: +34977573224. Map.
Malvasia: Av. Julietta Orbaiceta, 6. Playa Honda, Murcia. Phone: +34968145073. Map.
Mesón Octavio: C. Severo Ochoa, 6. Ciudad Real, Tel: +34926256050. Map.
Mirko Carturán: Avinguda de Pi i Margall, 75. Caldes de Montbui, Barcelona. Phone: +34938654160. Map. Read more.
Pampín Bar: Ruela das Fontiñas 4. Santiago de Compostela, A Coruña. Phone: +34981116784. Map.
Cuckoo Bread: C. Calabazas, 17. Suesa, Cantabria. Phone: +34942504028. Map.
Burning: P.º María Agustín, 20. Zaragoza. Phone: +34976439214. Map.
Overboards: C. Colombia, 7. Seville. Phone: +34955546451. Map.
Somiatruites: Carrer del Sol, 19. Igualada, Barcelona. Phone: +34938036626. Map.
Recreation Tavern: C. de Espartinas, 5. Madrid. Phone: +34910334379. Map.
Tavern Úbeda: Calle de Luisa Fernanda, 16. Madrid. Phone: +34622712699. Map.
Tepic: Ayala Street, 14. Madrid. Phone: +34915220850. Map.
Topa: Agirre Miramon Kalea, 7. Donostia, Gipuzkoa. Phone: +34943569143. Map.
Transfer: Av. de la Merced, 64. Barbastro, Huesca. Phone: +34974312700. Map.
Treze: Calle del Gral. Pardiñas, 34. Madrid. Phone: +34915410717. Map.
Verat: Av. Pallaresa, 104. Santa Coloma de Gramenet, Barcelona. Phone: +34936814080. Map. Read more.
Viòmic: Carrer dels Banys, 60. La Garriga, Barcelona. Phone: +34931298270. Map.
Moratín Wine Cellar: C. de Moratín, 36. Madrid. Phone: +34911276085. Map.
Yarza: Carrer de Ciscar, 47. Valencia. Phone: +34963952011. Map.




elcomidista.elpais.com
George Holan is chief editor at Plainsmen Post and has articles published in many notable publications in the last decade.