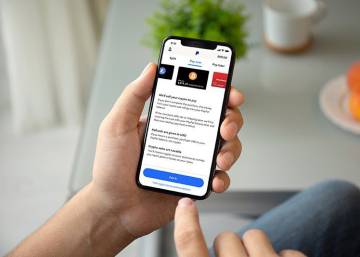 The Spanish bank, and even the European one, is in a dilemma. He does not know how to react to the avalanche of requests from clients who claim in the offices or on the platforms of these entities to be able to carry out the sale of cryptocurrencies.
Everyone is waiting for the regulation on these virtual currencies to end to adopt their particular strategies. Despite this, most of the banks consulted by this newspaper acknowledge the risk of these assets and their high volatility, "but the interest aroused by crypto and the inquiries received is such that we will do something, although we don't really know what" The president of a prominent bank recognized this newspaper on Tuesday. And he added: "Most likely we will allow the client to buy and sell bitcoins, as they can buy or sell equities, for example, but we will not advise on them, it is very risky."
This opinion coincides with the vast majority of those in charge of the sector consulted, who, for the moment, assure that their entities will limit themselves to being "facilitators" for those who wish to safeguard and invest in cryptocurrencies.
Only Banco Santander, among traditional banks, has advanced that the entity is finalizing the details of its bitcoin ETFs (exchange-traded funds). And, despite the fact that Spaniards are among the first investors to buy and sell cryptocurrencies, Spanish banks are still reluctant to launch investment products in these assets.
The supervisors also share the doubts about these currencies online. The European Central Bank, in fact, yesterday called the cryptocurrency segment "exotic" in its Financial Stability Report.
The ECB calls bitcoin an "exotic" asset
The CEO of Singular Bank, Javier Marín, stated in an interview with CincoDías: "We are not going to offer advice, nor will we enter into investments in cryptocurrencies. I don't understand the intrinsic value of crypto and I don't think anyone does. Another thing is the blockchain. But, come on, if a client wants to invest in cryptocurrencies and asks us, we will facilitate their investment, but I feel unable to advise on these currencies. They are very volatile ".
The CEO of Bankinter, María Dolores Dancausa, declared that when we talk about cryptocurrencies "we are not talking about a currency to pay, but rather a clearly speculative asset, to earn money. As it is so speculative and, on the other hand, it is not regulated, we at Bankinter are not recommending it to clients although we are following it very closely, how could it be otherwise, because it is a small revolution, and if in some When we decide to do something it would be through Evo, which is our digital bank. But for now the recommendation to clients does not go through the issue of cryptocurrencies ".
BBVA was the first euro bank in June to offer bitcoin trading. This service has been launched through its subsidiary in Switzerland and after two years of testing, although any client in other countries can use the platform, as it has been opened to the rest. The bank estimates that 20% of clients are interested in investing in cryptocurrencies.
Most entities consider virtual currencies very volatile
In study
CaixaBank does not offer any services related to cryptocurrencies, although it recognizes that it is a field that it is studying and for this it is awaiting advances in both technology and regulation. "It is an issue that we are closely monitoring." Banco Sabadell coincides with CaixaBank.
The head of private banking at Credit Suisse in Spain, Íñigo Martos, assured in an interview that, as a bank, "we do not actively participate in the public sphere of cryptocurrencies, we continue to monitor developments in the market and try to help clients to understand these events from an intellectual leadership perspective ".
Cecabank, the largest Spanish custodial bank, also plans to enter the cryptocurrency business. Its general director, José María Méndez, assured in conferences that the provision of services related to crypto assets is a way to be explored by specialized entities (such as Cecabank), probably having much more travel, at least in the short and medium term, than direct investment in such assets.
In this sense, Cecabank's role will be to safeguard these digital assets, which will complement the offer of the firm owned by the former savings banks to strengthen its position as an independent entity in the field of securities services.
At the moment, the bank awaits European regulation. The ECB said yesterday that the European Commission's proposal for the regulation of crypto-asset markets is "a significant step forward." And it highlights the strong increase in the popularity of stable cryptocurrencies, which try to maintain a price without great volatility by anchoring their value to other currencies or assets, including crypto assets, or with the use of algorithms.

cincodias.elpais.com
George Holan is chief editor at Plainsmen Post and has articles published in many notable publications in the last decade.