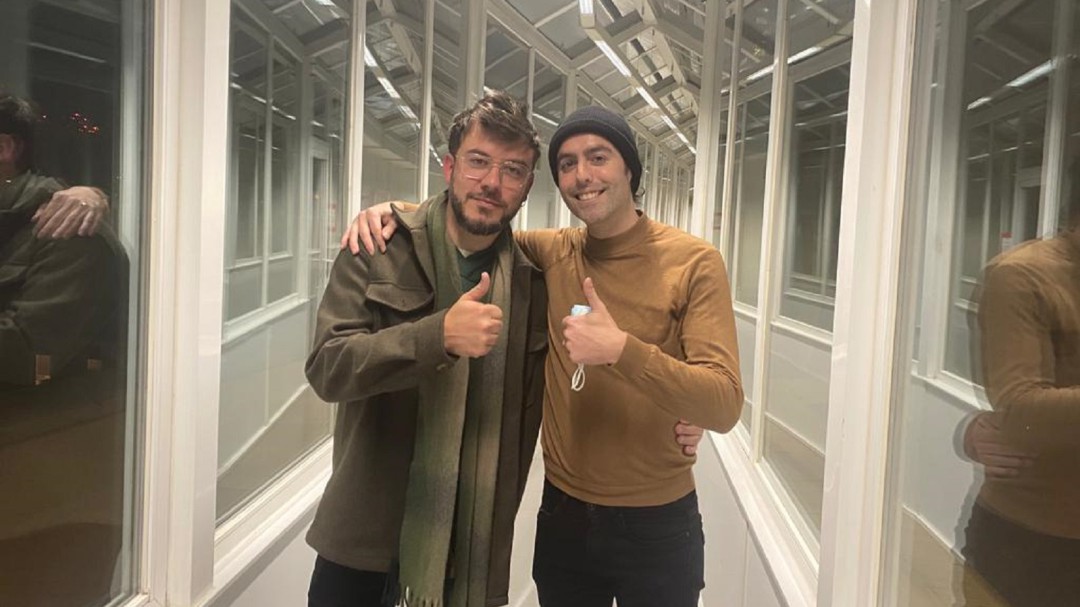 Behind the duo 'Antílopez', José Félix López and Miguel Ángel Márquez appear, who from Isla Cristina, in Huelva, rebel against the traditional patterns of music through their lyrics, scathing and committed, and their melodies, varied and difficult to straighten into a single gender.
With his new album, Mutar Fama (2021), Antílopez makes a portrait of the addiction and anxiety that fame causes, a damage to mental health similar to that of smoking (hence the pun in the title, which refers to the slogan 'Smoking Kills') causes physical health.
"Anxiety runs through the same neural circuits as nicotine", they have stated in La Ventana de la Música, presenting this new work, which combines a bachata (Taste of Malta), a bullet in the style of Silvio Rodríguez (Primavera), or the song between reggae and rap that gives name to the album (Mutar Fama).
Antelopez does not sound in the 40
Because of this mix, they point out, it is normal for the public to be somewhat confused, and they know "that it doesn't seem like the same group." The diversity of genres is one of the reasons why Antílopez does not sound too much on the most popular current music networks: "We don't sound in the 40s."
"We are two singer-songwriters who came from Isla Cristina and we have always dreamed of the idea of ​​being 'rockstars', that a massive offer would arrive", they explain, "but little by little we have realized that that would never happen" .
"We are very difficult to sell because we do many styles, because we do not specify anything and so we continue to this day as a company of freelancers who are fighting for their dream without multinational muscle."
They are convinced that there are some closed doors "as it is considered a low profile in the world, because of target and because it is not convenient at a monetary level". the audience is not always the same either, the same song does not mean the same thing at all times
The pandemic that stole spring from us
This album was completed during confinement, although most of the songs were practically finished: "I did not need a pandemic to point out and underline the things that as an individual on this planet happen to me and hurt me and matter to me"
However, there is a song that was born from what the pandemic stole from us: 'spring'. José wrote it during confinement, and according to his partner, who was the first person to receive the audio, it is "the best song of the pandemic without naming the pandemic."
"I was thinking that for the first time, at least during my life, we all had something in common, and that is that we had not all run out of spring," explains José, "regardless of what spring meant for each person, for the first time we had something in common ".
This year they received the Isla Cristina Innovation and Tourism Award for their contribution to music, and Miguel has just published a fictional book through aphorisms, 'El poeta son de su madre'. The duo is at a peak in their career, and although they claim that their eclectic and original style has closed some doors for them, this new album has opened a window for them.



cadenaser.com