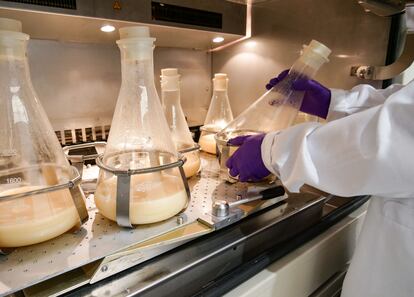 With barely 30 years of age, Javier Viña has accumulated a long list of jobs as a biotechnologist. After studying at the Pablo de Olavide University in Seville and completing a master's degree at the Autonomous University of Barcelona, ​​he participated in the creation of a vaccine against canine leishmaniasis and has passed through several laboratories in the food sector. Later he had to reinvent himself in the commercial world, where he entered the dairy field. There he discovered that companies spent large amounts of money to acquire microorganisms to make their cheeses, curds or yogurts. "I was very surprised," says Viña, who began looking for a solution with his partner, Sergio Romero, 35. "We realized that we knew how to produce these microorganisms and, with the knowledge that we already had, we believed that we could lower costs for companies," he adds. This is how the germ of Cultiply arose, a start-up that both have run since April 2020 and with which they invoiced 400,000 euros last year after having already crossed the border of benefits.
Romero and Viña have developed a technology that allows the microorganisms that participate in all types of fermentation processes to be cultivated and multiplied quickly and in a controlled manner. From the most obvious, such as the necessary yeasts in a wine cellar, to other fields such as biopesticides or biofertilizers. In between, products such as vinegar, chocolate, table olives or meat products. "There are as many applications as you want to imagine. Even insulin for diabetics is produced by fermentation, "explains Viña, who together with his partner received the boost from the Minerva Program, an accelerator of technology companies backed by the Junta de Andalucía and Vodafone. "With that support we feel more confident to take the step forward," says the young Sevillian, who took advantage of an opportunity in spring 2020, in full confinement, to locate his facilities in La Rinconada, a municipality of 40,000 inhabitants north of Seville.
From there Cultiply develops two lines of business. The first, à la carte research and development projects for clients who need to grow and reproduce microorganisms to make kefir, help a crop absorb nitrogen better and produce proteins that can be alternatives to meat, among many other possibilities. The second goes a little further, with the design of a bioreactor adjusted to the needs of each producer. With this technology in their own facilities, each client can manage the parameters for the development of microorganisms that use their processes. The machinery controls from the oxygen level to the PH, the nutrients or the temperature. "So everyone takes ownership of the process without our help. We get that they no longer depend on large multinationals".
He knows in depth all the sides of the coin.
subscribe

elpais.com
George Holan is chief editor at Plainsmen Post and has articles published in many notable publications in the last decade.