Mary Donaldson, born in Australia and princess royal by her marriage to Federico, heir to the Danish crown, turns 50 this Saturday. Denmark is one of the oldest monarchies in the world, and although the sovereign, Margaret, enjoys high popularity ratings, her daughter-in-law has managed to leave her mark. Mother of four children — Princes Christian, Isabella, Vincent and Josephine — Mary will be queen consort when her husband ascends the throne. In the interviews that she has given these days on the occasion of her birthday, she has emotionally shared a phrase from her mother, Henrietta, who died in 1997. She told her: "You can only be yourself", and the advice of her has helped her in difficult times. "I have remembered it when she had the feeling that she could lose my personality", she has admitted in a talk with the magazine Eurowoman Magazine. The confession is significant, since he has rarely spoken in public about the pain caused by losing her mother at the age of 25.
The princess's 50th birthday party will be private, but an exhibition now open to the public at the National Museum of History at Frederiksborg Castle reviews her personal and family history. She is the youngest daughter of John Dalgleish Donaldson, a Scottish mathematics professor who emigrated to Tasmania with his wife, Henrietta Clark Horne. She has two sisters and a brother, and in her native land she graduated in Law and Commerce. She also has two postgraduate certificates in Advertising and Marketing. Like Queen Máxima of the Netherlands, born in Argentina, who quickly learned the Dutch language, Mary of Denmark is fluent in Danish, and her efforts are greatly appreciated. The sample has an official portrait, painted by the Spanish artist Jesús Herrera Martínez. In the canvas, she appears seated and dressed in white on a background where she stands out the silhouette of a eucalyptus, a species native to Australia.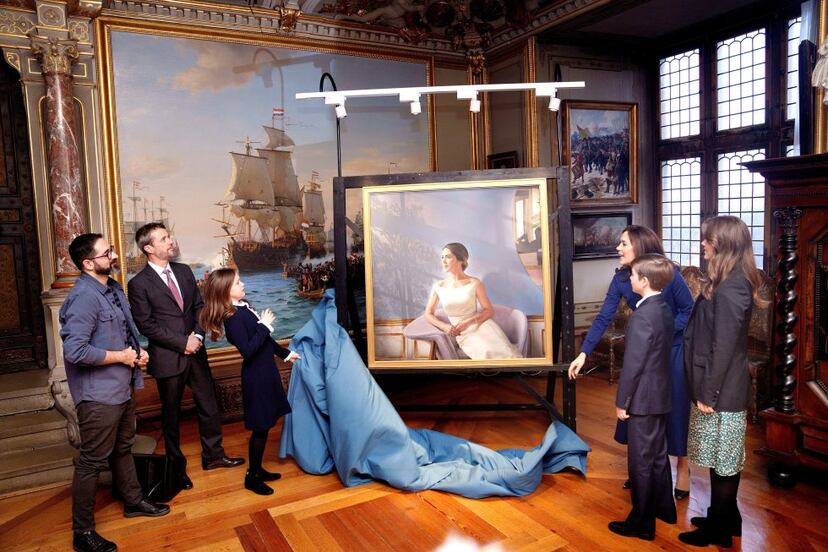 Mary and Federico met by chance in 2000 during the Sydney Olympics. She was 28 years old and he was 32. Both went to the same bar one afternoon, although the prince's group also included Felipe of Spain, his first cousin, Nicolás of Greece and Princess Marta Luisa of Norway. A year later, the Danish magazine Billed Bladet published the first photo of the unknown young Australian. In 2003, the couple finally showed themselves in public. During those years, the Danish gossip press insisted that Queen Margaret would have preferred another bride for her heir. Time has played in favor of the princess. "No one should be limited by where he came from or what he has. The cohesion of Danish society is strong in many respects. In equal opportunities, for example, but all people have the right to feel that they are part of society. The vulnerable and those who are alone must not be forgotten, and a common effort is needed to find sustainable solutions", says Mary, in the same interview.
Like other European princesses or queen consorts, she emphasizes the issues that seem most urgent to her, and maternal health and women's sexual and reproductive rights, as well as those of the LGBT+ community, figure in hers. "I believe that we all have the right to be who we are regardless of gender identity or sexual orientation, and I want to lend my voice to this cause," she says, in another interview, published on Wednesday by the newspaper Financial Times.
For her new official portraits, she has dressed in blue organza embroidered with rhinestones, a model signed by the Danish designer Lasse Spangenberg. Her husband wears a dress uniform. The Royal House, for its part, has presented a photo of the princess on social networks. Here she has donned a mauve velvet pantsuit, and she is wearing a part of the ruby ​​dress that belonged to Queen Ingrid, grandmother of her husband. Inherited by Prince Frederick as part of the so-called passing jewelry, it cannot leave the Royal House and is made up of a tiara, earrings, necklace, bracelet and brooch. It is one of the most worn jewels, because the tradition of the monarchy includes pomp and jewels. But she has this to say about where she is now: "The monarchy exists in time and in the society of which it is a part, and the Danes are progressive, innovative and free-thinking. How you progress depends on the personality of the members of the royal family, and of course, the people they live among."
Despite being in tune with Danish society, the crown princes have also stumbled upon some investments. In 2020, Parliament asked them for explanations after learning that they had owned a chalet in Switzerland for a decade that they had not reported. The couple also rented the house, located in the town of Verbier, through a real estate company and pocketed the money. They stopped doing it. Two years later, the princess says that life in a contemporary royal family has no secrets. "It's about being aware of what's going on in society and listening."
Exclusive content for subscribers
read without limits

elpais.com
George Holan is chief editor at Plainsmen Post and has articles published in many notable publications in the last decade.