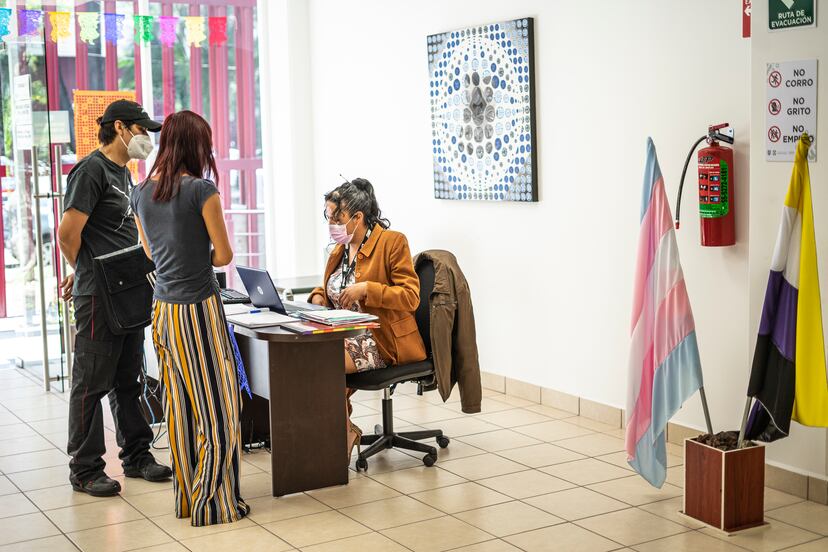 What is a trans body? It is best to leave the question open, as open as possible. In its Latin etymology, trans is what goes through, what goes beyond. To enclose it, to delimit it would be to go against its nature. In part, this is the reason why it is not believed that within some feminisms there are transodiant discourses and practices. November 25, International Day of Non-Violence Against Women, intersects with the month of trans remembrance, which makes us think about the importance of recharging the weight on this issue, in hatred against trans women. The discourses of trans-hate have permeated some feminisms that seek non-violence against women, I wonder how that is possible.
At what point did biologicist discourses – what is or should be a woman, what is or should be a man – seep into the feminist struggles that seek precisely freedom? It seems that one discourse overrides the other when it comes to the common struggle for human rights, the freedom to decide on bodies is a common search. On the other hand, how can it be that right-wing speeches – as in fascism – decide who does and who does not have the right to life. Now that the end of the year is around the corner, these are important times to remember all the people who have been victims of transodium, transphobia, and transfemicide.
The Observatory of Murdered Trans Persons, which is dedicated to collecting, monitoring and analyzing reports at a global level, yields terrible figures: Since 2016, Mexico is the second country in Latin America to murder trans and gender-diverse women. In Mexico, four of the 10 to 11 femicides that occurred are transfemicides. But the reality, the context in which these murders occur, is always worse than what the numbers reflect. There is another piece of information that adds the necessary information to understand the dimension of the problem: the most vulnerable sector of trans women are sex workers; the second are trans migrant women on their way from Central America to the United States; the third are the best known, most visible activists.
This speaks a lot about a society that does not provide safe, dignified spaces for trans women, therefore, public policies designed in favor of the right to life and labor rights are urgently needed in one of the most violent societies against trans women. . Why don't we open places, initiatives, work spaces for trans women and women of different genders? Why aren't there programs in schools that normalize this inclusion from an early age? Perhaps this is a good time to ask ourselves how we relate to a trans body. These times put us in front of a mirror in which we must review.
In this spirit, I would also like to recount the great achievements that the trans community has achieved through activism, one of its most vulnerable sectors, also with greater force. In 2015, the gender identity law came into force that allowed the processing of a birth certificate recognizing the chosen name and gender from the age of 18. To do this, a trial was held – I wonder who the judges were, and how they could make judgments with a gender perspective in a system not thought from a gender perspective – and they ruled through medical, psychological, psychiatric and witness expert reports that the person requesting recognition of their identity, deserves it. The trials were expensive, they were subject to what the judges ruled, but there was the possibility that a person's identity, that basic principle of life, would be legally recognized.
A couple of months ago that law had a happy modification in which it is no longer only from 18, but from 12 years. The ideal, hopefully close, would be for the law to defend trans childhoods, which in Latin America only exists in Argentina. Jorge Volpi wrote a beautiful column about the accompaniment that he made to his teenage daughter to carry out this procedure recently. I want to think that for Violeta, Volpi's daughter, in this first step, a brighter future awaits her: that our recognition as a society of trans adolescents goes hand in hand with public policies. That their development, like that of so many trans adolescents who can now be recognized, can occur in a society that respects them from affection.
Another of the achievements made this year is the Trans Clinic that comprehensively cares for trans people in Mexico City, from hormonal treatments to psychological support, a public health issue that was urgent to cover and that ideally should exist in other states and municipalities. But no changes in public policies guarantee changes in the cultural, in the arts, in the social. This issue further pushes the problem: that trans adolescents can perform in culture, in the arts, without prejudice to how we relate to a trans actress, writer or musician. That young people like Violeta have the opportunity to exercise not only their physical freedom but also their creative freedom in spaces free of violence.
On this subject, Lía García, a Mexican trans writer, opines: "I think it is important that trans people, writers and artists, make ourselves visible and that we talk about how our creative processes are an extension of our own lives. We create with and from the body and thus we transgress the normative canons of art and literature where we have not been represented for a long time. This has been thanks to all our sisters who accompany us and who have given us space to make our proposals visible and create new forms of existence, affection, bodies and building identity. Creativity is a haven in the midst of so much violence and so much pain that it allows us to move to other realities where the possibilities of exercising the human right to existence are multiplied and incarnated. "
Camila Sosa Villada, writer worthy of the Sor Juana Prize for her beautiful novel The evil ones, from Argentina, adds about these times: "The month of trans memory does not have a special meaning because the exercise of my memory is a day-to-day exercise, what we transvestites have to do is make it mean something to the rest of society, of what they are still capable of doing to us. I have a particular position taken towards the word trans and transvestite, I think they sanitized us with the word trans, they gave us that word from regions where they did not understand transvestism in Latin America, what transvestites were capable of doing in the middle of the killings. I would say that it is the transvestite memory that we have to rescue, because they are large women, who have already exceeded their life expectancy. I would give it the month of transvestite memory ".
But how are these times also from the original communities in which historically there have been other ways of naming diversity, Daniel Nizcub, trans writer of the Zapotec community in Zoochila, closes: "The case of the muxeidad, in a Zapotec area, As in Zoochila, it is what has been known the most. And we are not going to say that this region is a paradise because machismo exists in our communities. For me it is very important to be fair from an original community like Zoochila, 15 kilometers from the city of Oaxaca, to say that memory is not only standing on the neck saying we are the last Zapotec capital, but that in the communities we are and exist the trans and diversity people. There is a turn towards the roots, trans people have always existed. We must turn to those peoples that prior to colonization had ways of naming other genders. "
Subscribe here to newsletter of EL PAÍS México and receive all the informative keys of the current situation of this country
Sign in to continue reading
Just by having an account you can read this article, it's free
Thanks for reading EL PAÍS

elpais.com