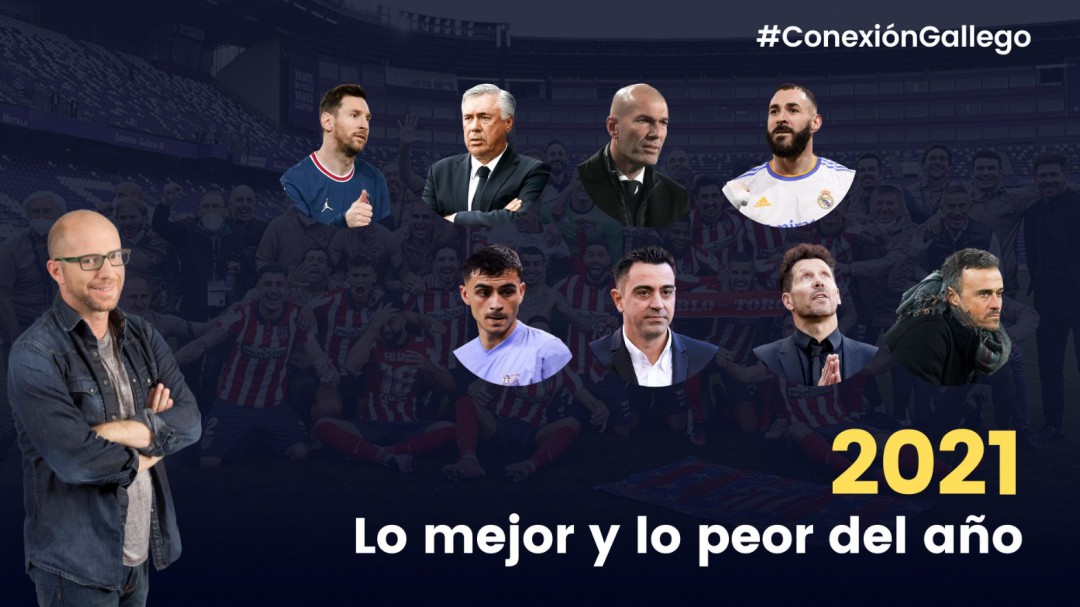 2021 has been a year that has left great moments: the Super League, the Atlético de Madrid League, the mess of benches at Barça, the great participation of the Spanish National Team in the Eurocup … Jesús Gallego reviews with the team of Cadena SER sports all that it has given of itself this year and they mark its protagonists.
# ConexionGallego is a program that reviews all the sports news and is directed by Jesús Gallego, broadcasting every Thursday on Carrusel Deportivo's Twitch.
Luis Enrique
Jesús Gallego: "You have to recognize his results despite his self-centered way of leading the National Team. I give him an 8."
Dani Garrido: "I am going to be generous with him because he has managed to find a model and gives sauce in the press conferences, in addition to having good results. I give him an 8.5".
Antón Meana: "He is the great winner of Spanish football this year. He has not hit the downside and made people connect with the National Team. I give him another 8.5".
Lluis Flaquer: "Because of how he has regenerated the National Team, he already deserves a high note. He has had good sporting results despite suffering in the World Cup qualification. Because of how he has made Real Madrid nervous, I give him an 8.75, almost a 9." .
Diego Pablo Simeone
Jesús Gallego: "A 7 for Simeone. His first part of the year was good despite being close to losing the league, he tried to change his style and, although he has not succeeded, he has tried."
Dani Garrido: "I give it a 7 because for its first section I put a 9, it had a lot of merit … but its second section is a scraped 5. The average comes out a 7."
Antón Meana: "I give him a 6 because his year has had many shadows despite the league title. Of course, I think it is unfair that he gets less than a 7, so I raise him so that the average is remarkable."
Lluis Flaquer: "For his career he deserves a high note even though now he is not working with the best squad he has ever had. Cholo is failing this season, so for the average of everything I give him a 6.5".
Zinedine Zidane and Carlo Ancelotti
Jesús Gallego: "I give Zidane a 4. He was fighting for the league, but he had resources for more. I give Ancelotti a 7.5 because we still have to wait until the end."
Dani Garrido: "I give Zidane a 5 because he did not win any title. For Ancelotti it is a partial, but for the moment I give him an 8 because of how he has calmed the waters."
Antón Meana: "I share Ancelotti's 8 because he can still improve, because he is doing very well. I give Zidane a 4 being generous."
Ronald Koeman and Xavi Hernández
Jesús Gallego: "I'm going to give Koeman a 7 because he was the one who took out the young people that Xavi takes advantage of today and how he endured what the board was doing to him. I give Xavi a 6."
Dani Garrido: "For me, Xavi does not deserve more note than Koeman. So far, the evidence is what it is. I give both of them a 6."
Antón Meana: "Koeman deserves a 6.5 because he won a Copa del Rey and there is no notable difference between this Barça and the next one. I still cannot qualify Xavi because his arrival has left more literature than I have, but as we are evaluating I put a 5 ".
Joan Laporta and Florentino Pérez
Jesús Gallego: "I suspend Laporta with a 4 because he arrived promising a lot and has not delivered yet. I give Florentino a 5 for not winning titles, the frustrated signing of Mbappé and how well the Bernabéu is evolving."
Dani Garrido: "I give Laporta a 5 because he has had a tremendous brown with the accounts of this Barça, but what he promised was a 9, so I almost gave up suspending him. I give Florentino Pérez a 5.5 because I'm sure he's not happy with the lack of titles, but the club is very healthy. "
Antón Meana: "I leave him at a 4 and he has room for improvement, but, of all that Laporta promised, he has not fulfilled anything. For Florentino I give him a 7. Everything that has depended on good has been well managed despite the lunge of the Superliga ".
Rubiales and Tebas
Jesús Gallego: "Javier Tebas has played the bad role to protect LaLiga because that's what he has to do, I give him a 6. I give Rubiales a 6 too, I can't take off the shadow of the Super Cup in Saudi Arabia despite being less controversial in his interventions and how the Cup has improved ".
Dani Garrido: "The body asks me to search them, but I'm going to give both of them a 5 because they have not contributed to the professionalization of the women's league."
Antón Meana: "It has been a good year for both of us. I give Tebas a 7 and Rubiales an 8 because I like him better."



cadenaser.com