Simón, to call him in some fictitious way, entered the courts on Albarracín Street in the capital last Thursday, December 9, with his head down. Shy, blond, handsome and nine years old. Outside that building, Simón has the face of a child with a peaceful life. But nothing to see. He got up early, took the subway and arrived at the Office of Assistance to Victims of Crime (OAVD) in Madrid full of fear because he had to testify against his father. And I didn't want to. Or did not dare. His mother, who was with him, told the judicial workers shortly after. It is also true that he was not obliged. But the judge thought it appropriate for him to relate everything he had seen and heard at home because, unintentionally, he had become an exceptional witness. The truth is that Simón has seen and heard everything and does not have or has had a peaceful life. And, despite that, and if he did not want to, Simón agreed to speak thanks to a tool that in Spain is only offered in the Community of Madrid: the company throughout his statement of Eika, a nine-year-old black labrador who works as a psychologist, therapist and insurance.
From the time she arrived until she left, Simón did not leave her and finished answering, 20 minutes later, without leaving a detail. It was a success. Within what fits.
They call them Dogtor. They are the dogs that accompany minors in the Community of Madrid in the difficult situation of having to testify for a family case of gender violence. There are three dedicated to that function, Eika, Cuba Y Dakota, and they are already some more workers in the OAVD, the Family Courts and the Criminal Courts that are distributed in the Madrid region. They go when they are called on – more and more – and although they monopolize the looks and caresses of everyone who comes across them, when they put on their overalls there is no one to distract them. They are employees, as you say, of Dogtor Animal, a professional company that has been working for 12 years with 12 dogs and nine professionals with the title of psychologists or intervention dog trainers who help in therapies with children with sensory difficulties, with neurological problems. , in social exclusion, with elderly people in nursing homes or victims of gender violence.
In the courts, however, they have only been active since 2014, when the Community of Madrid agreed to launch a pilot program whose contract will now be renewed because the anxiolytic effects of this service are already beginning to be seen, which 500 minors have tested in those seven years, between 10% and 12% of those who have had to declare. It is costing it to spread, because justice, and its professionals, is rigid. But, little by little, and especially since last year, his work has become more popular.
"When we offered to offer the child to do it with a dog by his side, he said yes," María Jesús Juárez, the general director of all the OAVD, tells about Simón.
The system is simple: the judge has to agree to the dog accompanying a child in what is called a pre-constituted test, that is, the one that exists before the opening of a judicial process. The law of the minor protects the child so that he does not have to go through the rigid and cold system of a trial and that is why a statement is taken before him, in one of the 13 Gesell rooms in Madrid, those reserved for the most vulnerable, mainly minors who testify before a psychologist while being observed, on the other side of a mirror, by the magistrate, the lawyers of both parties, the prosecutor and a social worker. If you have a dog next to you, the family has previously filled out a form that is delivered to the OAVD to certify that the child likes animals, feels comfortable with them and does not have any type of allergy. The judge, in any case, is the one who ultimately gives the go-ahead for the dogtor to put on his overalls.
What affects the most is what happens closer. To not miss anything, subscribe.
Subscribe
And when they do, they do not leave anyone indifferent. "It was amazing." This is how a judge summed it up when she left the Gesell de Albarracín room last March. On the other side of the glass, he had seen how a 10-year-old girl could not speak a word. He was blocked, like many others are blocked when they have to tell how their father has raised his hand at home and in what way he had done it. There was silence in the room until the child psychologist in charge of asking the questions previously agreed upon by the parties and the judge proposed that she tell it as she wanted to. Because, a six-year-old brown lab. The girl breathed, took a few seconds and raised the animal's ear. Without looking at anyone else, he recounted with hairs and signs every word he had heard and every blow he had presented. Everything.
Luis Guzmán, a social worker who was also present that day, confirms that cases like this happen quite often and "you don't forget them." "It was a horrible situation. His father had used excessive force on his mother. Normally, children tend to be witnesses and many times parents think that because they are minors they do not realize it, but children of five or six years are already aware and they tell you everything perfectly ".
Sometimes they just need a little extra help. And feel safe when doing it.
That is what Simón found when he entered the Courts. Shyness broke the moment he met the dog. Vanessa Carral and Saskia Van Liempt, director and employee of Dogtor Animal, were at the office entrance waiting for him. As soon as they saw him, they offered him the strap of And not and Simon didn't let go of her until the end. "At that moment the magic begins. They become a tandem ", explains Carral. Before entering the room, the dog and the child spend time together, play, do skills exercises with the animal and when the endorphins are already visible, they come in to testify.
Simon, specifically, had And not stuck to his leg during the 20 minutes that the statement lasted and, while he recounted everything he had seen at home, he did not stop caressing her.
Carral, specialized in clinical, health and educational psychology, explains that in reality what happens inside that room has little to do with magic and a lot to do with science. It is based on different research studies, one about to be published by the University of Lisbon, which proves how an assistance animal causes that at a physiological level "stress indicators are reduced, blood pressure and heart rate are lowered and it helps that minors can be more proactive in witnessing or at least more emotionally positive ".
The theory is there, although the practice, in the judicial system, advances slowly, despite the fact that the importance of these animals in the search for explosives, in the search for people after a catastrophe, corpses or in helping vulnerable people such as the elderly or victims of violence.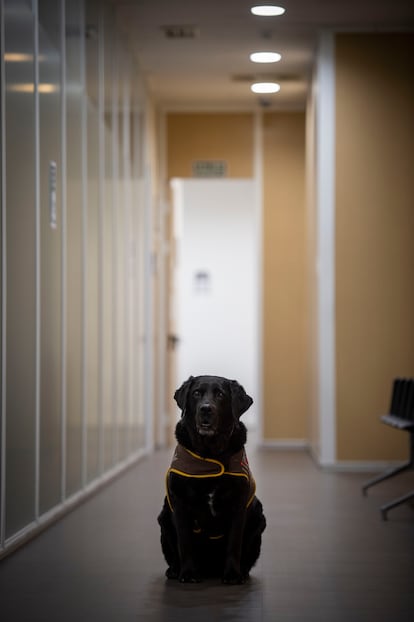 The origin of Dogtor Animal is related, although it seems strange, with the theory of psychogeography, a proposal that defends that the environment and the forms of the geographical environment have their influence on the emotions and behaviors of people. Carral realized in 2008 that something was not working in the relationship of minors with justice when he worked as an emergency psychologist with the National Police. The atmosphere of the children who came to a police station gave him pause. "They went into a spiral that was challenging emotionally and behaviorally and physically as well," he recalls.
The minors faced one of the most difficult experiences of their lives in a cold, tense, unpleasant space. "I was not prepared to make that experience not traumatic and the minors left there and needed therapy," he says.
When he left that job, Carral went to Australia and the United States for a season and ended up clouded by CourtHouse Dogs Foundation, the American association that was founded in 2012 with which, among other functions, dogs began to enter the trials to help children to relax. And he wanted to transfer it to Spain.
Anxiety before declaring
"Many children have anticipatory anxiety, that is, the fact that they think they have to go to testify hinders their quality of life at home, even behaviorally or emotionally. We have had children who even stopped sleeping, or eating, even injured themselves and did not want to testify ", explains the psychologist.
So the first thing he did was try to convince the then Ombudsman for Children of the Community of Madrid, Arturo Canalda, who was in favor of the project, although he did not put much hope that the Madrid judicial system would consider working with animals.
But he ran into chance. "In a fortuitous way we met the then director general of justice [Beatriz Grande], that he loved dogs ", he narrates. She was open to receiving the project and finally, in 2014, Salvador Victoria, the counselor of Justice of that year, gave the starting gun for the animal service to begin.
"When Vanessa presented him to the Ministry, he was armed and based on the actions that were being carried out in the United States, and everything he contributed seemed necessary to us," admits Juárez. As general director of all Crime Victims' Offices, she firmly believes in the theory of the warmth of spaces. That is why the Gesell room is decorated with a sofa, chairs and a wooden table, children's colors and donated toys for the little ones.
And that is why it also inaugurated a children's room last October so that women who come to testify with their children can leave them playing with a social worker for the necessary time. It is not trivial. This year, 902 victims of gender violence of legal age and 106 minors have passed through its offices, according to data collected up to October 25. More than the 825 people in 2020.
For this reason, in part, Juárez is clearly convinced of the positive effects of dogs in court. "We saw that we needed an additional resource to give the minors the last push," he acknowledges. It only lacks, he assures, that the judges are encouraged to demand it more.
The dogs that appear over there, like Because The And not, are previously selected and trained. "They have to be balanced animals to balance people. And what we want is to promote this anxiolytic effect ", explains Carral.
When Simón left the Gesell room, after explaining every detail of what he did not want to tell the day before, he began to play with the animal for a while longer. Thus entered the third phase of the day, which experts call "closing the child emotionally." "It is important that they do not leave with open emotion," explains Carral. Again, And not did his thing. She raised her leg, hid herself, showed how she responded to orders stoically and made a portrait of herself with Simon, who left without so much tension and wishing to see her again. Hopefully it is not necessary. But if you need it, you will find it there.
Subscribe here to our daily newsletter about Madrid.

elpais.com
George Holan is chief editor at Plainsmen Post and has articles published in many notable publications in the last decade.