He may not be the best cook in Spain. If he is not the most famous, little is missing. But there is no doubt that he is the most loved. Karlos Arguiñano has been teaching us to cook "rich, rich" for more than 30 years and, for the same price, he sings, tells jokes, prescribes healthy habits and highlights the gastronomic heritage that, for generations and generations, our grandmothers have guarded.
"The Russian salad and chicken soup that I ate when I was 5 years old is what my grandchildren now eat," he proudly explains at 73.
His romance with television began to take shape 35 years ago. Dfter a concert in San Sebastián, Joan Manel Serrat had gone with his band to dinner at his restaurant in Zarautz and Arguiñano, according to his account, was telling jokes until 3 in the morning. It was then that one of those present asked if he would not like to have a joke program on TV. "I want to have a cooking program," he replied.
It didn't take long to get the ETB audience in his pocket. "They gave it to me because I speak Basque," he says, "If not, they would have given it to Subijana or Arzak."
In any case, from ETB he went to TVE and from there, after five years of simultaneous Spanish and Argentine television, to Telecinco and Antena 3, where he continues to cook daily without giving up his costumes and parsley. "On the street, people from Romania and other eastern countries also stop by thanking me because they have learned Spanish by watching me," he says proudly.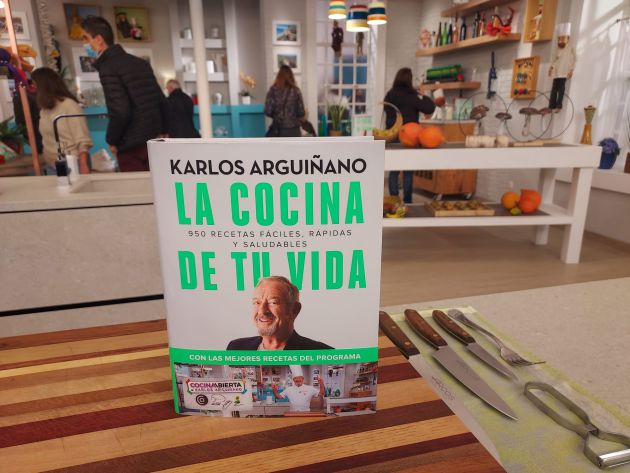 The Planeta publishing house has been publishing a new recipe book for eight consecutive Christmases and the result is overwhelming: 600,000 copies sold … and rising! The last to arrive at the bookstores is called The kitchen of your life and it goes even further, if possible, into the bases of the kitchen "with foundation": chickpeas with rice, sautéed pasta, eggs with ratatouille, rabbit stews, marmitako beautiful…
After presenting the book to the press, last Friday, Karlos Arguiñano spoke to Cadena SER for 10 minutes:
The last Premio Planeta has aroused much controversy. We discovered that Carmen Mola is only a pseudonym and that behind him, in reality, three men were hiding. How many grandmothers are behind Karlos Aguiñano?
There are no grandmothers, but women, fixed! Starting at home, that Luisi, my wife, knows a lot about cooking. The director of my programs, Ione Miren, has been by my side for almost 30 years and is also a very meticulous expert. If it weren't for the great team I have, in which the majority are women, I would not have reached where I have arrived.
And your kitchen also highlights the gastronomic legacy that a lot of women have helped to preserve for generations and generations …
The name of this book, 'The kitchen of your life. 950 easy, fast and healthy recipes', is based on those memories we all have of when we went to eat at grandmother's house or when your mother made you croquettes, stew soup, meatballs, rabbit in sauce or the baked chicken with a lemon inside the gut. Those memories and those flavors are what those who have this book at home will find. In addition, all the ingredients will be found close to home and without spending a lot of money. We are always concerned with finding healthy recipes that are satisfying, not tiring and that feed well. A well-nourished family is a healthy and happy family.
You are not against ultra-processed ones, but you do advise against consuming them on a daily basis. Is there one that you especially like?
I don't have time to buy processed foods …
But you do like the stock cube.
It is that the bouillon cube is in 10 million homes! To make a broth you need a chicken, vegetables, bones … and two hours of cooking. Not everyone can make a natural broth at home, which would be ideal. That is why pills are a very important help here in Spain, and I don't even want to tell you about it in Africa …
The hospitality industry has resisted the pandemic, but it has been touched and we are seeing that many professionals are not willing to continue accepting according to what working conditions. What do you think will happen?
People think that being a waiter, bartender or cook is not a good job, but I think that if you are good at your thing, any job is. Good workers, mechanics or architects are always going to be valued. I don't have the slightest doubt! A good waiter is a gentleman because he knows how to receive you, serve you, treat you, recommend you … I encourage young people to learn these trades. When I started 50 years ago, nobody wanted to be a cook either.
We have been without ETA for more than 10 years. What has it meant for you?
Fuck! We are living much calmer. That ETA has ceased to exist, for us it has been a liberation. I had been asking for it for many years. We have noticed an improvement in general lines. In Euskadi, since ETA stopped acting, we have noticed an improvement. 10 years is not long, but on the other hand it is quite a lot, and during this time we have received a lot of people who had no intention of coming. Now people come from all over Spain and they all leave delighted.
Would you recommend us a menu of the day site that you like a lot?
The Izeta Cider House! You see how the 'is gettingparking'… It's a bit hidden, but people always go to good places. It is a cider house-grill attached to Zarautz, but which is actually in Aia. They do everything very well and in value for money it is an extraordinary place. I think they don't need publicity. On Saturdays and Sundays they give 250 meals and it is rare that one goes without eating meat.
What do you eat at home at Christmas?
There is always a Russian salad, there is always chicken broth and there is always a vegetable. Thistle, normally. Then we usually eat roasted capon from home. They usually take 4 kilos each and, since we get together 30-35, we usually roast three or four. I'm shedding tears! With some roasted potatoes … And then, all the houses: compote, nougat, marzipan …
If Real Sociedad win LaLiga, what do you commit to?
If Real Sociedad wins LaLiga, I invite the whole team, including the utilleros and everyone in the locker room, to one of 'kokotxas' as I like them, a farmhouse roast chicken and a dessert from my son Joseba . That is done!
Almost 25 years have passed since your stellar appearance in Airbag, and now you are producing a movie. What can you tell us about her?
Little! It is called Irati and much of it is being shot, precisely, in the Irati forest. Some spectacular sites … And I think it will leave Spanish cinema in a very high place.



cadenaser.com
George Holan is chief editor at Plainsmen Post and has articles published in many notable publications in the last decade.