In addition to Dorothy's eventful journey to the Emerald City, the film The Wizard of Oz (1939) tells the story of the arrival of the technicolor to Hollywood. In the same way, Caravaggio's paintings not only present a somewhat Tarantinian of the Bible, but offer a testimony to the novel mechanism of lenses and mirrors with which, two centuries before photography existed, the genius of chiaroscuro managed to capture the features of his models to transfer them to canvas with surprising realism. The French designer Audrey Large (Bordeaux, 27 years old) alludes to all this when she explains that, although many people are reminded of the utensils of an alien ship, her sculptures are still a reflection of the technology we have in the present. Large uses digital design programs to create three-dimensional images that are then 3D printed into objects made from PLA filament. [el termoplástico empleado habitualmente por esta tecnología]. The amazing thing is that Large's pieces are identical in texture, luster and color to his digital prototype. Seen in images, one and the other look the same. "On Instagram people often ask me if my works are renders. There have even been journalists who have wanted to make sure that what I do are real objects, "he assures by phone from his Rotterdam studio.
The works of Audrey Large exist offline with their own size and weight. Anyone who passed by last September could verify it. Some Vibrant Things, his first solo exhibition. Commissioned by Studio Vedèt at the Milanese gallery Nilufar and inaugurated on the occasion of Milan Design Week, it was the perfect opportunity to find out what it feels like to have a video game item right under your nose. "Many people say that my works seem futuristic or even extraterrestrial because it is difficult to know how or what they are made," says Large. "However, to create them I use current technology, so I say that rather they reflect the present. I actually started using 3D printers because it was what I had on hand. I learned how to handle them with YouTube tutorials. They are getting cheaper and cheaper and I was able to buy one as a student, although I didn't use it to print superhero helmets or things like that ".
Audrey Large graduated four years ago from the prestigious Design Academy in Eindhoven. In his thesis, he sought in the visual effects of cinema a "new materiality" that would ride between the physical and the digital world. It may sound complicated, but Large is explained with an example that we have seen many times in the making of From the movies: After passing through the post-production department, the chroma pillow that an actor strokes on set turns into the head of a unicorn. Actually, you don't even have to go to the movies to find a good example, because today anyone with a mobile phone can transform their features into those of a manga character, or adopt the anatomy of Kim Kardashian. The originality in this case is that Audrey Large did the opposite of what happens during post-production on a movie or on a boring afternoon on Instagram. Instead of using the physical as a vehicle for creating digital images, she used the digital to create objects that, yes, seem to be ripped from a computer screen. "My thesis was to say that life has become a visual effects film," explains Large. "We are continually converting the material world into digital images, so I thought, why not design the objects as if they were images?"
To do this, Large turned his studio into a set and began to record himself handling jugs and other everyday utensils. Through technology mocap (motion capture) like the one used in the film industry, the movements of the object were recorded on Large's computer, which then created with them a kind of 3D portrait of the utensil in action. Hence, once printed, their pieces have such a dynamic shape and seem about to mutate in the liquid robots of Terminator. Exhibited for the first time in 2019 as part of a group exhibition by Nilufar, his works blur like a phantasmagoria the distinction between the material and the digital, obsolete for Large, and also cross the border between design and art. It could even be argued that they are pieces of craftsmanship. "For starters, I spend a lot of time working on the files on my computer," Large argues. "Other times, I design the objects by drawing them on my tablet and the movements of my hand are reflected on their surface."
According to Large, if his works have nothing to do with something, they are with the doomsayers who in the digital world see a future as black as the one he painted reflected Black Mirror. "That aura of negativity and mistrust that surrounds digital technologies seems very coarse to me. What if the world is dematerializing, what if we are going to forget how to interact in person … Blah, blah, blah. It is what it is, so better get something positive. If the material world is turning into digital images, we have to rethink the tools we use to design it. When we manufacture objects we are manufacturing images ".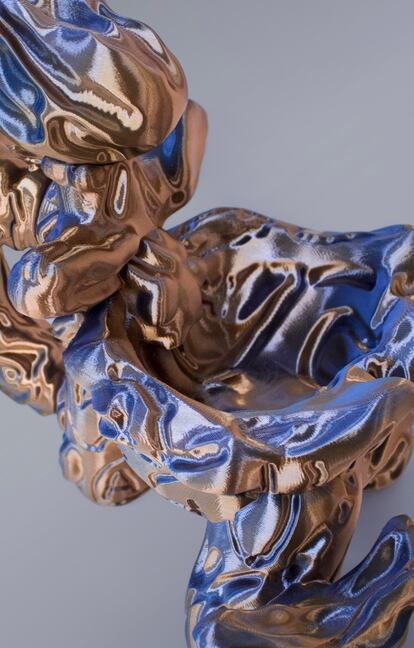 Sign in to continue reading
Just by having an account you can read this article, it's free
Thanks for reading EL PAÍS



elpais.com