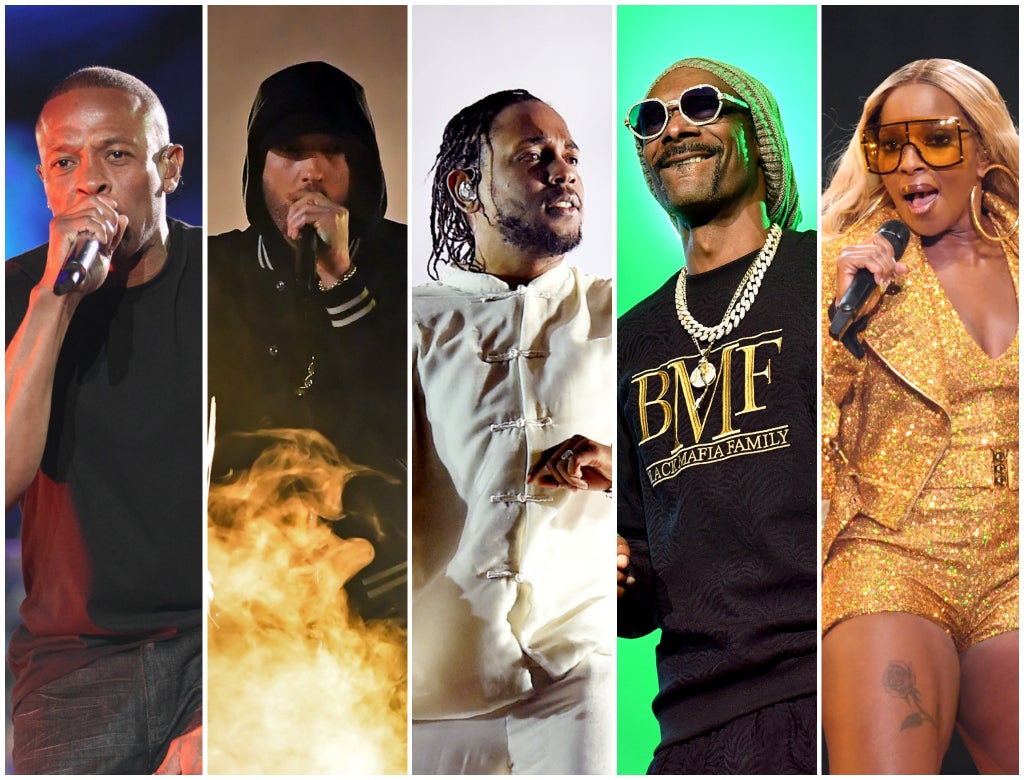 Super Bowl 2022: Eminem and Kendrick Lamar star in Pepsi Halftime Show trailer
Fans are preparing to watch one of the most anticipated Super Bowl halftime shows in years, with Kendrick Lamar, Eminem, Dr Dre, Snoop Dogg and Mary J Blige all headlining.
The 2022 Super Bowl takes place tonight (February 13) at the SoFi Stadium in LA, with the Los Angeles Rams taking on the Cincinnati Bengals. It's the first time that the Super Bowl – one of the biggest sporting events of the year in the US – will return to the Los Angeles area.
The Super Bowl is scheduled to kick off at 6.30pm ET, or 11.30pm GMT for UK viewers. While it is subject to change, the halftime show generally begins at around 8pm ET(1am GMT).
Viewers can watch the game on BBC One as well as Sky Sports Main Event and Sky Sports NFL.
The game will also be broadcast online via the BBC website and Sky Go app.
Dre, Snoop Dogg, Eminem, Blige, and Lamar join a list of celebrated musicians who have played during Super Bowl halftime shows, including Beyoncé, Madonna, Coldplay, Katy Perry, U2, Lady Gaga, Michael Jackson, Jennifer Lopez, and Shakira.
Last year, The Weeknd delivered an acclaimed set at Raymond James Stadium in Tampa, Florida.
Read more
Follow the liveblog below
1644795420
Super Bowl 2022: Every trailer to expect during the game
The sporting event takes place on Sunday night (13 February) and, while many will tune in to see the Los Angeles Rams take on the Cincinnati Bengals, others will be excited to get a glimpse at forthcoming movies and TV shows.
Considering how many people watch the Super Bowl around the world, studios view the event as the perfect time to promote their new titles – and 2022 is no different.
Titles expected to release new footage during the Super Bowl includes Amazon's new Lord of the Rings TV show, Marvel sequel Doc Strange 2 and Dwayne Johnson's DC film Black Adam.
My colleague Jacob Stolworthy will be keeping track of all of them in one handy article, which you can read here:
Roisin O'Connor13 February 2022 23:37
1644794698
Mickey Guyton performs the US national anthem in historic moment
A spectacular rendition of the US national anthem from country music singer Mickey Guyton just now.
Guyton has broken down a number of barriers in her industry over the past year, including sporting an Afro during her empowering performance of "Love My Hair" at the CMAs.
"It's Black History Month, and a Black country singer gets to sing the national anthem at the Super Bowl. Wow," she told the new york post this week.
"This is a huge moment for me. It's a huge moment for black people. And I want to represent that in the best possible way that I can."
"I set my intentions with singing the national anthem. I was like, 'OK, togetherness is what I really want,'" she continued. "So, I felt the way that people would feel togetherness is if I had a choir, with people that I believe represent America. And, you know, I have everybody from my black queen to a redneck cowboy to a girl that has one leg in this choir. And that's the America that I'm proud of — us all standing together. We all belong."
Roisin O'Connor13 February 2022 23:24

www.independent.co.uk