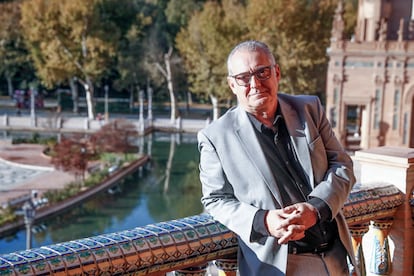 After the progressive disappearance of the most valuable lagoons in Doñana, the Guadalquivir Hydrographic Confederation hopes to close the five pumps that extract water less than a kilometer away to supply the 150,000 vacationers of Matalascañas (urban center of Almonte developed in the nineties) and replace them with others further away from the nature reserve. This is stated by the president of this organization, Joaquín Páez (Haro, La Rioja, 59 years old), who explains that the procedures to close the first two of these have already begun, which each year remove 2.5 cubic hectometres of water from the subsoil a short distance from the Doñana wetlands, whose aquifer was declared "overexploited" a year ago. Also very close to Matalascañas, the plundering of water by strawberry farmers continues to the despair of ecologists. Páez defends that his guards have closed 537 illegal wells near the protected area in three years. And he warns farmers that they must assume that European markets will close their doors to Huelva's red fruits if they do not stop this plunder in time.
In parallel, the reservoirs of the Guadalquivir basin are still in free fall despite being in the middle of autumn and this last month their reserves have dropped six tenths, from 27% to 26.4% of their capacity. Three weeks ago the president of the confederation – dependent on the Ministry for the Ecological Transition and the Demographic Challenge – declared the exceptional situation due to drought for 4.3 million people in Andalusia, Castilla-La Mancha and Extremadura, who will face restrictions if the situation it does not turn around soon.
Question. Why didn't the massive closure of illegal wells near Doñana begin until 2019, decades after the looting of water began?
Answer. I have never asked my predecessor [Manuel Romero]. Administrative procedures are time consuming and closing a well can take up to seven years. Justice is guaranteed and farmers have the right to appeal. When I meet with farmers who draw illegal water, I tell them that I am not going to give them quarter and that we with illegals do not negotiate. I have told him to his face.
P. And what do they respond to in those meetings?
R. Some stand up, others understand. There is a plan of the Andalusian Board to protect the aquifer since 2014, and the important thing is to follow it scrupulously and not consider modifying it.
P. Does this plan serve any purpose?
R. It serves a lot. The governance that exists now in La Rocina [una zona de Doñana cercana al Rocío] It is very different from before 2014, because before there was no plan. Most farmers do things well.
P. Do you understand the incredulity of the public at the apparent impunity of strawberry irrigators who prick one illegal well after another and the confederation is unable to stop them after two decades?
R. The confederation has closed 537 wells since we have been here [2018].
P. But one closes and another opens, because the illegal hectares do not decrease.
R. No no no. Working and connecting with farmers, regularizing and declaring the aquifer at risk means that there is a direct dialogue between the confederation and the farmers, and friction can occur, but also governance. They know that we are serious about guaranteeing the rights of the legal and fighting the illegal. Now everyone hears the message from the Administration in Doñana: when a Belgian doubts about the strawberry in Huelva and says it's over, like ALDI in the Mar Menor, we will kill the goose that lays the golden eggs. You have to be aware that strawberries are very good, but you have to water them with legal water, regulated and registered in a book, with the confederation behind it. And that is the guarantee that in Doñana there can be 80,000 people living off agriculture.
P. We are already at the end of November and the rains still do not seep …
R. The numbers at the beginning of this hydrological year are very bad. The first major measure that we will adapt will be the control to ensure that no one takes water when they cannot. We will go to places where compliance with the ecological flow regime is in danger and we will increase sanctions. We will try to do a quick administrative procedure to act quickly in the face of illegal deposits in an extraordinary situation, but it is not easy.
P. What was the usual deadline so far?
R. It could take years because you can appeal internally and in court. We try to speed up as much as possible, but of course, you have to do it well because people have rights. The measure seeks that if our 60 guards make sure of an irregularity, they can seal it.
P. 60 guards for 57,679 square kilometers that the basin covers, almost 1,000 kilometers per guard …
R. We are working from the Ministry of Ecological Transition, but also from the Ministry of Public Function to increase resources, we have grown by seven or eight [guardas]Hopefully there will be a bigger increase. It is an administrative question and whether there is money or not, because creating a place costs a lot.
P. Has the condemnation of the Court of Justice of the EU weighed Spain for the looting of the water in Doñana so that they can provide it with more guards?
R. The conviction does not have much to do with having a guard or 100. Now they could not convict us, because irregular agriculture does not appear explicitly in the current Hydrological Plan and now it is already in our draft plan, on public display. These three years we have closed irregular wells, we continue to close and speak with municipalities and the Andalusian Government, telling them that there are greenhouses that should not be there because they do not belong to the irrigable agricultural area. But we cannot go to destroy greenhouses, we are competent in the use of water and we make sure that there is an irregular catchment. And we are also condemned because Matalascañas endangers or is affecting Doñana. Matalascañas has five underground boreholes to supply itself and a legal water concession of 2.75 cubic hectometres, but they consume 2.5 hectometres. We are already in the middle of the process, with administrative procedures, to close two of the five wells, the closest to the lagoons, to relocate them elsewhere.
P. Is that performance dated?
R. We are already doing it, we are already working with money and with meetings with the Almonte City Council. I cannot tell you when they will be finished, but the plan also budgeted for the transfer of water from Moguer to Matalascañas, and this would cause the five boreholes to be closed, because since then Matalascañas would be supplied with surface water. That condemnation of Europe would not take place today, we have been ahead in surveillance and in the fight against illegal polls since I entered [hace tres años], we have done it in record time. Matalascañas extractions are not decisive for the Doñana lagoons to be dry. They are dry because it is not raining and the temperature has risen.
P. That is not what the scientific experts of the Doñana Biological Station, of the CSIC, among others, say.
R. I tell you what Unesco says, which has been analyzing 376 publications and for months talking with technicians, and its report says that there is no evidence that withdrawals play a significant role in determining the hydrology of the lagoons.
P. And if you think there is no link, why should you cancel the five polls?
R. I have said decisively. There may be some connection in the nearby lagoons of Charco del Toro and Taraje with these soundings. And since we are responsible, we close the polls in case there is the slightest thought. The problem of the lagoons depends on three factors: the lack of rainfall –we have been 10 years with bad or very bad years in the surroundings of Doñana–, the increase in temperature in the Doñana Palace exceeds the average maximum by 1.5 degrees. of the last 10 years, and then the enormous growth of the forest mass. I am not going to go against the CSIC because I am a man of science, I am a biologist, I only read what the Unesco report says.
P. But the historical series of precipitations does not indicate that in Doñana it rains much less now, the measurements remain around 500 liters per square meter.
R. I tell him that we have been 8 to 10 years with less rain than the average.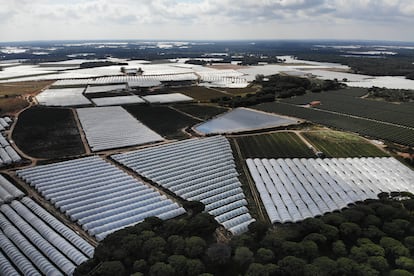 P. The Aemet advanced that the autumn would be warm and not very rainy in Andalusia. Which body has let you hit it?
R. One very worried. Although the supply is guaranteed for two years, we will adopt restrictions. Already last year the endowments in crops were reduced with 6,000 cubic meters per hectare, which went to 3,000. That worries me because I want there to be a normal irrigation campaign, because it is a fundamental sector for food, it creates a lot of jobs and fixes the population. We always have a double objective: to comply with the environment and satisfy the needs of users.
P. When did the confederation stop expanding irrigation?
R. Since 2005 there has not been a new irrigated hectare that had not been previously planned, and they only increase if a farmer changes from high water consumption to low consumption. For the next plan, we reserve 20 cubic hectometres of reclaimed purification water for new irrigation in the development of towns.
P. You claim that the drought is due to concatenated years of falling rainfall, but the Drought Observatory of the Pablo de Olavide University and the ecologists argue that it is a chronic issue and the reserves have been poorly managed. That responds?
R. Reservations are managed wonderfully well, we know how to keep the balance. What happens is that we manage reality, not what we would like. And which one is it? That we have 4.2 million people to supply, 895,000 hectares of irrigation and many people living from that irrigation. There is little in Andalusia of emptied Spain. Why? Because there is a powerful primary sector with 75% of modernized irrigation. Our mantra is first the environmental objective and then the needs of the users, another thing is that we would like there to be less agriculture.
P. The draft Hydrological Plan proposes a reduction of 5% in the next six years. Can you increase that percentage?
R. No, that is the limit, which will be done by not renewing concessions.
P. What do you recommend to the municipalities to prepare their drought emergency plans?
R. First, awareness of the population, savings campaigns and see the alternatives to its supply system. There could be weaknesses in towns that are supplied by groundwater or springs and the neighbors could suffer.
You can follow CLIMA AND ENVIRONMENT at Facebook and Twitter, or sign up here to receive our weekly newsletter



elpais.com