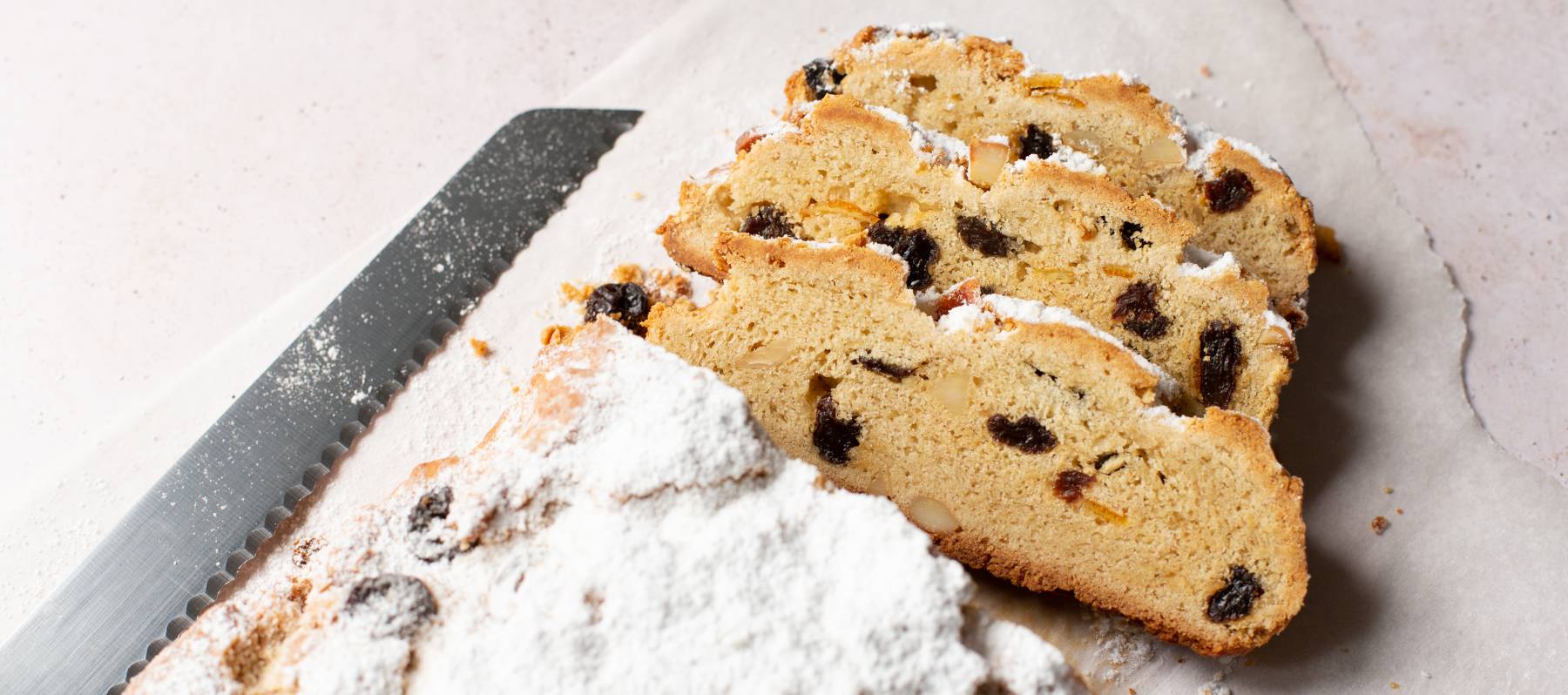 During Christmas there is a sweet parade that only competes with that of Easter. Only with the traditional ones from Spain we can make a long list: marzipan, nougat, polvorones, roscón de Reyes, peladillas, wine donuts, etc. As it seems little to us with what is ours – note the irony – we also give to the foreigner and it is increasingly common to see other works of the pastry shop and bakery such as the panettone, the Pandoro or gingerbread cookies. And here I am to continue celebrating the abundance of Christmas with yet another sweet: the Stollen.
The Stollen It is a Christmas sweet bread of German gastronomy, characteristic of the city of Dresden. Unlike panettone, for example, it is a dense and slightly alveolated mass. It is made with yeast -bakery-, eggs, a little milk and plenty of butter. It is usually flavored with rum and citrus, either with its skin or with essences, and raisins, almonds and candied orange and / or lemon peel are added. Finding this last ingredient is not entirely easy around here, so you can choose to make them yourself –the candied oranges in this recipe can work– or substitute them with other fruits such as dried apricots or prunes far from the sight of any German. It is very common to also find some Stollen with marzipan, spices such as cardamom, cinnamon or nutmeg or with a variety of dried and candied fruits.
It is elongated in shape and is usually covered with a thick glaze or a layer of icing sugar. They say – I repeat, they say – that he remembers the newborn baby Jesus wrapped in swaddling clothes. There are special molds to make the Stollen but I do not consider its use necessary beyond the aesthetic. The recipe below is adapted from the book's "Dresden-Style Christmas Stollen" The German Cookbook by Alfons Schuhbeck. Of this recipe, his last indication regarding the Stollen already baked and finished: "wrap with aluminum foil and leave to rest for a week in the fridge". Isn't the Stollen drier than our pockets after Christmas? Well no, after a brief investigation, I discovered that Germans tend to keep their Christmas candy for one, two, three and even four weeks, always well wrapped and in cool and dry places.
Difficulty
Within the own of the dough with yeast: very little.
Ingredients
50 g of roasted and peeled almonds
100 g of raisins
50 g of candied orange peel
50 ml of rum
75 ml milk
10 g dry yeast
40 g of honey
400 g of all-purpose flour
1 teaspoon chemical booster
½ teaspoon of salt
The zest of a lemon
1 egg
1 yema
220 g butter at room temperature
Icing sugar for dusting
Preparation
Chop the almonds and the candied orange peel. Mix in a bowl with the raisins and rum. Cover and let it rest while we prepare the dough.

Heat the milk until it is lukewarm. Add the baker's yeast and honey and mix until dissolved. Add 100 g of flour and mix. Cover and let stand 10 minutes.

In a large bowl mix the remaining flour with the chemical impeller and the salt.

Add the first mixture with yeast, the egg, the yolk and 100 g of butter (it is very important that it is soft, at room temperature). Knead until everything is well integrated.

Turn the dough onto the lightly floured worktop. Continue kneading and gradually add 100 g of butter more. Once it is well incorporated and the dough has a certain elasticity, place the dough in a bowl, cover with a little flour and cover the bowl with a cloth. Let stand 1 hour or until doubled in size.

After this time, heat the oven to 220 ºC. Pour the dough back onto the counter and roll it out slightly. Add the fruit and almond mixture and knead to incorporate them into the dough.

Shape the dough into an elongated oval shape and place it on a baking tray lined with greaseproof paper. If you want to give it the characteristic shape of the Stollen, first form a rectangle with the help of a rolling pin and then fold a third of the dough inwards.

Lower the oven temperature to 180ºC and bake the Stollen for 40-45 minutes. It must have increased in volume and look golden.

Remove from the oven. Melt the remaining 20 g of butter. Brush the Stollen with it and sprinkle with icing sugar. Let stand cool before consuming. Store wrapped in aluminum foil and in a cool, dry place.
If you make this recipe, share the result on your social networks with the hashtag #ComidistaRecipes. And if it goes wrong, complain to the Chef's Ombudsman by sending an email to [email protected]

elcomidista.elpais.com
George Holan is chief editor at Plainsmen Post and has articles published in many notable publications in the last decade.