During decades Stevie Van Zandt (1950) has been Bruce Springsteen's advisor, his henchman, the key piece of the E Street Band, but the American guitarist has been much more. In his parentheses with the band of his adolescence, Van Zandt released seven solo albums, he was part of the cast of The Sopranos, political activist, radio host, and developed an educational project to keep the history of music alive in America's classrooms.
His history as a second sword has allowed him to be further from the spotlight, but at the same time have his own voice in the world of music. In 2020, with the planet stopped, Little Steven sat in front of the computer and put his life in black on white. Crushes and Rejections (Ed. Kultrum Books) is one of the best rock memoirs ever written. Rather than falling into clichés, Van Zandt writes with stark honesty, enormous passion and a great sense of humor, boasting more about his mistakes than his successes.
In its pages he recounts the trip with Springsteen, but also other lesser-known adventures such as his political trips to Nicaragua or South Africa, in addition to his time on television and on the radio. The guitarist attends Sofá Sonoro from his home to explore its history.
What is the story behind this book, what led you to write it?
I think the opportunity the quarantine gave me. I spent the previous three years reconnecting to my music, something I hadn't done for decades. Since 2017, by accident, I ended up joining the Disciples of Soul and releasing records and going on tour, I released a lot of material in those three years, the most productive of my career. That gave me perspective and given the time I thought it was time to write something that could be useful to people, at least as long as they remember things. It was a good opportunity.
It gives the feeling that you had a good time doing it, the book is a lot of fun
Is that the world is very boring
When writing the book, have you discovered something about yourself that you had no prior knowledge of?
A bit. I don't look back very often, I don't think about the past and it was good to transport myself back to those days and relive things and see what I was thinking or feeling at certain times in my life. I have always looked at the decision to leave the E Street Band as the biggest mistake of my life, but coming back to it now I have realized everything that happened after I left the band. Now I see it differently. I may have been playing the balls of fate, but now I think I was chasing my destiny. That's the feeling it has left me, everything may have turned out the way it was intended and now I feel better about it. All these years I thought that leaving Bruce had been a mistake, but if I had not left the band I would not have recorded my seven albums, I would not have done The Sopranos or the crazy projects that I have gotten myself into. If I had been in the band none of those things would have happened and I feel better about it.
Is there a music book that has inspired you or that you have taken as a reference when shaping yours?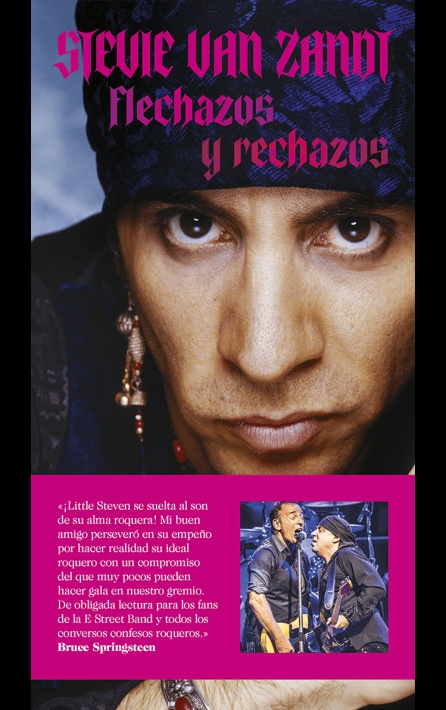 The truth is, no. There are books that I really like like Bob Dylan, which is fantastic, Bruce's or Keith Richards's. There are several that I like, but I did not want to do the same. I wanted my book to have three legs and not just my narrative. I wanted to include history, capture and show what was happening at certain moments in history so that it would remain for the young people. I have witnessed almost all of rock history except the first decade and I can talk about how it evolved. The other leg I wanted to be in the book was the trade. I have been a musician and also a producer. I know how music works and I wanted to reflect it in the book because it can be useful. Those were my three legs: the story, my narrative and the job. I think this vision makes the book different than most autobiographies.
Speaking of history. You have met dozens of great characters in music. I love how you reflect the role of rock pioneers, but also the hard times they experienced when they were put aside. It's amazing the story you tell of Howlin Wolf performing at a teenage girl's birthday party …
That was special. I haven't been able to see everyone I would have liked because they kept acting and touring like Muddy Waters or Sonny Boy Williamson, but seeing Howlin Wolf impressed me. Wolf was incredible, larger than life, huge. I saw him from the back of the room and it looked like he had a coin in his hand and it turned out to be his harmonica. His hands were huge. He was a little scary, but I got to talk to him and he was a funny guy. It was a luxury to be able to see him live, even in that context.
You talk about many musicians and you can see the passion they arouse in you …
There is a key to writing that is to see what you include and what you leave out of the book. It is very easy to end up making the book a great list of people that I like or know. I wanted to maintain a certain narrative tension and include people who have been relevant to me, I have met people that I love but do not mention in the book.
You also narrate several surreal encounters with Bob Dylan, you think that if one day you find him walking down the street he would know how to recognize you, he would know who you are …
Right now? (laugh) We have a curious relationship. I think that now if I knew who I am, a few years ago I am not so clear. The first thing I did when I finished the book was send it to Bruce and Bob and I told them that if there was something that bothered them, I would remove it without problem. There are private conversations and I did not want them to be offended.
I was quite amused by the crude and direct way you talk about people: those who cheated on you, the traitors, those who want to appear in the photos. You make things quite clear …
That was the challenge, when you know as much as I do, and I know a lot of shit, you have to be careful and not reveal things that should not be revealed, but at the same time I wanted to be honest and tell interesting things and it is complicated and you wonder if you have gone too far. I have had a great editor who has been a huge help in those things.
In the book you also speak in a very humble way about your mistakes, but what are the things you are most proud of …
There are some. I am proud of my political actions. We were very successful with some actions to change the world such as South Africa and Mandela and that is very strange. Getting that was very special. I am also proud of the two radio formats that I have created that are syndicated around the world. Those two formats will outlive me. Another thing that is special for me is the educational project on the history of music and now 40,000 teachers apply. I would also say my seven solo albums.
Another of my favorite stories and that shows your relationship with Bruce Springsteen is the moment when he lets you listen to the Nebraska songs and you convince him that this is not a demo but the album that he must edit. How do you remember that moment.
It was a very strange moment because at that time we weren't doing demos to begin with, you know? I don't think we ever did one. We'd hang out with an acoustic guitar and play, then we'd learn the songs and add things. It was weird that Bruce wanted me to listen to demos. He thought it was the genesis of what Born in the USA was going to be but he put those songs on a dwarf cassette recorder, his roadie had played the engineer, and I was amazed. Those were just going to be demos that nobody was going to listen to, they were very primitive, but they were beautiful. I listened to them and it seemed crazy to me. All those characters were fascinating. In the book I already say that all singers are actors, interpreters and they have to convince the audience that what they sing is something that has happened to them or that they really feel. But in this case it was a new level of actor, he had become other characters. I've ended up doing that on other songs later, but I've never heard Bruce do that before. It was spectacular. I was listening to those songs and they transported me to the mountains of Tennessee or the plains of fucking Dakota. They took me to strange places. I immediately thought that this was the most intimate thing that an artist could do, such as recording something that he had no intention of bringing to the public and for that reason it was crazy, strange and lacked self-awareness. It seemed something extraordinary to me and at that moment I told him that this was not a demo, that it was an album. A legitimate artistic work. That surprised him, it was the last thing he was thinking about. It puzzled him. The other producers and managers didn't take it seriously. At that time he had not recorded an album without the band, for him the E Street Band was an important part of all his albums. This was a new idea. It took him a while and I think I remember that we tried to play some of those songs with the band until little by little he became convinced that he had done something special and that he could edit it like that.
LISTEN TO THE SOUND SOFA DEDICATED TO NEBRASKA
Iframe code has been copied to clipboard
How your relationship with Bruce has evolved over the years. You met when you were very young.
It hasn't changed that much. We have had our pluses and minuses and three great discussions in our life, which I talk about in the book. There have been seasons where we have been further apart, but now we are closer than we have ever been and we feel like when we were young.
Another facet that I find fascinating is your leap to television. Twenty years have passed since the first season of The Sopranos, a series that changed the way of doing television. Do you ever go back to her? Are you comfortable watching yourself perform?
From time to time they run marathons with fans and invite the actors. Not long ago I re-watched the first season and I can understand why people still love that series. It is different and it holds up well for time. It was crazy and the truth is that I really enjoyed watching it, I think very different people liked it and I can see it now with the eyes of a fan.
For me your great scene is when you are forced to kill Adriana La Cerva, one of the most beloved characters. Seeing yourself on the screen you were scary, I imagine it was not an easy scene to shoot …
Thanks, it was a great performance. There are many things you do when you act that go against your way of being, your personality. When I got the part I had to come up with my own philosophy of what acting was like, guess what. I had seen my wife go to acting classes and I asked her a lot of questions, but when the time came I had to figure things out for myself. I decided that each characteristic known in the human being is present in each one of us and the actor's job is to find those characteristics of the character you play and bring them to life, embrace them and feel them. You wake up with them, inside your head and your body. This is even more intense when you play a murderer. You have to give life to what moves it. Most of the time, depending on who you interpret, you can find those characteristics easily, but in this case it was the opposite. I hate bullies and men who mistreat women so I think this was a great performance because it made me be something that I hated, but I understand that the character was doing what he had to do: protect his boss.
The latest audios from Sofá Sonoro



cadenaser.com