Carmen Cecilia Becerra has been raped by almost a dozen men since she was seven years old. First her three stepfathers, then her uncles, then her husband. When Mari San Juan sees a van, she continues to hide and endure the incontinence of panic they give her. Much of the sounds of Ana Ortiz's childhood are her father's screams and blows. Those of his adulthood are quite similar to him. The only thing Chirley Pérez thinks about in the evening is that he wishes his ex-partner had not drunk "because he transforms" and beats his children. Gender-based violence has been a constant in the lives of the majority of women in the La Fortaleza community, in Cúcuta, on the Colombian border with Venezuela. The difference from a couple of years ago to today is that now they dare to tell it. And so, they say, it weighs a little less.
Becerra remembers her story in whispers so that the children she is in charge of in the makeshift nursery in her living room do not hear her speak "about it". La Fortaleza is an irregular settlement with more than 2,000 families – most of them Venezuelan migrants or returnees – with hardly any government presence. The few jobs that are known here are for days and are accepted even if foreigners are paid less. "We have to take what we get," they repeat. A little girl approaches giving skipping in a yellow dress, and hugs the breast before playing again. "That was how little I was when they abused me," she says when she leaves. "I was not even eight years old." It was her stepfather. Then there were the other two. But the greatest of the aggressions that he remembers from then, was the anger of the mother when she took the necessary courage to confess and move in with her father. "Why are you trembling? Don't be exaggerated ", he said then to this woman who is now 47 years old.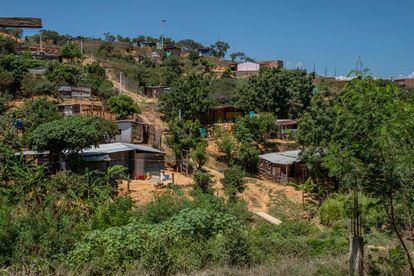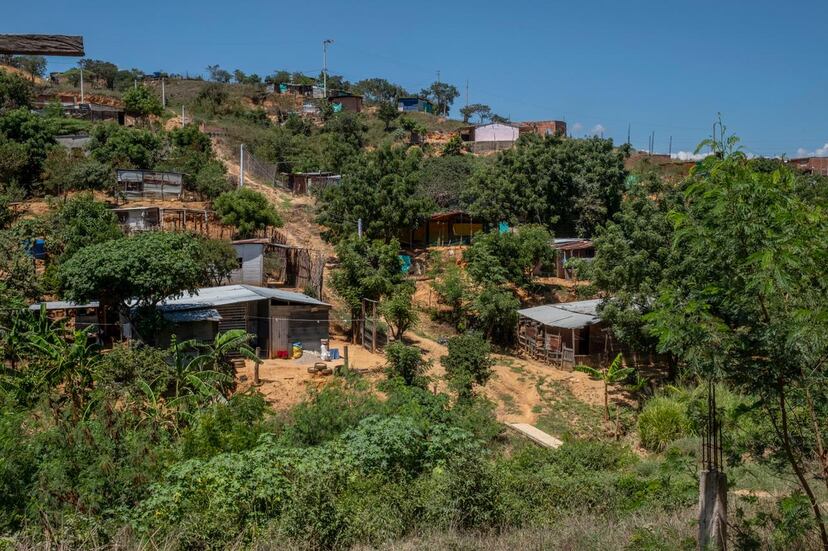 In the first eight months of the year, 432 femicides were registered in Colombia; In that same period, the Prosecutor's Office received 14,711 complaints of domestic abuse and 3,877 cases of sexual violence. Last year closed with 630 femicides in the country, according to the Observatorio de Feminicides Colombia, being Norte de Santander the seventh bloodiest department with them. María Fernanda Ovalles Carrillo, Secretary for Women and Gender Equality of the department, warns that being an immigrant is "one of the gaps" that most exposes them to violence: "In addition to xenophobia, there are different barriers in access to health care, protection and justice. This is justified in the irregular migratory status ". According to his office, in the last year there were 18 sexist murders more than in 2020, where 21 were registered.
I slept peacefully the day I found out that my ex-husband had died, "she says, still terrified. He never reported. "To who? They all knew him "

Carmen Cecilia Becerra, survivor of sexist abuse
In her teens, Becerra met a "charming, hard-working" guy at first. And his biggest nightmare afterwards. He tried to escape seven times. He would grab a couple of clothes from his children and go out at night with fear in his throat. "But he found me every time," he says. The threats materialized with machete blows, attempted suffocation in the sewer and beatings at his workplace. "I slept peacefully the day I found out that she had died," she says, still terrified. He never reported. "To who? Everyone in town knew him ".
The lack of roles plays a key role in this. This is what Adriana Marcela Pérez Rodríguez, director of the Gender Affairs Observatory of Norte de Santander, says: "When Venezuelan migrant women threaten to report their aggressors, they are subjected to coercion and pressure to intimidate them and not to do so. It is common for them to also say that they will go to the police to say that they do not have the documents up to date and that they are deported. This happens especially with victims of trafficking ".
The lack of access to the judicial system shows that the migrant population is more vulnerable to gender violence. Unsafe or irregular migration routes increase the risk, also of human trafficking. Migrant women, girls and LGBTI people are targeted by countless mafias. From 2013 to July 2020, according to figures from the Ministry of the Interior, 686 cases of human trafficking have been registered in Colombia, of which 408 for sexual exploitation; two out of ten are migrants. This figure is, according to experts, probably much higher than those known given its secrecy.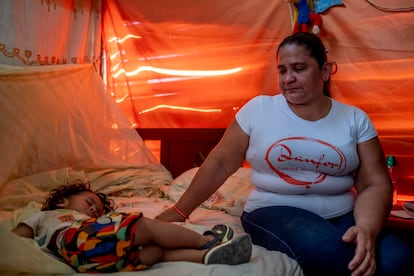 After the death of her ex-husband, Becerra settled in La Fortaleza with her children and an idea boring into her head: "No more." Now she is dedicated to taking care of the children of the neighborhood, when their parents are working. Educating is, he says, his seed of change. Like her, 104 women have been trying to write a different present for months. Nine ago, they enrolled in a Help in Action training and awareness course focused on migrant women, returnees, host communities and victims of violence. The organization's objective is to strengthen its role at the community level to demand their rights and the prevention of machismo in contexts associated with migratory processes. Since the project ended, it is they who continue to meet and spread the knowledge learned to the younger girls.
This leadership change is celebrated by Orlando Ortiz Medina, director of the impact team and coordinator of the Ayuda en Acción Colombia programs. "What we want is to leave the installed capacity for women and their organizations to go ahead with the development of their proposals," she explains. For him, machismo is one of the "main scourges" of the Andean country. "It is so necessary to move forward in reducing the factors that feed this type of aggression, as to ensure that the State put measures in place aimed at preventing and guaranteeing due protection."
"He is jealous of you because he loves you"
Sitting in a white plastic chair in the soup kitchen of the village parish, Ismar Adreina Santiago Montilla rests lunch. She is 22 years old and arrived from Barinas, Venezuela, four years ago, when she realized that her first husband was mistreating her. Recognizing it was not easy. Until this woman "opened her eyes", several years passed and a process of understanding how sexist violence works. And a lot to unlearn. He grew up listening to: "He is jealous of you because he loves you", "It is normal for him to do that", "Love hurts".
Feeling that someone understands you makes you feel less alone

Laddy Davina, 42, cucuteña victim of the armed conflict and sexist violence
"It normalized many things that today I realize that they should not be like that. He treated me badly if I went out alone or if they greeted me. If he was a man, because he was my lover. If I was a woman, why did I become a lesbian ". Until one day he said "it's over." And then he took the documents from her so she couldn't travel. Not to leave him. "Now that I see it clearly I feel frustrated, but it is part of my past. And that's what I'm trying to overcome, "says this mother of two children, six and two.
His current mission is that stories like yours do not repeat themselves. "I would like to tell the young women not to give up, that they have options," he says, tightly tightening a cap that reads: "Together we are stronger." According to a recent study by Plan International, 50% of Venezuelan refugee and migrant girls and adolescents feel unsafe on the streets; while 21% of girls and 13% of adolescents have witnessed situations of violence, sexual abuse or verbal attacks. "When I listen to my colleagues, I understand what they have been through. Because it's a lot like me, "says 42-year-old Laddy Davina. "Feeling that someone understands you makes you feel less alone," ditch this cucutena, also a victim of the armed conflict.
According to Bulletin N ° 4 Between tears and slogans for a dignified life from the Observatory of Gender Affairs of Norte de Santander, the type of violence with the most registered cases is psychological, with 82.3%; it is followed by physics with 63% and equity, with 27.4%. The latter refers to when the man uses his economic power to control the decisions and life project of his partner.
Sorority is an accomplice laugh
Together they are sisterhood. They are united by the empathy of understanding the fear of the other; to leave who they have loved, to tell about it, for something to happen to their children. To many of them is added everything that implies emigrating from Venezuela or returning to their country after so many years abroad and without support networks. As well as survivors of mistreatment and abuse, they work to be leaders of a present of peace. And there are times when only humor rescues them. "We have to learn to make a joke, because if not what?" Says Ana Ortiz, 61, the oldest of the group. Although he jokes and is the one who balances the spirits when they are low, he still carries the depression that the abuse left him since childhood.
"I have fought a lot for my family. I lost my house, my savings and I live on loan in a lotecito made of canvas, but praise God, my children and I are fine, "he says. "Today we are different women. Strong women that we can advise the girls who come. My story is the only thing I have to teach my granddaughters ".
You can follow PLANETA FUTURO in Twitter, Facebook e Instagram, and subscribe here a nuestra 'newsletter'.



elpais.com