"I believe in compassion, that seed that we all carry inside," reflects José María del Pozo, (Badajoz, 53 years old). "I live from my job and at first it was just a curiosity, but seeing a photo of a girl without a hand brought tears to my eyes", confesses this lawyer, who learned to make orthopedic hand prostheses during confinement with his printer 3D and that he now sends them to people in Rwanda in a totally altruistic way.
Del Pozo spent his free time during confinement "messing around" with his 3D printer. At first he built people's heads and decorative objects. He improved his technique and hung out. But one day, while surfing the net, he came across a video of Gino Tubaro, a young Argentine who makes prostheses for disadvantaged people, and he decided to dedicate all his effort to it.
"I started doing Gino's hands and then I met an international community on the internet called Enabling The Future where much more sophisticated models are shared," explains Del Pozo.
This community defines itself as a global network of digital humanitarian volunteers and offers help both to people who want to make prosthetics and to those who need them. On their website they provide guides to make them, forums where to solve technical questions and even files to program the printers and print orthopedic hands directly.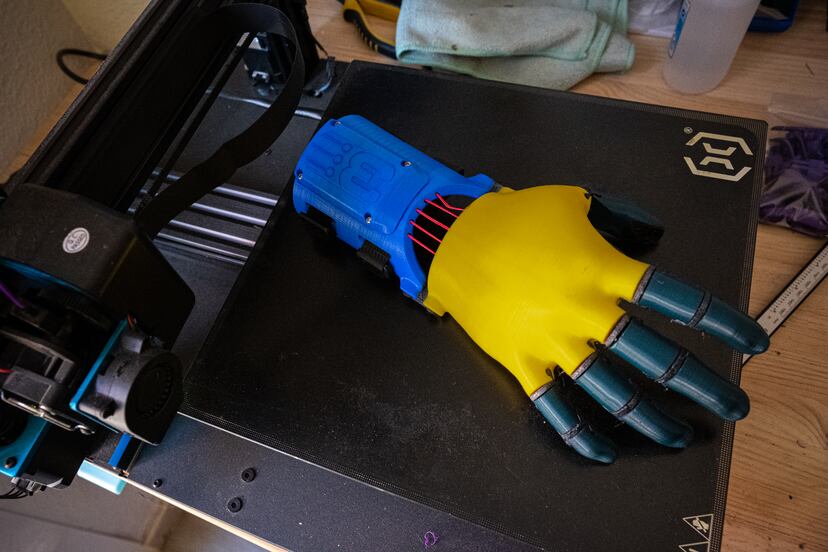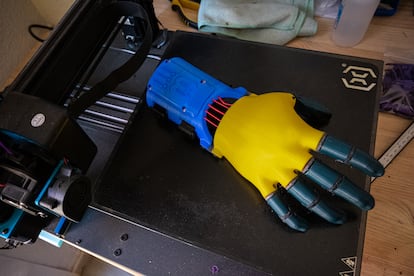 "You have to have a minimum of computer knowledge and a powerful computer. You download the files to program the printer and then you make some modifications if necessary ", explains Del Pozo.
But his great discovery and reference was Matt Bowtel, an Australian engineer who dedicated his severance pay money and the free time he had to create prosthetics. He then founded Free 3D Hands, an NGO that provides them for free to patients. In addition, Bowtel offers all its designs under open source so that they can be improved by other users.
Printing each coat can take up to 30 hours, but if you have multiple machines, such as Del Pozo, you can cut the time to less than half. Then it takes about three to four hours to assemble all the pieces with screws and more flexible materials at each joint. The prosthesis is designed for people with a stump starting at the wrist. By twisting the stump by just 18 degrees, the fingers of the hand are closed allowing to grasp any object. The material cost ranges between 10 and 15 euros.
"The hand not only allows to grasp objects, but it is very important in the psychological aspect for the patient," says Del Pozo. Little by little he was sharing his new hobby with friends and family until, talking with her old friend Gaudiosa Tukayisabe, a Rwandan living in Madrid, the idea of ​​sending them to Rwanda came up. Tukayisabe contacted some of his countrymen and they located people whose hands were missing, they took measurements and sent them to Del Pozo.
"At first the measurements were a disaster, taken with a meter of bricklayer, so I decided to make two or three hands for each person in case they weren't right", confesses this altruist from Badajoz. Last summer, she traveled with her friend to Rwanda to deliver the prostheses together with Alber, a Rwandan who lives in Kigali, the country's capital, and who supports them from the field. To date, eight people already use their new prostheses and others are waiting to have them remade because they were not right for them.
Seeing Hussein's smile when we shook his hand makes more sense than amassing wealth or fame
From Badajoz, his hometown, Del Pozo now faces the difficulty of getting them back to Rwanda. Luckily, their small cooperation network has grown larger thanks to Celia Haro, a journalist from Badajo who travels to the African country every three months and who has offered to take them. In fact, he has just given him four hands that he will take with him on his return to Rwanda.
Every time he has the opportunity, he remarks that it was all a spontaneous idea born of the need to keep busy during confinement and that he has no claim to dedicate himself full time to this project. The fact is that he has been sowing a small seed in all the people that he himself has been involved, especially in Alber Bizimana.
Thanks to his contacts, Bizimana got members of the Rwandan government to receive Del Pozo during his stay in the country. In a demonstration, in which they presented a patient with the prosthesis, the authorities were impressed and assured that they would not miss the opportunity to support them. Bizimana has presented to the local authorities a project to acquire the machines there, manufacture the prostheses and deal directly with the patients.
"We are waiting for the approval of the project and the idea is to go there to train ten people with advanced computer skills and create two fixed and autonomous groups to learn and continue to improve prostheses," explains del Pozo.
Del Pozo assumes that perhaps his altruism stems from the selfishness of having everything. However, reflecting more slowly about why he spends his free time helping others, he acknowledges that a turning point in his life was the study of Buddhism in which compassion for others is the basic pillar. "I am not one to tell people what to do, but if they asked my advice, I would tell them that seeing Hussein's smile when we shook his hand makes more sense than accumulating wealth or fame. The quid the question is compassion, "he says.
You can follow PLANETA FUTURO in Twitter, Facebook e Instagram, and subscribe here a nuestra 'newsletter'.



elpais.com
George Holan is chief editor at Plainsmen Post and has articles published in many notable publications in the last decade.