Sofía Ramos Rodríguez began practicing athletic walking at the age of 11. His first training tracks were the dirt roads and the train tracks that pass by his house, a wooden and cardboard house located in a very precarious popular settlement known as Localidad 17 de Junio, in the north of Ciudad Nezahualcóyotl, Mexico state. Last August Ramos, now 19 years old, won gold in the 10km category at the U-20 World Athletics Championships in Nairobi, Kenya, with a time of 46:23:01 minutes. This gold medal has a special flavor for the young marcher and her family, since it was they who financed the trip to Africa, an exorbitant expense considering the vulnerability in which they live. To cover the fare they had to pawn their belongings, borrow and sell food at street markets.
Sport has always been of crucial importance to the Ramos Rodríguez family. Martha Patricia Rodríguez, Sofía's mother, was an amateur basketball player and always tried to inherit her daughters' taste for physical activity. This is how he tells it: "Sport changes your life; the adrenaline of winning and competing is very beautiful, and I always wanted to instill that in them. Since they were very little, I took them to parks and gyms to exercise after school. One day, a man who was a marcher saw Sofía and offered to train her ". The mother is now dedicated to cooking and caring for the sick.
In 2016, Ramos won his first National Olympiad. His good times drew the attention of professional trainers, who got him a place in the National Center for the Development of Sports Talents and High Performance (CNAR), a boarding school of the National Sports Commission (Conade). There, the young woman trains, studies, eats and sleeps. In March 2020, due to the pandemic, the Conade announced the closure of the CNAR, so Ramos had to return home and train with his own means. For more than a year and a half, professional tartan tracks became an unaffordable luxury for Ramos, so he had to continue his preparation for the U-20 World Cup on the dirt roads near his home and from time to time moving to a park in Mexico City.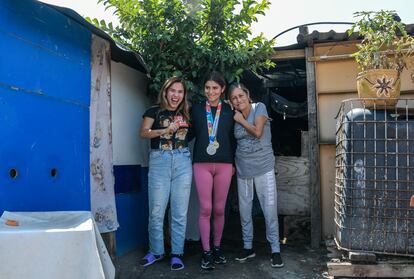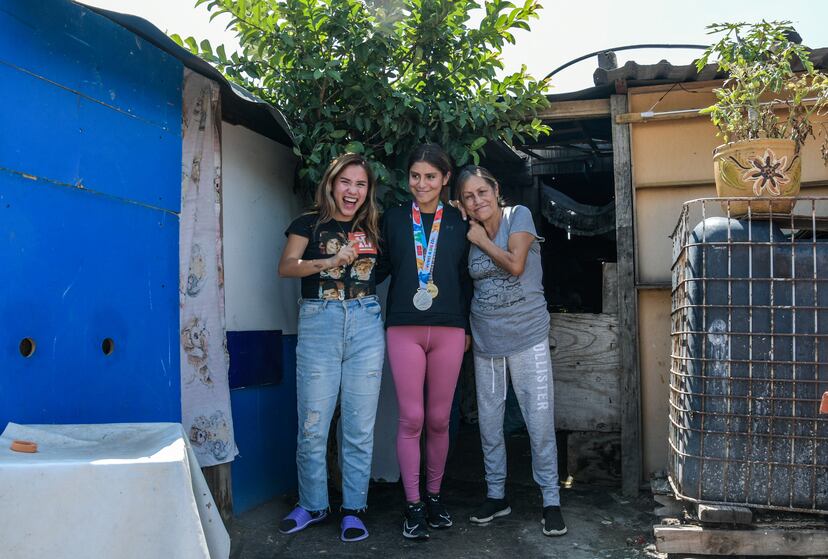 However, the most difficult thing was not getting the time necessary to qualify for the World Cup, but raising the money to pay for his plane ticket to Nairobi. "I was training, I was doing my best, and suddenly the Athletics Federation told me that there was no budget to send me to the World Cup, and that I had to raise the money. They told me that I had a couple of weeks to buy my ticket and that if I didn't, they wouldn't register me, "he recalls.
The Athletics Federation told me that there was no budget to send me to the World Cup, and that I had to raise the money. They told me I had a couple of weeks to buy my ticket
Every month the Conade pays Ramos a scholarship to cover his expenses (for personal reasons, the marcher has chosen not to reveal the amount of this support). However, he assures that this money barely covers necessities such as sports clothing and transport for the athlete, who says that she usually makes ends meet "breaking her head" to find out how to go to train. Paying for a plane ticket to Nairobi is something that on a full scale was out of Ramos' budget.
Ramos's mother assures that she had never seen her daughter so sad, but that the family was not going to allow the dream to die in that way. "We all started pawning what we didn't need, we also prepared sandwiches and sold them in the markets. With what we earned from that and from loans made to us by friends and family, we were able to get the ticket. I remember that when we bought it and they registered Sofía, we started dancing with happiness ". The plane ticket cost about 1,700 euros, a considerable expense for a family that receives less than 425 euros. According to the marcher, Conade has promised to reimburse her for the amount she and her family spent to get to the World Cup. More than a month after the gold, there has still been no news of that restitution.
Seeing my flag and hearing my anthem in a country that is an athletic powerhouse was very important to me.
Ramos assures that she felt "greater pressure" because of how she and her family had obtained the money to buy the ticket, since "she had an even greater responsibility to obtain a good result." His triumph in Nairobi was categorical. She crossed the finish line one minute and 20 seconds before French Maere Biré-Heslouis and Czech Eliska Martinkova, second and third respectively. "Despite everything I went through to get to Kenya, I really enjoyed representing Mexico. Seeing my flag and listening to my anthem in a country that is a powerhouse of athletics was very important to me, "says the marchista, whose next objectives are to qualify for the Pan American Games and later the 2024 Paris Olympics.
Growing up in a shanty town
The Ramos Rodríguez family settled in this settlement that is next to the Mexico City International Airport 15 years ago. They had previously been expelled from a similar lot also in Ciudad Nezahualcóyotl. In Localidad 17 de Junio ​​there is no access to any of the basic services. There are no pipes or phone lines. They have to steal the electrical energy by hanging from the cables. Even the Mexican postal service does not deliver to this location. In addition, the constant passage of the train and large-scale aircraft make the roar a constant. Its more than 150 inhabitants subsist mostly by collecting garbage in nearby landfills, so mountains of waste abound in the panorama.
In Mexico there is no statistical information on this type of settlement. It is not known how many there are or how many people live in them. In 2018, the non-governmental organization TECHO filed an amparo lawsuit against the National Institute of Statistics and Geography (Inegi) for not generating this information. The NGO, founded in Chile in 1997, seeks to help people who live in these types of communes overcome poverty and have access to decent housing. According to the organization, it is not possible to create public policies aimed at this sector if there is no data on the situation that exists in these places.
TECHO México's director of social research, Fernanda Vázquez, explained that the possibilities for professional and sports development in these settlements are very limited: "It is really difficult to achieve it knowing that you come from a place that does not even have urban recognition. These neighborhoods are inhabited by people who have quite strong social vulnerability conditions. Other needs must be met first before professional development. It is normal to think before about food and housing ".
Vázquez considers that the professional success of these neighbors depends to a great extent on the situation of the family base. "There is a whole effort together so that someone like an athlete can train. There are families that manage to organize themselves a little better, and it is not that they have everything resolved, but the parents manage to support the youngest ones by covering their basic needs so that they can make their way into other spheres of life. Admittedly, these success stories are isolated cases ".
You can follow PLANETA FUTURO in Twitter, Facebook e Instagram, and subscribe here a nuestra 'newsletter'.



elpais.com