This Christmas, the SER string will bring homes closer 'Pinocchio'with your particular Christmas story that every year emits the December 25 at 12.00 and that has become a tradition for the station's users and listeners. Through the adventures of a wooden doll, the SER wants celebrate childhood and make us reflect on the journey towards identity that girls and boys live; a stage of transformation and self-discovery that, in many cases, becomes an internal struggle to be accepted by others, to be like others, but, at the same time, wanting to be oneself.
With a very particular and funny sense of humor, and a magical character that contrasts with a radio adaptation brought to our days, this comedy tells the story of a wooden child whose desire is to become a human child, 'a real child' , and that, influenced by friends and other characters, in an act of rebellion embarks on multiple adventures that take him away from his purpose. These experiences, together with the help of his loved ones, make Pinocchio manage to define his own identity until he becomes who he wishes, feeling loved and accepted in his peculiar family, and becoming aware that the important thing is to surround himself with those people with whom he one really wants to be. Thus, SER highlights the value of friends and family who take care of us and help us grow and to avoid the stones that divert us from our path, to build during childhood an identity with which we feel comfortable.
The tale is directed by Ana Alonso and has been adapted for radio by the writer Esther García Llovet from a Berlanguian view of the universal classic 'The Adventures of Pinocchio' by Carlo Collodi, with the sound production of Roberto Garcia. Set in Spain and with a very cañí style, the scenes are a parody of our time and are carried out by funny characters played by Nathalie Pose, as narrator; Ramon Barea, like Geppetto; y Veronica Sanchez, like the Pixie fairy; with the special collaboration of Raul Perez, Lander Otaola, Verónica Forqué and Marco Guerrero, like Pinocchio, among others.
In addition, the SER has wanted reward children and the resilience they have shown during the very complicated situation that society has faced with a story for them, with which they enjoy and laugh with their elders on a special day like Christmas.
Esther García Llovet highlights the double challenge what has meant "transform an original story aimed at children into a fiction also for adults, and adapt a particularly dark and sinister text into something more luminous and friendly for a day like Christmas " and reveals the message behind the adaptation: "I also wanted to talk about how a different child, and who knows that he is, does everything possible to transform himself into who he really wants to be, in an adventure of change and knowledge beyond Colodi's moral intention, and that culminates in a rite of passage that coincides with that great rite that is Christmas, when both Jesus and Pinocchio are made of flesh and blood ".
The SER's Christmas Carol, an unavoidable appointment
SER's Christmas Carol was released in 2013 with sound fiction Christmas story by Charles Dickens. What started out as an excellent one-off idea has become a tradition every December 25th. Since then, the SER has collected classic stories that already form a collection of adaptations that offer a new look at stories: Our Town, Living is beautiful, A Christmas Carol, The Big Family, Little women, Peter Pan y Wendy, Y Love in the time of cholera. Pinocchio will be the protagonist of the ninth edition, thus recovering the radio drama every year to bring together listeners and users of different generations with their own stories from these dates.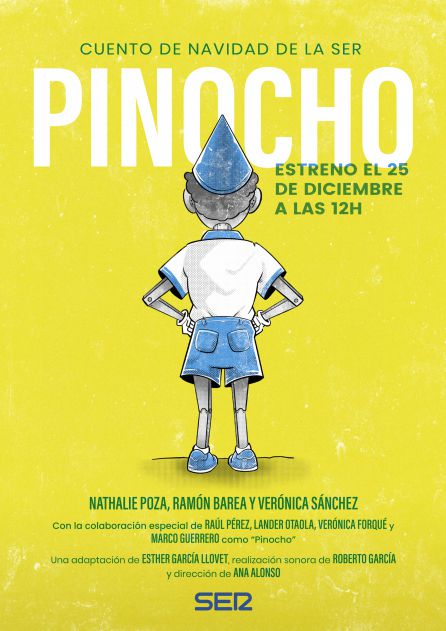 cadenaser.com
George Holan is chief editor at Plainsmen Post and has articles published in many notable publications in the last decade.