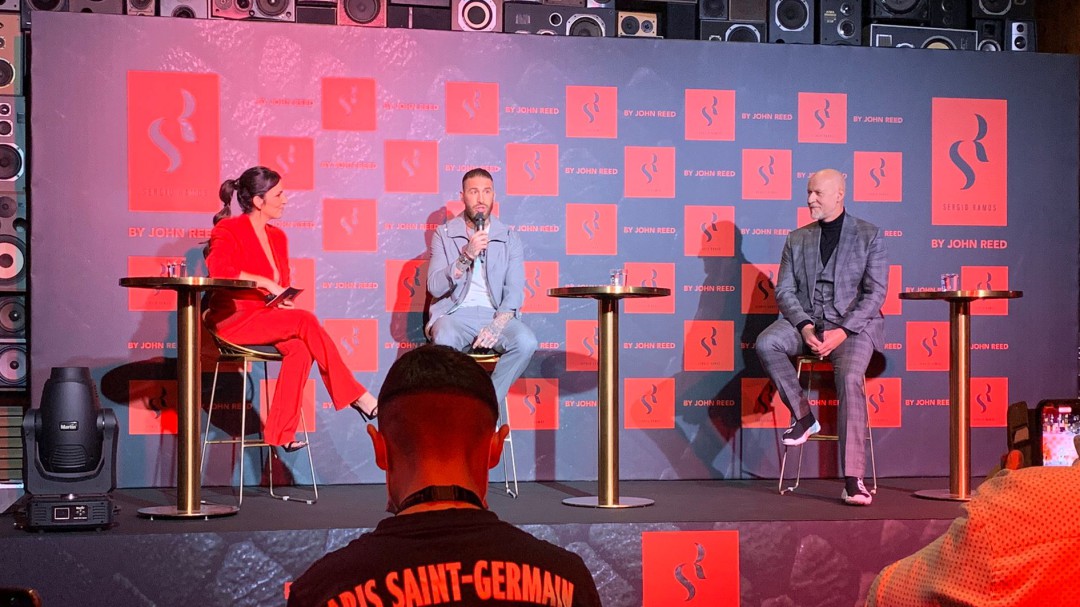 Sergio Ramos, PSG Spanish defender and former Real Madrid player, presented his gym in the Spanish capital on the same day that the Champions League draw – with controversy included – gave a match between his current team and the club where He grew up and won all of his titles as a professional. "Fate is capricious. I would have liked another team to play us. You know the love I have for Madrid, for the fans and that will never change. It is time to face the present: I am a PSG player and I am going to defend my team I'm going to do what I can to get through the tie. It's my turn to defend my interests, which is PSG, "he said at the press conference he conceded.
The former white captain has stressed that he liked the confrontation with Manchester United, the one that came out to the Parisian team in the first draw. "It is a mixture of sensations, I would have liked not to have that confrontation. But returning home after not having had a farewell is very gratifying. I would have liked it to be otherwise but that's the way things are," he said. The Spanish defender, who has only played one game with PSG since his arrival due to injuries, has indicated that he is "recovering well": "I am very grateful for how they have treated me. PSG makes a bet for me and That fills you with satisfaction. And the teammates welcomed me very well. What cost me the most was the issue of the house, that we could not find tranquility. But we already have it and we can enjoy the team and the city. In a changing room with So many 'cracks' is more what you live inside than what is said outside. They have treated me very well. We are getting to know each other a little more and then perform better on the field ".
About your injury
Regarding all the information that comes out in France about his injury, Sergio Ramos has indicated that he does not listen to what is said: "Friends are commenting to me. I am quite disconnected. It is not always true what is said. Getting into that is a bit wasting time. The good thing is that I'm back and I'll be able to talk frequently. The injury issue: it seemed that after my knee I wasn't going to play again but my knee has been the least problem these months. "
"I would be lying if I said that it has not been a hard year. Above all it has been different. I have been lucky enough to play for many years and injuries have been respected. Now this year I have had an injury that has been talked about a lot by lack of information. It is important to feel good again, to feel like a player. It has been many hours of work, gym, darkness. But everything serves to return. (…) In life, when you dedicate yourself body and soul to Something, the results end up coming. To this day I am super calm. The family is adapted and we can focus on improving. I think there will be Ramos left for a while, "he continued.
About his new partners and ex
Messi: "Now we share a dressing room and we have a very good relationship. We try to help PSG win. The goal is the Champions League and both Messi and I can contribute something. The relationship is one of admiration and respect for both parties."
Mbappé: "I would not like him to be a client of this gym (laughs). I like being surrounded by the best players and he is a key part of PSG in the present and in the future and I want him to continue in my team"
Madrid and Vinícius: "Whenever I can, I watch Madrid and the Spanish League games. Vinícius is a player who has already promised these years, but he is already a present. He is a great player. Madrid begins to allocate the game to him and I think he will be a key piece in the coming years. I have a lot of affection for him and I am glad that he performs at that level. Madrid are having a good season. They are far apart in the league and that is very positive. On a defensive level, I see them very well. "



cadenaser.com
George Holan is chief editor at Plainsmen Post and has articles published in many notable publications in the last decade.