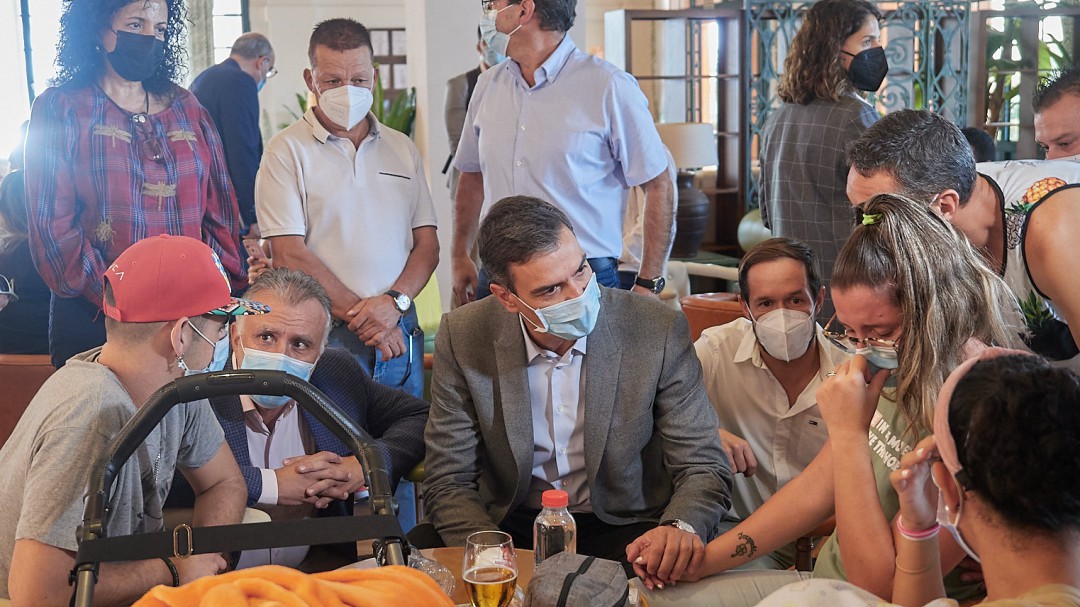 The President of the Government, Pedro Sánchez, will make his eighth visit to La Palma this Monday since the eruption began on September 19; on this occasion, with the volcano inactive and about to begin the process of rebuilding the island after the damage suffered by the catastrophe.
Sánchez traveled to the island for the first time on the same day that the volcano erupted, then he returned six other times and this Monday at 11:00 local hours he plans to attend the meeting of the Special Plan for Civil Protection and Emergency Assistance for Volcanic Risk of the Canary Islands (Pevolca), the first after the declaration of the end of the eruption by scientists.
Then, at 12.30 pm, the Chief Executive will visit the Advanced Command Post, in El Paso, to greet the professionals and volunteers who have participated in the device activated in the face of the volcanic emergency.
Later, at 1:30 p.m., Pedro Sánchez will visit the Tajuya Viewpoint, where he will greet the National Geographic Institute (IGN) technicians.
Second day with the volcano off
After more than three months of continuous emissions, Pevolca officially ended the eruption last Saturday, December 25, after 10 days of inactivity.
However, this Monday's meeting arrives with the island still on a red light, that is, in an emergency situation due to a volcanic eruption.
In addition to the monitoring work of the volcano carried out by the scientists and while the degassing of the affected area continues, with Sánchez's visit, the rehousing plan in the evacuated areas will begin to be studied.
A "safe, orderly, gradual and gradual relocation"
The streams cover an area of ​​1,219 hectares, to which are added 48 hectares reclaimed from the sea with the addition of two lava deltas; For this reason, it is essential that the relocation be "safe, orderly, gradual and gradual", as stated by the director of Pevolca and counselor of the Government of the Canary Islands, Julio Pérez.
The number of demolished buildings amounts to 2,988 according to the estimates of the European satellite system Copernicus; although the data provided by the Cadastre count place them at around 1,576.



cadenaser.com