[ad_1]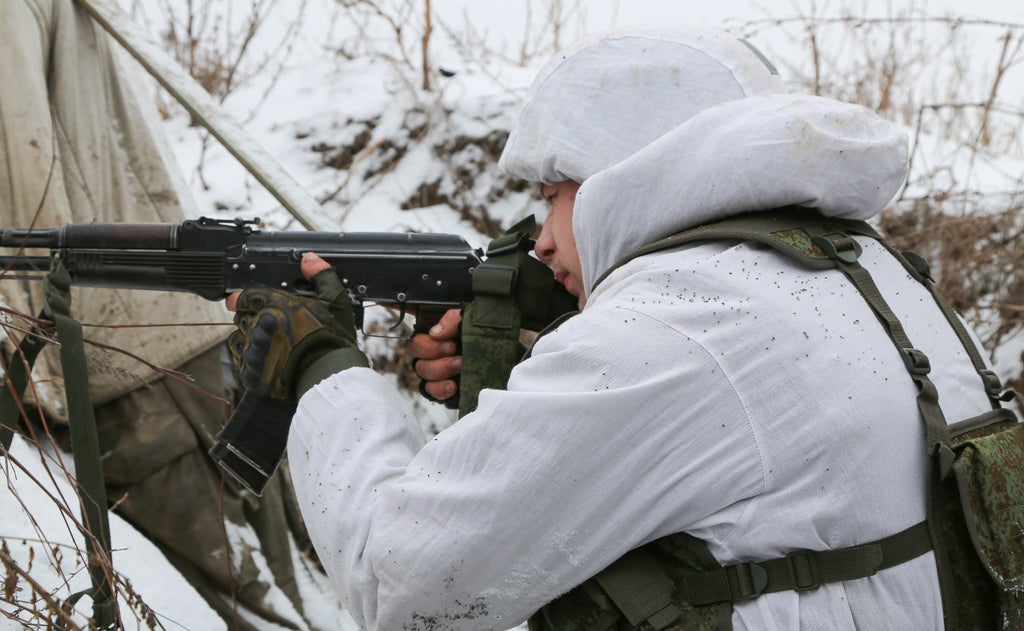 Russia has not amassed enough troops by the Ukrainian border to start a "large-scale offensive", Ukraine's foreign minister has suggested.
Dmytro Kuleba's comments on Wednesday come amid growing fears in the west that the Kremlin could use the 127,000 troops it has already positioned near the territory to launch an invasion, and as Russian troops carried out military exercises near the two countries shared border.
Despite such concerns, Mr Kuleba said: "They are still missing some key military elements and systems to mount a big, full-scale offensive."
The foreign minister added that Russia's intention was to destabilize his country by "spreading panic, raising pressure on Ukraine's financial system and launching cyberattacks".
More western arms have reached Ukraine to support it in the event of a potential conflict, while diplomatic talks to deter Russia from making a military incursion continue.
Officials from Russia, Ukraine, France and Germany met in Paris for talks on Wednesday, as American F-15 jets arrived in Estonia to bolster Nato defenses in the Baltic. The US has also said it is prepared to send 8,500 troops to the area.
Germany, which has been criticized for not doing more to help Ukraine, announced on Wednesday that it will send 5,000 helmets to Ukrainian soldiers, a gesture described by Vitali Klitschko, the mayor of Kiev, as a "joke". Berlin's lack of meaningful support constitutes a "betrayal of friends in a dramatic situation", I added.
In other developments on Wednesday, The United States delivered a written response to the Kremlin's security demands on Ukraine and NATO, the Russian Foreign Ministry said.
Washington has not made its public response, but has already warned that Russia's top demands are unacceptable. Moscow wants guarantees that NATO will never admit the country and other ex-Soviet nations as members, and that the alliance will roll back troop deployments in other former Soviet bloc nations.
Russia's foreign minister Sergei Lavrov warned the west that Moscow would take "the necessary retaliatory measures" if provoked, while claiming the west was taking an "aggressive course".
With the specter of war hanging over Europe and "the largest invasion since World War II" a possibility, US president Joe Biden has said that Russia would be hit by "enormous" sanctions if its troops strike out into Ukraine.
Both the UK and the US have also threatened to sanction Russian president Vladimir Putin personally if he chooses to invade Ukraine, like he did in 2014 when he annexed Crimea.
America rarely takes such action against leaders of other countries, although exceptions include those leveled against Venezuela's Nicolas Maduro and Syria's Bashar al-Assad in recent years.
The prospect of sanctioning the Russian president was also raised by the British government, with foreign secretary Liz Truss saying that ministers were "not ruling anything out".
The Kremlin struck out at this suggestion on Wednesday, noting that President Putin and his allies do not have assets in the west. They warned, however, that the move would be "politically destructive" for other countries' relationships with Russia.
Elsewhere, Sergiy Korsunsky, the Ukrainian ambassador to Japan, suggested there was little chance of a full offensive against Ukraine, warning Moscow of the dangers of invading a country with 15 nuclear reactors. "I believe that full-scale war is very, very, very difficult to expect, but we may see more localized conflict," he said.
On Wednesday, Alexey Pavlovsky, the Russian ambassador to Australia, claimed that the Kremlin did not want to attack its neighbour. "Our troops on the border…These troops are not a threat, they are a warning. A warning to Ukraine's rulers not to attempt any reckless military adventure," he said.
Additional reporting by Reuters
[ad_2]
www.independent.co.uk
George Holan is chief editor at Plainsmen Post and has articles published in many notable publications in the last decade.