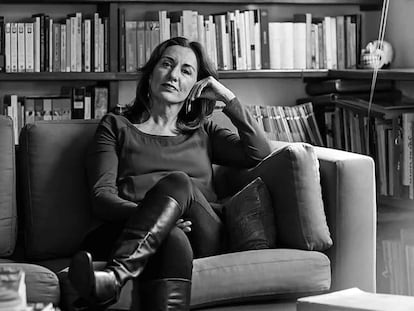 One of the largest cultural engines in Mexico, Cultural Diffusion of the National Autonomous University of Mexico (UNAM), changes hands and its new coordinator, Rosa Beltrán (Mexico City, 61 years old), arrives ready to take the pulse very closely of the times. Pandemic and feminism will be two of the fundamental axes of her work at the head of the cultural arm of the largest university in Latin America on which its cinemas, museums, theaters, concert halls and the rest of an overwhelming cultural agenda depend. A writer and academic, Beltrán replaces fellow writer Jorge Volpi, with whom she worked in recent years as part of the university's cultural branch team.
Ask. Are all the venues already working at full capacity?
Answer. We already have all the spaces open with activities. But not only the shows are important, but also the classes. Our work has nothing more to do with presenting authors and talks, but with accompanying. Support work is very important. Yoga classes, classes of different bodily activities to recognize each other, to reconnect, are important because the pandemic has also left psychological and emotional consequences. Culture has that purpose of accompanying and palliating. Coming soon, already in February, we will start with theater inside the rooms. Of course, with all the protocols and distance and hygiene measures. But now we need to see them.
P. He has placed a lot of emphasis on the idea of ​​the post-pandemic. What will the return to normality be like?
R. It cannot be reopened thinking that we will return to normal. We have had and have a pandemic that involves a global conversation. All over the world and for the first time in our lives we are having the same conversation in real time. We want to collect testimonies from all fields of art and culture about new forms of organization, work, relationships, the visibility of other types of violence, such as domestic violence. Who is writing the history of the pandemic? UNAM has already asked Spanish-language authors from all over the world to write the pandemic diary that was published as a book. But this newspaper has only recorded the first months of 2020.
P. In what formats will all this work be deployed?
R. There are records of all kinds, in dance, in theater, in literature, in cinema. It's going to be a cross-platform thing. It is being constructed. The artists are working on it because it affects them both from the economic side to the rethinking of their work. On the one hand, it will be reflected in the shows, acts or actions that we are going to carry out, but also in the form of text, in anthologies and compilations. Youth work is very important. They are a fundamental thermometer. At the university we have a youth council. We have magazines like Starting point, which is a magazine for young people, where it is important that this remains as chronicles.
P. The other "post" on which he has insisted a lot is the postpatriarchy.
R. I know that the word patriarchy is going to make noise and I like to hit it. Because my project has to do with inclusion, with reconciling the different voices and making them sound like one voice. No way with uncheck. This is the task of the academy: to link from the discussion. With post-patriarchy I mean that we are obviously thinking of products also carried out by men. It is a discussion that encompasses us all. Machismo is a normalized, ancient culture that invites us all to reflect on how we got to the future, why we live in a world with such atrocious violence, not only towards women, but towards everyone. How can we think?
P. How is this feminist perspective going to be implemented?
R. The inclusion of diversity will be in all fields. Discussion forums, workshops and community festivals on topics that are more sensitive or delicate, such as the famous inclusive or inclusive language, are going to be very important. I think that the university is the place where this has to be discussed to see if it helps us to think.
P. Aren't you afraid of wearing yourself out in the so-called culture wars?
R. I am university and academic. I have been for many years and my natural arena is reflection and discussion. I don't have a foreign thought to what happens. I am interested in registering the historical changes and this, whether it is in the end a product of the effervescence of the moment or whether it remains in the language, is something that interests me to consider. In addition, I belong to the Academy of Language and language is a living organism. What we do there, our object, is to observe it, record it, not control it. That would be having a conservative thought, alien to the university. I do know that there are going to be many positions that are ready to attack everything that in some way destabilizes their knowledge, their privileges, a way of defining identity against which they are accustomed. I want to move the table a little and think outside the box. The university is the perfect place, without imposing any vision.
P. With Rosa Beltrán, is the cultural arm of the UNAM going to be more political than with Jorge Volpi?
R. Culture is a field that encompasses all knowledge. Of course, politics and the economy will have to play a role in the historical moment we are experiencing. This is what I think will define these years of management. It is a delicate, difficult, painful moment. The university must find creative ways to open other paths that seem to have been closed in these previous years. Not only in Mexico, all over the world.
P. During the toughest months of the pandemic in 2020, UNAM published a public rescue program for culture in the face of government inaction. Do you share it?
R. The programs that I am preparing and that I will present in my project are based on these statistics on the current state of culture and the situation of our cultural actors. I participated in Dr. Volpe's previous administration and was part of that. In this sense, we are working on an important festival that will take place in the second part of this year and that is destined to address this rescue and this questioning.
P. He also wants to get college out of college.
R. I think there is a great lack of knowledge of what is done at the university. One of my interests is to take it not only to university students, but to high schools, art schools. And there is another program that I am very interested in carrying out. It's already started but I want to extend it. It's called UNAM Culture Points and it means that any university student, by virtue of being one, has at the beginning 500 virtual points to be able to spend them on whatever they want, that is, concerts, free plays, dance, buying books and their commitment is that repays with a review of what he witnessed or those books he read. I want to extend this program to the academic sphere as well, that is, to teachers, researchers, academics.
subscribe here to newsletter of EL PAÍS Mexico and receive all the informative keys of the news of this country

elpais.com