[ad_1]

The first light of dawn bathes the farm fields, still flooded by the last monsoon rains in this small corner of India, while 12-year-old Red prepares to go to the village madrasa. For two hours he learns Urdu and Arabic together with some thirty boys and girls of all ages. Time that Naseema, 25 years old and Roja's sister-in-law, takes advantage of to prepare the food. They live in Kora Harbans, a small village surrounded by rice fields and brick factories in the Sitamarhi district of Bihar, one of the poorest states in the country, near the border with Nepal. In turn, Sitamarhi is one of the poorest neighborhoods in the state, with one of the lowest literacy rates in the country (52%) and in which its inhabitants live mainly from agriculture.
It is after eight in the morning when Roja returns home, still with the smell of freshly cooked food permeating everything. You have almost two hours before going to school. Take the opportunity to squat for breakfast a plate of rice with vegetable curry on the floor of the room that serves as a kitchen and bedroom. Four adobe walls without windows. A corrugated roof on a structure made of bamboo trunks covers the small room, as well as part of the outdoor space where they spend a good part of the day sheltered from the sun and where the blankets and clean clothes hang. In front of the kitchen is a rusty hand water pump with a small brick path to get around the stagnant one and a large pumpkin plant growing wild in the corner. A rope as a clothesline, which serves both to hang dirty clothes and to let them dry in the sun when they are washed, divides the patio. On the other side, a small adobe building with two rooms, which now remain unoccupied since everyone went to work away from home, serves as a storage room waiting for one of them to return to spend some time in the village. There is no bathroom and the only artificial light comes from two bulbs. All around, the dirt floor gets puddled every time it rains.
In rural villages in India it is common for small settlements or silly made up of a dozen households in which the majority are related. Where you live in a community and where everyone takes care of everyone. So it is not surprising that although Roja has been left alone with Naseema, who is in her charge, and with Gulam, her two-and-a-half-year-old nephew, there are always people coming and going from the house. The result is a small community living under a forced matriarchy, where most of the men have had to migrate in search of work to support their families.
Roja is the youngest of five siblings. Her older sister, Anisa, 30, was married long ago and became part of her husband's family in another village. She is followed by her brothers Ibrahim, Kaleem and Hazrat, who are 29, 23 and 18 years old respectively. Only Ibrahim is married and has a son, who are the relatives with whom Roja lives. His father, Ismail, 50, was the first to go to work in a brick factory in the state of Kashmir, in northwestern India. When there are other women in the family to take care of their own, sometimes the wife accompanies the man to cook and take care of him, and this is what Roja's mother, Mokima, 45, did, leaving her four children with his daughter-in-law. Although the three older ones soon had to migrate as well to find work, Ibrahim to Bombay, Kaleem to Kashmir with his parents and Hazrat to Ludhiana. Despite her young age and without her parents knowing about it, Roja also decided to go to work to help the family. A neighbor convinced Roja and three other children from the village to go to work at her brother's bracelet factory in Jaipur, in the capital of Rajasthan. With the promise of a good salary, he took the four boys 1,200 kilometers from their homes.
Roja has finished eating breakfast and has changed her clothes. You still have time until classes start. Sitting next to his nephew on the wooden platform that occupies the middle of the shed, he remembers, with a serious face, how his nightmare began. "We spent two days traveling by bus until we reached the factory in Jaipur," he explains before being lost in thought. Little Gulam, who continually seeks the attention of his uncle to play with him, throws the ball at him demanding to continue with the game and makes him smile again, returning his innocent and playful look.
When he remembers his days in Jaipur, his face changes, with glassy eyes he lowers his head and with a broken tone of voice he recounts some details of what he lived until he stops talking and becomes thoughtful. Roja spent her days without leaving a room measuring about four meters by two with three other children. In one corner they worked and in the other they slept. They were fed twice a day. "We started work at eight in the morning until one, then we would stop for an hour to eat and rest, and at two we would go back to work until nine at night." Twelve hours of work sitting on the floor gluing small decorative pieces on the bracelets lahthi typical of Rajasthan, and for which he never received a salary. It is common for families to hand over their children to go to work in exchange for an initial payment of 2,000 or 3,000 rupees (between 25 and 35 euros) and the promise that they will receive a good monthly salary. In Roja's case, as she left without her parents being home, she did not receive that initial payment, nor did they ever pay her anything for her work.
His nightmare at the bracelet factory was short lived, as he was lucky enough to be rescued after two months. Roja is one of 58,289 children who have been freed from child labor and integrated into the education system during the 2020-2021 financial year, according to recent data from the Ministry of Labor and Employment. His rescue took place in January 2021, as part of an operation that began in December 2020 and in which 92 children from Bihar working in Jaipur were freed. Although the number of rescued children has increased an average of 7% during the last four years, it is still insufficient since they only represent 0.58% of the more than 10 million children between 5 and 14 years old involved in child labor in India, according to the latest census of 2011. The ILO estimated that at the beginning of 2020 there were 160 million children in the world who were victims of child labor, to which it is estimated that another 9 million will be added by the end of 2022 as a result of the increase in poverty caused by the pandemic. After the rescue, he spent five months in a children's home in Jaipur, until he was finally sent back to his home in Bihar, where he was able to meet up with Naseema and Gulam again in June. Since then he has spoken almost every day with his parents on the phone, but until the colder months begin in Kashmir and they return to the village, he will have to settle for the passport photographs he has of his parents, which are already somewhat worn. from taking them so much.
It is almost ten o'clock in the morning when Rasuddin and Sadare, two 11-year-old boys, appear at Roja's door, smiling and with several notebooks in their hands. As soon as Roja sees them, she quickly enters the room to leave shortly after with two notebooks and a pen. Without saying a word they leave the house to start the journey to the school, which is a kilometer from there. Little by little more classmates are joining on the way to school. A two-story building in pink and green, with arches and columns painted in the colors of the Indian flag. Too big for the four classes where children from different grades are forced to share the only four teachers available to the center. In Roja's class 27 children between 9 and 12 years old are mixed. As soon as the teacher enters the classroom, Roja and her friends sit together near the blackboard, and at her command they all begin to write, copying the Hindi phrases from shared notebooks.
At the end of August, schools in India reopened, after being closed for almost a year and a half due to the pandemic, and Roja was able to rejoin the public education system that she had left at the age of eight. The educational rehabilitation of children is one of the main objectives in the fight against child labor, which must be complemented with the economic recovery of their families to prevent them from abandoning their studies again and falling back into it.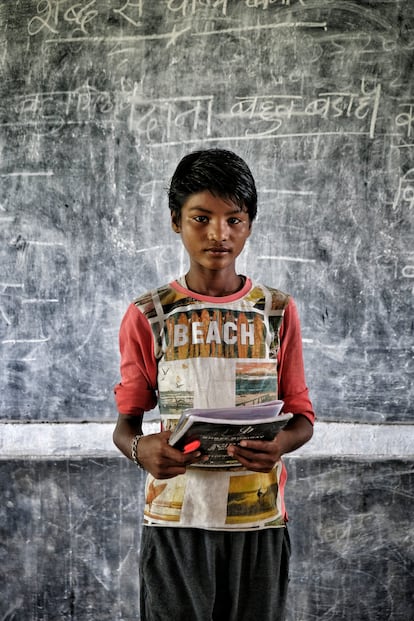 UNICEF runs a program in Bihar focused on the eradication of child labor through three partner NGOs: Save the Children, Action Aid and Pratham. The latter is the one who works on the ground in the Sitamarhi district and who is accompanying Roja in her rehabilitation process. The essence of the program is to help strengthen existing systems, working very closely with local village government bodies, with which UNICEF and its partners carry out preventive and awareness-raising measures in the community to prevent children from dropping out of their studies. They ensure that families take care of their children and assist them so that they can access the different public support schemes, such as ration cards to obtain subsidized food products, aid for employment or accommodation, among others.
When school finishes at three in the afternoon, he returns home to eat and rest a bit, and immediately disappears to play around the village. He loves cycling, fishing, and most of all playing cricket. Since he returned home, he has gone everywhere with his two friends, Rasuddin and Sadare, from whom he does not separate and with whom he is recovering his childhood. "I only know that right now I don't want to work, I want to study," he says shyly but without hesitation after asking him what he wants to be when he grows up.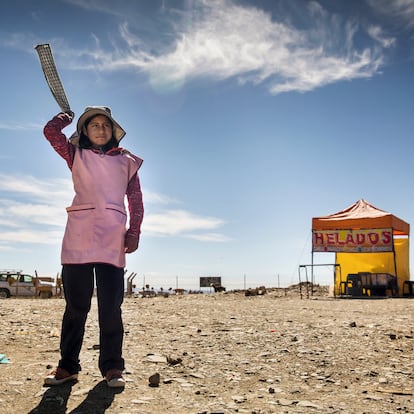 She is a street vendor in El Alto and one of the more than 700,000 children under 14 years of age who work in Bolivia. Most of them do it out of dire necessity, like her. With the pandemic, he left his studies, although he hopes to resume them.
More than a million children under 17 years of age work in fields around the world. In Cameroon, thousands of them are denied their right to go to school and their life consists of scavenging for gold in the many artisanal mines in the east of the country.
The latest data on child labor in the world is dramatic. For the first time in two decades, progress to eradicate this drama has been slowed by the pandemic and the lack of political action against poverty.
[ad_2]
elpais.com
George Holan is chief editor at Plainsmen Post and has articles published in many notable publications in the last decade.