The midday sun bathes his serene face. Roberto Escobar, blind and without hearing in one of his ears, spends the morning sitting in a garden chair, waiting for a technician to come to fix his refrigerator. In the eighties he became number 2 of the Medellín cartel led by his little brother, Pablo. He was the financial engineer of a brutal organization of hitmen and cocaine dealers who spread Colombia with blood in the eighties. Although before dedicating himself to weighing the money that came in trucks on a scale, he was a merit cyclist who competed with the greatest of his time:
—I would change everything for having won the Tour de France.
Roberto lives at the age of 74 at the top of a hill in Medellín, on an old farm owned by his brother. His ex-wife, Claudi Escárraga, a former beauty queen from La Guajira, who met him in prison, opens the door. Roberto is waiting in the openwork patio with a red cap, thin square glasses and his shirt tucked into his pants. Listen in silence to the noise of some birds that flutter in a nearby forest and your gaze is lost in the void. They call him the Bear because a radio announcer, during one of the races, could not identify him when he reached the finish line, he was covered in mud from head to toe. "Here comes a bear," he announced. The nickname has accompanied him to this day. At that time, the sixties, it was around Colombia. The roads were filled with fans who wanted to see their idols pass. Roberto was one of the most outstanding athletes in Antioquia.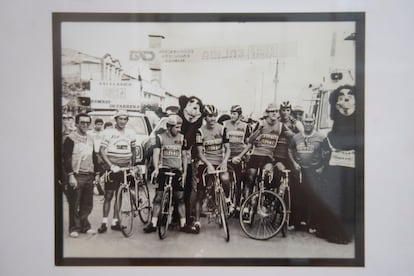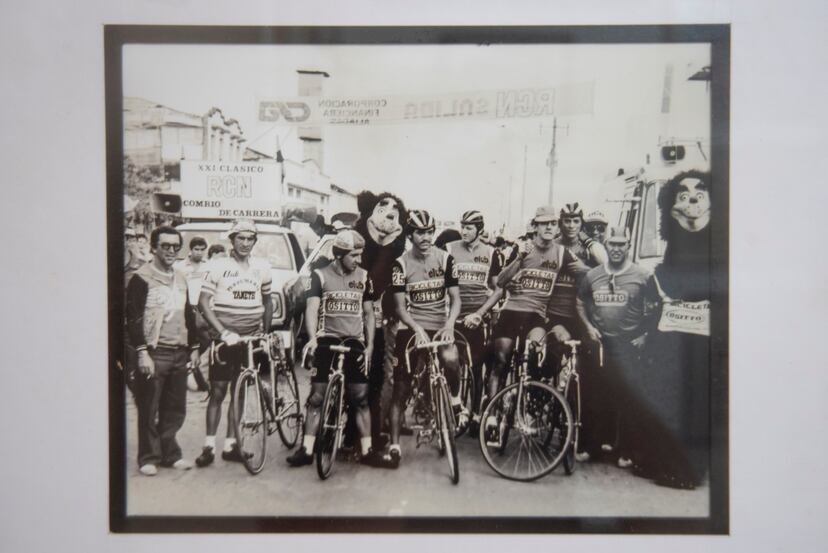 His two-year-younger brother, Pablo, was still in school. His classmates began to call that unruly student Osito who ended up repeating the grade. In the next two decades the popularity of the brothers turned. Pablo became one of the richest men in the world thanks to drug trafficking and the number one enemy in Colombia when he began to commit attacks to prevent his extradition to the United States. Roberto stopped training in a cycling team that he had ridden, closed the shops and the bicycle workshop he ran and got fully involved in the cartel. His cycling legend was buried. He landed in the underworld, though, with less vehemence. Faced with Pablo's impetuous and volcanic character, he was always someone calmer, less sanguine.
"There is not a day that I do not miss it," he remembers excitedly. His house is an altar in his honor. Everywhere there are paintings, motorcycles, cars, photographs, books, sculptures that belonged to Pablo. Roberto has the space open as a museum. The Medellín City Council has closed it for promoting the cult of violence. However, it still receives visits from foreign tourists who walk around the place and when they finish, as a final firework, they shake his hand. "Welcome, welcome, this is your home", greets everyone who arrives.
Join EL PAÍS to follow all the news and read without limits.
Subscribe
The portraits on the walls are full of violently killed men. Roberto is one of the few of his time who has reached old age. In 1993, 16 days after the death of his brother at the hands of the authorities, who shot him down on a roof in Medellín, he received a letter in prison. "I was at the holy mass, my mother taught me the Catholic religion. When I returned to the cell, I received that letter that had to go through seven police checkpoints and an X-ray machine. On the envelope it said that it was a court summons. When I opened it, it exploded in my face. It was a letter-bomb ", he says.
He lost his sight and the ability to ride a bike again. His blue eyes turned gray. A thin transparent film covers them. Every so often he takes out of his pocket a lubricant made of artificial tears with which he moistens the sockets. He has regained a small percentage of vision in one of his eyes that allows him to see shadows. Even so, he often confuses his interlocutor, does not fix his gaze on a specific place, mistakenly points out parts of his own house. When suffering the attack as an adult, Roberto does not seem to have developed the instinct of a blind man.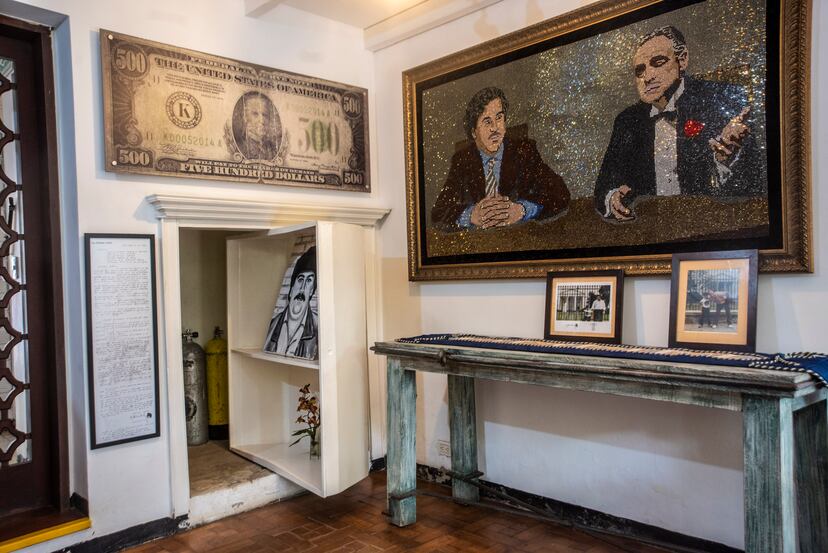 He claims to have reached a zen moment in his life. He is not afraid of reprisals from the past for all the pain caused by the Escobar clan. He has stopped wearing a wig to be inconspicuous, although the cap that he does not remove shows his vanity. In 2010, an armed commando tried to kidnap him. The police avoided him and in the scuffle he killed one of the assailants. "Drug trafficking takes you to the clinic, to jail or to the cemetery," he reflects on a run.
Roberto chatters animatedly in the courtyard, next to a life-size statue of his brother. He tells that he lived in Madrid, at number 7 Miguel Ángel street, and that at that time he was spending the summer in a hotel in Torremolinos, from where he made excursions to Marbella or Gibraltar. Roberto is silent for a moment because he hears footsteps behind him. They belong to his youngest daughter, who suddenly appears and takes him by the arm into the house. Father and daughter whisper behind a door. After a while, Roberto returns: he wants to talk about cycling.
His history as a cyclist is detailed in the book Kings of the mountains, written by Matt Rendell, now discontinued. "That gringo was here. If you find a copy, send it to me, "he asks. It started at the Mediofondo Club, sponsored by an electrical appliance company. He competed in three Vueltas a Colombia and two RCN classics, the most important in the country. It was gold in the Bolivarian Games and bronze in some national championships. Cochise, a mythical runner, disputed the throne without success to Martín Emilio Rodríguez. On one wall, hangs a newspaper clipping of the day Roberto won a stage against Cochise. "Cochise's gift to R. Escobar," says the newspaper. Roberto is outraged: "It's a lie, he took five minutes, he didn't give me anything. Journalists at that time were very loaded to Cochise ".
Retired in his thirties, he became a coach. Roberto names some of the best Colombian cyclists, who passed through his teams. He was technical director of the Antioquia and Caldas regions. In a return to Cuba, he finished second with the runner Cristóbal Pérez. "All the communist countries brought teams of 12 cyclists, like Hungary or Russia. We just 4. It was a success, "he recalls. The Colombian cycling federation began to have news of his brother's handling and dismissed him as coach of regional federations.
So he assembled his own team, Ositto Bicycles, with a double T for an Italian touch. Two decades earlier, the great champion Fausto Coppi visited Colombia at the end of his career. The country received him like a hero. Roberto says that he went, together with Pablo, to see him ride through Alto de Minas, one of the hardest mountain passes. They were on board a Piaggo 61 Vespa. Those two teenagers were impressed with the fact that elegance, distinction, good taste, had an Italian name.
Ositto created his own bicycles. He still keeps one in the attic. "Upload it to me, please," Roberto asks one of his assistants. The worker returns with an old racing bike, with a blue frame and red handlebars. "It is a relic", the owner congratulates. Gently caress the iron frame and when finished, check the air in the tires with your fingers. Through touch he recovers the sensations of when he climbed on it.
There was always the suspicion that his team was sponsored by drug money. Roberto denies it, like almost all the unconfirmed accusations of everything that have to do with him or with Pablo. But different testimonies from that time confirm that, obviously, the club had a bigger budget than the rest. He came to have the best. The nexus between drug trafficking and cycling became more evident than ever. Some crossed the line. Cyclists, used to suffering, were perfect for playing mules. Good athletes of that time, like Chalo Marín, ended up in the pay of the cartel. Marín was brutally murdered in Medellín in a crime attributed to Los Pepes, the paramilitary group that was created to persecute Escobar.
At one point, Roberto left the sport and entered fully into organized crime. There are those who minimize its importance within the cartel. Gustavo Gaviria, Rodríguez Gacha or the Ochoa brothers had a more specific weight within the organization. The DEA, however, put him the second highest reward for his capture, behind Pablo's. They were dark years. His brother burned Colombia, he was next to the arsonist. He was imprisoned in La Catedral, where he met his second wife, the one who opened the door, and then turned herself in a second time to comply with justice. Otherwise he would have ended up underground, like Pablo.
After cycling, he developed other hobbies as a rich man, such as thoroughbred horses. His was Terremoto de Manizales, a beautiful brown specimen that, according to its owner, was "the largest fine paso horse in the world." Roberto sometimes tends to hyperbole. A giant portrait of the animal hangs in his living room. In the middle, a painted teddy bear. Actually, it is the memory of something that went wrong. The Pepes kidnapped Terremoto and returned him to his bones and castrated.
On the slopes of his life, he has returned to the adoration of cycling. The diplomas of all his exploits hang on the walls. He feels a slight tingling in his legs when he talks about those days. Without sight, the radio is your best ally to follow the Tour and the Giro, where Colombian cyclists have shone lately, a generation that has not abandoned itself to easy money. Egan, Rigo, Nairo. Roberto identifies more with them than with the gangster he really was.
In the current photo that he has in profile on WhatsApp, he wears a green jersey of the Colombia team. In one hand he holds a press clipping of a day of glory and in the other a gold medal. He leans on an Ositto bicycle. It is clear that Roberto reached the top of the criminal world, but that he secretly dreamed of winning the Tour. "Now they realize I was good," he splutters, before moistening his eyes a bit more with artificial tears.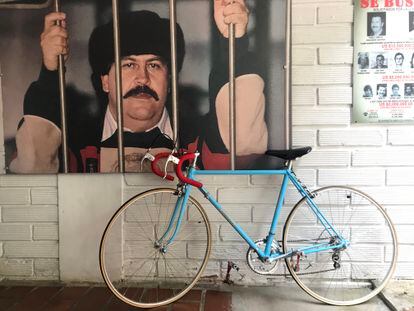 Subscribe here to the newsletter from EL PAÍS América and receive all the informative keys of the current situation of the region

elpais.com