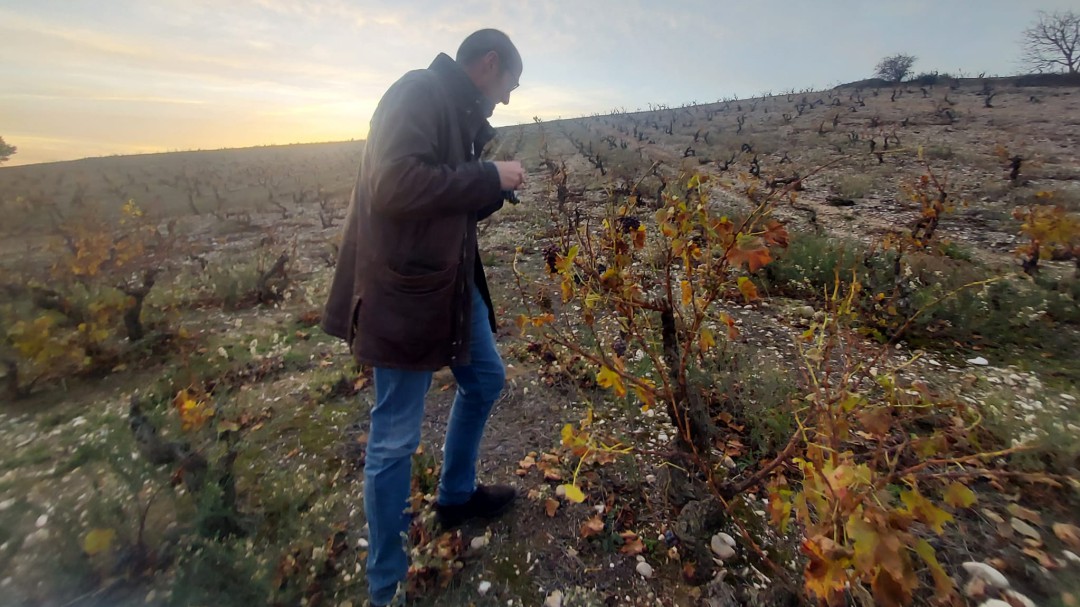 The days Destination Rioja Alavesa. A trip to the world of wine, organized by Cadena SER, bring together a good number of winemakers, winemakers, popularizers and gastronomic tourists this weekend in Laguardia. A weekend full of activities that starts this Friday with a special program of Day by day from the Bodegas Baigorri de Samaniego and in which the Spanish sommelier champion, Jon Andoni Rementeria, "the wine superhero" Joaquín Gálvez (Wineman) or the chef Iñaki Murua (Ikaro), distinguished with a Michelin star, will also participate. .
Another of the protagonists of the conference will be the winemaker José Ignacio Junguitu, a great connoisseur of Spanish wine and, above all, Rioja, who does not mind admitting that the possible split in the Denomination of Origin would seem to him "a big mistake". For years the issue has been confronting the supporters of the inter-regional unity with those who prefer an independent structure in the Basque Country (the option of a brand called Viñedos de Álava has been considered).
But, beyond the controversy fueled (and then withdrawn) by the PNV this week, Junguitu is convinced that Rioja Alavesa is not only a top-level wine tourism destination but also has great references in the international wine market . Many of them, in addition, at a very competitive price.
What do you think of the possible split in the Rioja Denomination of Origin?
For some years now, a small group of Rioja Alavesa wineries have decided that they want to create a new brand, Viñedos de Álava, and set up a new Denomination of Origin. It seems like a big mistake to me. The great disparity of winery models that exist in the area makes coexistence difficult, but it also leads us to find a completely sustainable and complementary model. The big brands have to give a hand to the small wineries, which have a more difficult time reaching the market. But, as a well-known Madrid critic said, perhaps what this Denomination of Origin is doing right now cannot be done by any other.
What makes the Rioja Alavesa destination unique?
Thousand things! The meanders of the Ebro river that go up to the Sierra de Cantabria, that terraced vineyard, that harsh landscape … But the most important thing is its inhabitants. Dedicated, hard-working people, closely linked to their territory and eager to welcome everyone.
What would be, in your opinion, the 'poker of aces' of the Rioja Alavesa wineries?
Choosing is what causes us the most problems because we have a great diversity of models. There are large international wineries with very large productions, such as El Coto or Faustino; the oldest in the DO, which is Marqués de Riscal; family wineries, like Luis Cañas; and also small growers closely linked to the land, descendants of farmers who were dedicated to bulk and now produce small, high-quality productions. This allows Rioja Alavesa wines to reach almost any market.
Recommend us wine! Let's start with one of less than 10 euros …
What a compromise! Here are great wines made, also, by great friends. I find it very complicated … But, for less than 10, any of our wines with carbonic maceration, which is the most traditional system of winemaking, which requires a lot of labor and little technology in the winery. At Bodegas Gómez de Segura, for example, they make as they have done all their lives. Fresh, fun, fruity wines … and to drink almost at any time. For an aperitif, a light meal, or to take with friends.
One under 25?
In less than 25 euros we could go to a cooperative that I really like how it is working: the Labastida Cooperative. A very important winery model that we have to try to have more presence. A spectacular Garnacha. A very wide wine, an exciting final tension, very funny, for all audiences …
And a vinazo for less than 50?
Maybe I would go to something like ereserves so spectacular of Remírez de Ganuza. That absolute expression of Rioja Alavesa, of a whole vineyard and the way of interpreting the vineyard. An example of the hundreds of great wines that we have in Rioja Alavesa.
What is the most awarded wine from Rioja Alavesa?
It is not clear to me, but perhaps one of the wineries that has it easier is the Telmo Rodríguez Wine Company, a great ambassador of this area with that Yjar that has just been released on the market, Las Beatas, La Estrada, Tabuérniga, El Veiled … Very great wines that in recent years have obtained the best scores. Possibly in these wineries there is one of those 'unicorns' that we can find in the international market.
The area is experiencing a great moment, with national and international visitors. Where do you think it is going? More luxury, more rural tourism?
All rural areas are experiencing a great time. With the pandemic, we are looking for quieter, more open places. I believe that we are heading towards maintaining the tourism that we have with close people, visitors from other areas and also increasingly international. Our wines are reaching unimaginable heights of quality a few years ago and that makes people from all over the world want to come to know a completely exciting territory.



cadenaser.com