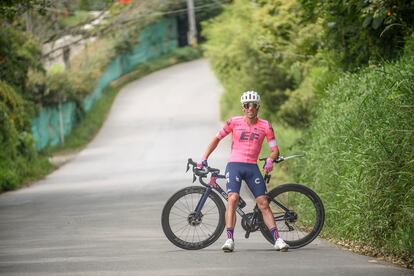 In a country of extremes like Colombia, there is a strange consensus around the cyclist Rigoberto Urán (Urrao, 1987). People want it. His comments on reaching the finish line, the first or the last, amuse the fans. Rigo jokes about that moment when his companions are speechless. At his age, however, nearing retirement, he has taken being a businessman very seriously. On the way to the interview, his face appears on a giant billboard, on the side of the highway, in an Internet advertisement. The appointment takes place at the Hacienda de Rigo, where there are cafes, restaurants and a spare parts store. Employees wear a retro bike hat and an apron with their name on it. On the table, about to turn on the recorder, a package of ground grain El Café de Rigo is strategically placed.
Ask. His father predicted that one day his face would be stamped on a coffee wrapper.
Answer. He had horses and fighting cocks in Urrao, my hometown. It is a spectacular valley, 4,500 meters high. Surrounded by orchids. When he got drunk with brandy, my father said that his son was going to be a recognized person, that he was going to travel the world. His friends laughed, they didn't believe him.
P. He only saw him participate in a race.
R. He was riding a bicycle with some friends when they came across some paramilitaries who were stealing cattle. They asked them to help them herd the cattle and then they killed them. That's what they say, there are no witnesses. His body appeared in a river and luckily a neighbor saw the body and pulled it out of the water. At that time many bodies were not found, his at least was.
P. His mother was left alone in charge of the family.
R. My mother did not work, she was a housewife. There was no income, it was a difficult situation. My little sister was five years old, you had to buy, pay for the study…. And we went ahead, if I could others too. The mayor of that time gave me money to buy food, the coach gave me bills for water and electricity. With enthusiasm, without complaining so much. People with a good attitude, even if they have difficulties, receive more help.
P. Did you receive any compensation from the Government?
R. The State recognizes aid to families, but no one begins to investigate who committed the murder. Then came a quiet time. Now the country is making progress, but there is still a long way to go, there is still violence. Not that everything has already been solved.
P. You found an escape on the bike.
R. In 2001, my uncle, my dad's brother, gave me one. At that time they were paving the road from Urrao to Medellín. We went out on Sundays as far as the road ended. Every eight days a little further. Then we found a cycling school on the way. The coach told my father to sign me up.
P. It went well.
R. I started on a Monday. On Saturday there was a time trial, which I did not know what it was. They told me to get on and run from one point to another as fast as possible. He had no cycling clothing, just his helmet. I win. Since then no one has beat me again in my category. Four years later I went to compete in Europe. They called me from a team and I accepted, not even knowing where I was going. I ended up in Brescia.
P. I have heard him say that cycling makes us all equal, rich and poor.
R. A group can go with bikes of 20,000 dollars and a peasant passes by with one of 100 and leaves them behind.
P. You have been second on many occasions, on the Tour, in the Olympic Games.
R. They pay us to win and for that we train. But there are times when you can't. I don't get frustrated, I don't back down, I just keep going. The goal of my life is not to win the Tour de France. I train, I go with the attitude, but if I don't win there are other priorities. Many athletes who go for a goal and do not achieve it, it becomes a very big problem because they are not happy, because sometimes one believes that happiness is in a triumph. And no, happiness is in many other things.
P. How did you learn to cope with that frustration?
R. Once on a tour I thought I was going to do very well and I did nothing. It was more boring, the family was boring, the friends were boring. I thought: what's the point of coming to a Tour de France and not enjoying it if it's the race you dreamed of doing as a child?
P. He has the body of a bullfighter, full of accidents. Didn't you get scared of speed?
R. I have broken my collarbone, my scapula, my elbows. It's scary to fall again, it takes a lot to get on the bike. Although I tell you something, fear is good, when you are in a race and you do not feel that it is because you are no longer enjoying it.
P. There was a generation of cyclists in Medellín, the eighties, who ended up running for drug gangs and even trafficking themselves. Has yours been safe from that?
R. I cannot judge them. It was what was in fashion. What I do see is that the vision of sport has changed. Today it is a pride to be an athlete. Before it was frowned upon, as if it were only for those who are not worth studying.
P. Other Colombian cyclists will have earned more than you, but none have as many businesses.
R. My brand has more than 220 workers in Colombia alone. We have opened stores in Miami and Costa Rica. The life of the athlete is short, something has to be entertained.
P. Fresh off the bike, at the finish line, he always has some surprising comment. How do you get to be resourceful at 120 beats per minute?
R. It comes naturally to me, like riding a bicycle.
P. Giro of 2014, end of stage. You go hand in hand with Nairo Quintana, your compatriot. He is leading, he has already won. It seems like he's going to have the courtesy to let you get there first, but sprint. Did you expect it?
R. It happened in the middle of the competition with hot blood … many people expected that gesture that you say, but it did not happen.
P. It was not a very elegant way to act.
R. You have it or you don't have it.
P. Yesterday I couldn't help but watch a video in which you are about to enter the finish line at the London Games. He starts to look back, loses the direction of the bicycle for a moment and Vinokurov arrives from behind and takes the gold. That didn't let me sleep well …
P. Look at my (thin) legs, and look at his. We came on the flat. It was a surprise that we Colombians won a medal. It was the beginning that cycling was in fashion here again. That doesn't get me up late, what happened to me on the last Tour, on the other hand, yes.
P. What happened?
R. Everything was going well for me, my legs responded to me, the parameters were good, I was in the top three. And from one moment to another … I sank. They took me from second to tenth place. Maybe I got dehydrated, I don't know. I can't find an explanation.
P. Given your popularity, do you think that if you ran for the presidential election next year, you would have a chance?
R. Several times I have been told: Hey, Rigo, you are the president. No no no. If you want to live rich, there are things in which it is better to be silent.
You can follow EL PAÍS DEPORTES in Facebook Y Twitter, or sign up here to receive our weekly newsletter.



elpais.com