Before the pandemic, 12,000 employees attended District C of Telefónica, the headquarters of the multinational in the Las Tablas area of ​​Madrid. Now, once a labor flexibility model has been implemented, 4,000 people do so. This means that if before the health crisis broke out they served in the company canteen 1,700 meals a day, today they dispatch between 650 and 700 menus. This is a revolution and a drastic change for companies in his way of conceiving corporate dining rooms.
To begin with, according to María del Puy Ruiz de la Cuesta, manager of finance, human resources and services building at Telefónica, this implies a reduction in the space allocated to meals: from next year the current 12,000 square meters, divided into two plants, will be reduced to 6,000 meters, located on a single floor. The complex also has several franchises, such as Starbucks, Knee, Kabuki and the group La Mafia Se Sit a La Mesa.
In the new structure, only the first two will remain, since both fit in with the new needs of the technology company staff. "Starbucks is very successful because it has created a space for coworking, where people can work and have coffee. What we observe is that now what you want is to eat quickly and leave soon. Before there was an inertia of being in the office, but now you want to spend the necessary time. It is no longer frowned upon to leave when the job is finished ", explains the Telefónica management, who considers it a great achievement to have overcome the initial reluctance to telework and to have opted for a flexible model of working hours. Too the dining room for VIP visits will disappear, "Before it was mandatory to have it, but since it does not make sense, because now when we receive people we do it in restaurants in the area. Before we also traveled to Latin America and now we solve it with online meetings ", adds Ruiz de la Cuesta.
The pandemic has disrupted the concept of corporate catering until March 2020. "The past is the past and very little of what we had in relation to employee nutrition will be recovered," explains Pablo Lozano, director of the corporate services segment at Sodexo Iberia.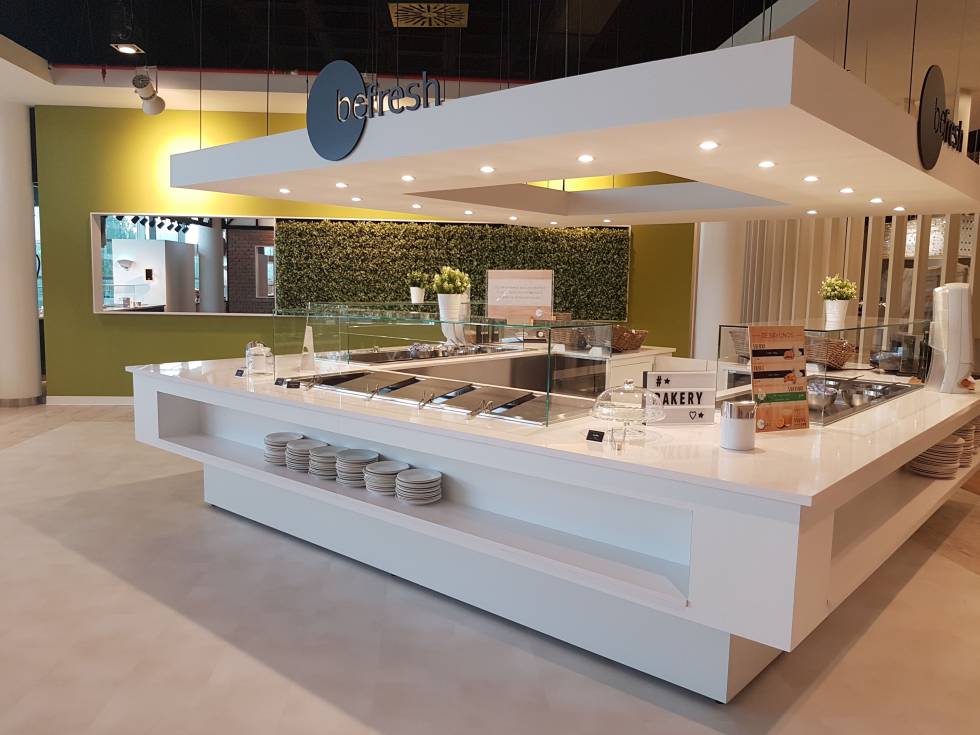 The first measure that had to be adopted when the activity in the offices resumed was related to hygiene and disinfection, "in addition to changing the concept of collective dining room to a more individualized model, as if it were a hospital meal, with everything packaging, "he adds. This was a momentary situation that became more relaxed as the vaccinations progressed and the staff returned to their jobs. However, there began a new reality, which has to do with the new organization of work, with more attractive hybrid environments that favor work-life balance.
All this is assuming a revolution in company canteens, conceived before the emergence of the Covid, as wide spaces for coexistence, socialization, and now converted into the opposite. "They have been reduced to a minimum, restaurants with capacity for a thousand people are disappearing completely, as well as the holding of mass meetings, with conventions and meetings in which there was always food, and now a service is offered of water and coffee ", adds Lozano.
In order to adapt to the new hybrid work models, which combine face-to-face with distance, companies no longer require large surfaces, and instead the main protagonists are now food stalls, "small corners or micro-markets, where it is served fresh and healthy food, which is what diners demand, who are now the true protagonists, and are becoming more and more demanding ", adds the director of the aforementioned restaurant services firm, who insists on the change of paradigm, since before who marked the step was the company and now is the employee. "The role has changed."
In addition to healthy eating, the stakes now are sustainability and digitization. "Companies used to cover a physiological need of employees, whereas now they enter and leave the office in a more dynamic way. Employees no longer follow the routine of coffee in the middle of the morning, then the meal with a menu of several dishes, now they are betting more on an Anglo-Saxon model, which had already been glimpsed, following what was happening in New York or London, where the people eat fast and serve a unique dish ", adds Lozano.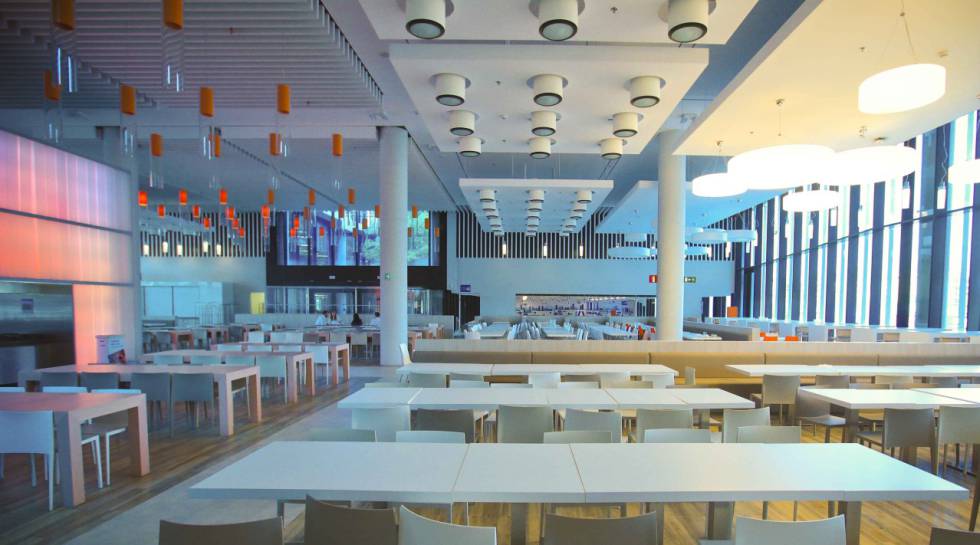 Therefore, what was imagined to happen in seven years has happened in 12 months. "We have had to reinvent ourselves in record time, and that has led us to incorporate digitization into a business as traditional as ours."
The corporate catering business, according to the Sodexo Iberia spokesperson, fell by 40% at the height of the pandemic, and is now confident that a maximum of 70% of the activity they had prior to lockdown will recover. And this happens through the creation of new services delivery, from take away, to take that same food to the office or home. Another of the concepts on the rise are the so-called food trucks, Those little vans that sell cookouts. "At BBVA we already had them before the pandemic, and what we have increased is the capacity of the terrace because now people prefer open spaces," says Desirée Granda, global head of real estate and services at the aforementioned financial entity, which maintains The six restaurants with different cooking concepts are open.
And he points out that with 40% of the workforce that goes to the La Vela building in Madrid, working remotely within a flexible model, the desire to socialize is greater. "People want to see each other, build a team, and for this we have collaborative areas in our day to day," explains the BBVA board of directors.
Commitment. According to a study by British consultancy Harrys Interactive on working life after confinement, 77% of employees consider that takeaway service would be something that would keep them motivated and committed to the company. In addition, in line with the demand for healthy and sustainable products and services, 40% believe that food should be cooked with local ingredients, 54% seek to consume healthy products free of additives, and 27% emphasize that the packaging is respectful with the environment.
New service. To meet these types of requests, Sodexo is launching a new take away food service, called Brio!, Which is reserved through an application, and which in principle will be applied in Madrid, Barcelona and the surrounding areas. It aims to respond to the new corporate catering needs linked to flexible work, new spaces and the optimization of productivity. It offers healthy, sustainable menus, with more than 20 options to choose from, including vegetarian, vegan and gluten-free. "We go beyond companies with kitchens, betting on those, like many SMEs, that do not have facilities and that want to impact their employees through healthy, sustainable and quality food," explains Carina Cabezas, president of Sodexo Iberia.

cincodias.elpais.com