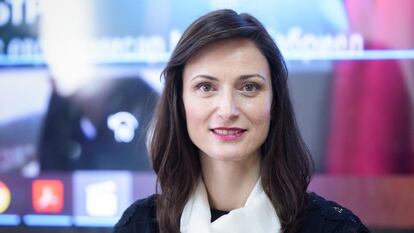 Mariya Gabriel, born in Gotse Delchev (Bulgaria) 42 years ago, faces, as European Commissioner for Innovation, Research, Culture, Education and Youth, the challenge of turning science into a fundamental tool of the EU. Over the next six years, the Horizon Europe program will have € 100,000 million. In an interview with Horizon, the European Union research and innovation magazine, discusses future plans. This is an excerpt from the conversation.
Ask. How do discoveries come to have an application in life?
Answer. The time that usually passes since a scientific breakthrough or discovery hits the market is undoubtedly too long, even longer in Europe than in other regions, as the latest European Innovation Scoreboard shows. Therefore, to address this complex issue, and generally to develop a new innovation policy to create more unicorn companies in Europe, I have decided to establish alliances with people from the world of innovation. Europe is a world power in the scientific field: it represents approximately 18% of R&D, 20% of scientific publications and patent applications, and around 19% of the research community on a global scale, having less than 7 % of the world population. However, the European results are not so positive in terms of innovation and start-ups or startupsTherefore, additional structural measures are necessary to improve the performance of the EU.
P. How are you going to achieve the objective of collaboration of the member countries in the European research scenario?
R. With Horizon Europe, we have managed to significantly increase the budget for activities to expand participation, which now exceeds 3,000 million euros and represents 3.3% of the total budget for Horizon Europe, compared to 1% for Horizon 2020. This An increase in the budget will not only allow the continuation and improvement of actions already underway with Horizon 2020, but also support other measures. Cooperation at European, regional and national level needs to be strengthened to establish an innovation ecosystem that can serve all regions, attract talent and strengthen the link between education, science and business.
Cooperation at European, regional and national level needs to be strengthened
P. How does the European Institute of Innovation and Technology (EIT) contribute to supporting innovation in both its educational and commercial aspects?
R. The EIT was created to foster innovation in Europe by supporting innovation environments and ecosystems where companies, educational and research institutions join forces to find solutions to specific challenges, from the climate crisis and renewable energy, to food and healthy lifestyles. The Institute is promoting a change of mentality in Europe, making it more innovative and entrepreneurial, by supporting projects and initiatives from the laboratory to the market, that is, turning ideas into products and services, and helping students and the research community to undertake . An integrated, strong and competitive financial system is the backbone of any vibrant and robust innovation ecosystem. It not only contributes to raising capital for established European companies, but also nurtures the companies of tomorrow in an essential way: the unicorn and emerging companies of the EU, active in areas of strategic interest to the EU. In recent years, the size of European venture capital funds has increased significantly, although it remains smaller than our US and Asian competitors. Horizon Europe has made further progress in this area thanks to the European Innovation Council program and, in particular, to the calls of the European Innovation Council Accelerator.
P. What measures is the EU taking to improve the representation of women in STEM areas (science, technology, engineering and mathematics)?
R. The underrepresentation of women in science, technology, engineering and mathematics is not new. However, there is clear progress and we meet remarkable scientists. The covid-19 vaccine has been possible thanks to numerous discoveries, one of which was developed by the Hungarian Katalin Karikó. His idea that mRNA could be useful against disease was considered too radical and financially risky to merit funding. During his life he applied for different scholarships and, one after another, they were all denied. However, Katalin did not stop persevering and eventually, together with a former colleague, developed a method to use synthetic mRNA against disease. That discovery is today the basis of the vaccine against covid-19. What conclusion can we draw from this? That institutional support is essential. I briefly quote some statistics. The document SHE Figures 2021 which has just been published, and which collects indicators and statistics on gender equality in research and development, shows that women are still underrepresented in STEM careers. Women represent only 29% of all engineering, manufacturing and construction students in the EU as a whole. They represent only 25% of the total of independent professionals in technical professions such as science, engineering or information and communication technologies, and their participation in the invention is significantly lower than that of men, with only 10% of Patent applications filed by women. The focus of our attention should be the entire value chain, from early and higher education to research and innovation.
The European Innovation Council is going to make sure that at least 40% of startups that are funded are led by women
P. What initiatives are you taking to increase the representation of women in these fields?
R. I will cite three examples: First, within the framework of the European Innovation Council, this year I launched the Women Tech EU call, which will support 50 emerging technology companies led by women and has a budget of 3, 8 million euros. The call has just closed with 391 offers received from 37 different countries. In the next call, the budget will be increased to 10 million euros. And that's not all: this Council is going to make sure that at least 40% of the startups that are funded are led by women. Since 2020, the percentage of women-led companies that have received funding from the European Innovation Council has increased from 8% to 29%. So I have no doubt that we can reach 40%. It is not a question of lack of talent. Second, we have introduced a new selection criteria that requires research organizations applying for funding to have a viable gender equality plan in place. Likewise, we have set ourselves the goal of having 50% representation of women in all decision-making bodies and evaluators of Horizon Europe. A recent example is that of the governing body of the European Innovation Council, where gender parity and better representation of Member States have been achieved. Third, the European Institute of Innovation and Technology (EIT) and I are focusing our efforts on the early education stage. In this area, through the EIT Girls Go Circular initiative, since last year 2,300 girls have been trained in 329 schools and 8 different countries. If Europe is willing to be a just and inclusive continent, it is important to close the gender gap. Our goal is to create a pan-European ecosystem that offers everyone, women and men, as well as different regions, the most appropriate environment for their needs to develop their competitive advantage in research and innovation.
Interview originally published in Horizon, the research and innovation magazine of the European Union.
You can follow MATTER in Facebook, Twitter e Instagram, or sign up here to receive our weekly newsletter.



elpais.com