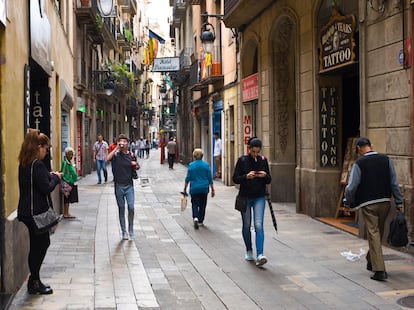 In the days of extreme confinement, my husband was one of those gentlemen who, with the excuse of the dog, went down more than three times a day to stretch his legs. They say the dogs lost weight. Not my dog, she is one of those fatties that go at her own pace, ideal companions for gray-haired walkers. With the jacket inherited from my father and the gait inherited from his, my husband, seen from the balcony, was one of those slow, reflective walkers, not so much as to stop to look at a work, but one of those who are alert to capture the future of the world. He walks with full awareness, an attitude that is losing followers with each passing day. One of the ghostly nights of confinement he lowered the dog and she took so long to go up that she was about to throw me out on the street. Finally, the door of the house opened and he appeared as if defeated, as if dwarfed. His face was beginning to swell, his glasses were broken and crooked, his expression disjointed. The first thing I thought was that he had been attacked, but on the streets in those days there weren't even aggressors on duty. He had stumbled on the disastrous pavement of Felipe II and had spent a few seconds becoming aware of the blow, fearful, with that disturbing sensation that something in your brain has moved. The dog, always by his side. From a certain age the scare of a bad fall makes us aware that one can break, in addition to the fears that inevitably assail: what would have happened to me if I had lost consciousness?
In those days, there were photos of people lying on the ground with no one helping them. We usually attribute this indifference to beings from remote countries, we consider ourselves good Samaritans, but the death in a street in the center of Paris of the great photographer René Robert made us wonder if we would be capable of acting with that level of indifference. In my neighborhood, as in yours, there are people who sleep on the street: each beggar has his corner, there is a couple who wanders with their possessions from one place to another during the day; a man who lives in a bank and who studies, underlines and points, as if he were studying for a career; further on, the group of Romanians who crowd against each other for lack of warmth from a fire and a guy dressed as a cyclist who projects smoke and indignant phrases into the air by day and hides in his cardboard at night. They are family to us. One wants to think that if he saw an unknown old man lying in the middle of the street, he would consider that he had suffered an accident, it is reassuring to imagine that you would approach him, try to revive him, take care of calling an ambulance. But if there is something that we are losing in this idiotic metaverse in which the digital bubbles already add us, it is the ability to walk down the street paying attention. We go around avoiding each other, we intuit the presence of someone and something in our brain tells us to avoid our neighbor at the last moment; there are times that we don't, and we collide in the silliest way; we check the cell phone at traffic lights, we chat on the sidewalks; we hold work meetings in the middle of the street; we gesticulate as the deranged used to do; we immerse ourselves in a thousand fantasies thanks to music that leads us to ignore the noise of the street; we think we walk, but no, the only thing we do is take steps without awareness of the space we travel; when we wait for someone we fill the time submerged in that infinite little screen that abducts us. The minutes fly by without hardly being felt and that, paradoxically, seems to us to be an advantage. We are happy to lose the only life we ​​have. We do not distinguish between the concept of intimacy and that of public space: we can shout love and infidelity from the rooftops, airing achievements and grudges as if a bubble were protecting us. As always, the Americans invented it first, long before cell phones existed. I perceived in those years that I lived there that proud individualism in the face of our gregarious culture. But digital life has standardized our behavior. It is telling that the only person who assisted the old photographer Robert was a beggar. A beggar who still retained the ability to observe. He saw that old man lying rigid, and thought: "You are not one of us."
All the culture that goes with you awaits you here.
subscribe
Exclusive content for subscribers
read without limits

elpais.com
George Holan is chief editor at Plainsmen Post and has articles published in many notable publications in the last decade.