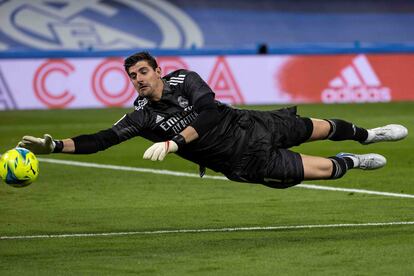 Before Vinicius fulminated Sevilla, Courtois had to appear to avoid greater evils in Madrid. And after the Brazilian's lightning, already in the discount, the Belgian also had to emerge to preserve the triumph of his own. To Delaney's header in 93 he responded down in one of his favorite interventions to mark territory and puff out his chest. As he has come to exclaim about this type of stops: "I am two meters tall and it is not easy to get there. Let them see that it is not easy to score a goal ".
From the first white Courtois, stunned, it has long since passed to one more effective and always ready to vindicate himself, to exhibit self-confidence and, in general, to speak outside the margins of diplomacy. For example, to warn about their absence among the finalists for the award The Best from FIFA. As he dropped, for denouncing that the players are not robots in the face of such an abrasive schedule and that the leaders only worry "about their pockets."
His weight in Madrid, on and off the field, has multiplied exponentially in the last two years, now freed from the competition of Keylor Navas, and thanks to the regularity of his performance. The same in Zidane's restrained team as in Ancelotti's more fertile attacking team, Courtois's reliability, at 29, remains a constant. The duel against Sevilla was perhaps, together with the clash against Inter, when it was most decisive this season. This Wednesday against Athletic (21.00, Movistar LaLiga), he will return to action.
His global numbers this campaign put him very close to his record highs, according to the Opta company. The percentage of stops in all competitions reaches 76%, only half a point below the 19-20, when the Zamora trophy was won, and more than three points higher than last year. Personal figures supported, mainly, in the Champions League, where he leads the table with an 86.36% efficiency. This season, the threat is greater for him, especially in the League, with almost one more shot on target per game than in the previous one (4.05-3.15), however, his response has not suffered. Ancelotti's hug in the center of the field after defeating Sevilla symbolized the hierarchy of the Belgian. Meanwhile, in the intestines of the club, he has long been described as "the best goalkeeper in Madrid from the best Casillas", jumping over Navas, a starter in the three Champions League wins in a row.
"Before, he seemed more introverted and quiet, and now he's a locker room leader. He has settled down and is more mature thanks to his work and, above all, to his great self-confidence ", analyzes former goalkeeper Andrés Palop from the outside. People who are close to him perceive the influence, without him being very aware, that he had his brief coexistence at Chelsea with Petr Cech, "a pleasant, careful and methodical person," they point out.
Best footwork
The Belgian, they point out from their environment, is especially methodical with rest and feeding, beyond the allowed license to eat a sausage frikandel sausage —Typical of his country— with fries when he has them on hand. He does not eat sugar and has had a personal cook at home for a long time. One more member of his circle who, coincidentally, joined in October 2019, a week after his stomach upset due to something that made him feel bad and that forced him to withdraw at the break of the European duel against Bruges, with 0-2 and the whistles Bernabéu pointing at him. He came from a very improvable season, with the lowest percentage of interventions of his career (65.96%), and that afternoon so harsh and disapproving ended up acting as a lever in his career.
Palop continues to see in him his virtues as always – very fast under the sticks despite his great size and a good one on one -, to which he has added in recent times, according to the former Sevilla goalkeeper, the game with his feet and reading of situations when your team attacks. "He measures the distances well with his defense and knows how to attack the balls long. Before he was more static in the goal and was not so aware of interpreting those interior passes. These actions avoid a lot of later work and this is what the big clubs are looking for now: to stop, to play with their feet and to know how to prevent rather than cure ", he explains. The only aspect that could be smoothed out – "put to spin fine", points out Palop – is that, "sometimes, in one on one, he spreads his legs and is beaten a little backwards, and the ball usually surpasses him because he does not it stands firm ".
Since Iker Casillas, his first idol, fell from grace a decade ago, there has not been a less disputed goalkeeper in Madrid who has played more than him. There was a time in the white team in which the goals rotated or the substitute was left blank. Andrey Lunin, however, has played a match in 15 months and Ancelotti has already warned, in general, that he will not "rotate for rotate." After a long period of crisis and internal intrigues for the white goal, Courtois for like the most and also gathers all the blessings from inside and outside.
You can follow EL PAÍS DEPORTES in Facebook and Twitter, or sign up here to receive our weekly newsletter.



elpais.com