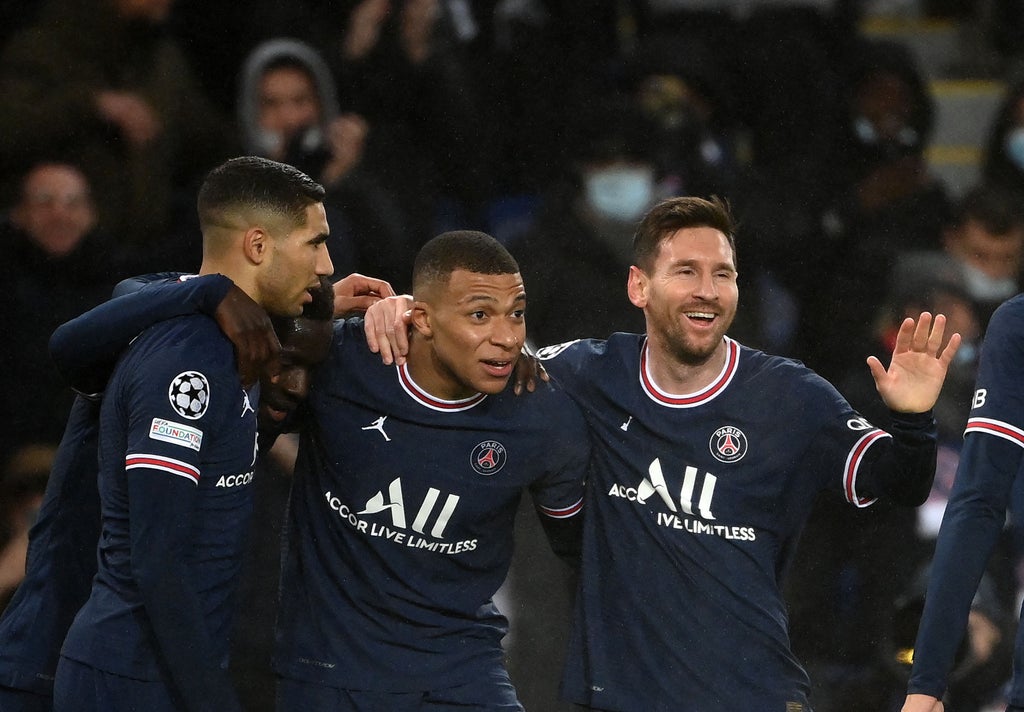 The numbers behind Messi vs Real Madrid
Follow live coverage as Paris Saint-Germain host Real Madrid in a mouth-watering Champions League tie tonight.
PSG face the 13-time winners in the first leg of a round of 16 match on Tuesday at the Parc des Princes with both hoping to put one foot in the quarter-finals with a good result in Paris. Lionel Messi is likely to be key and boasts a superb record against the Spanish giants with 26 goals and 14 assists in 45 games, all for former club Barcelona. Kylian Mbappe will also be a focus with the French star set to be key against the team he is widely expected to join in the summer.
Madrid haven't reached the final since completing a hat trick of European Cups back in 2018. Now coach Carlo Ancelotti travels to face the side he once coached with only one win in the past four matches in all competitions, but confidence remains high despite Karim Benzema being potentially a doubt. "Now we're heading into what is the most beautiful time in football," midfielder Casemiro said. "We want to win everything we can." Follow all the latest updates and analysis here:
1644949966
Real Madrid and PSG's Champions League clash apart from wider power struggle in elite football
There is, most prominently, Kylian Mbappe's pending move between the clubs. Perez will doubtless ask about Mbappe, but Al-Khelaifi might well inquire about Zinedine Zidane. There is a widespread expectation in the game that the French legend will be the next PSG manager, with many thinking it will be as early as this summer, when Paul Pogba will almost certainly arrive on a free.
The midfielder has been a long-time Madrid player target, and the situation could well free another long-time Madrid managerial target, in Mauricio Pochettino.
All of this illustrates how there is arguably more crossover between Madrid and PSG than any two clubs in Europe, as well as a lot of shared and competing interests. Perez and Al-Khelaifi have a much better relationship than many would expect, and have shared advice on how they deal with the challenges of the modern game, but such a crossover is inevitable as they find themselves on either side of the most significant divide in elite football.
Michael Delaney explains the huge battle at the top of the European game:
Karl Matchett15 February 2022 18:32
1644949277
Uefa partnership with cryptocurrency fan token company branded 'incomprehensible'
Uefa's decision to partner with a company selling cryptocurrency fan tokens has been described as "incomprehensible" by Football Supporters Europe.
A day after being praised for giving away tickets to its men's and women's club competition finals, European football's governing body has been heavily criticized over a new agreement with Socios.com.
The sale of fan tokens – which can rise and fall in value – has been criticized as a means of monetizing fan engagement, in a largely unregulated market.
FSE condemned the partnership, which sees Socios.com become Uefa's official fan token partner, and tweeted: "This is an incomprehensible move at a time when football needs protection from crypto-mercenaries.
"Governing bodies have a duty to protect the integrity & sustainability of football & everyone associated with it.
"There are countless ways to properly engage with fans. Encouraging fans to invest in 'fan tokens' isn't one of them. They only serve the interests of those selling them."
Karl Matchett15 February 2022 18:21

www.independent.co.uk