Yevhen Zhuk might have played the war card, but it wasn't worth it. This 51-year-old Ukrainian arrived in Poland five years ago, with his wife and son, from a town near the Donbas region, immersed in a conflict. He didn't even consider asking for international protection: it was so easy to get a work permit in Poland itself, often portrayed as an anti-immigration stronghold, that he didn't even think about it. "The Polish state does not care why I am here, what matters is that I work," he says in a Warsaw cafeteria during a break between delivery and delivery. He works at the Post Office and admits that his migration had "more to do with the standard of living" than with the conflict in his native region.
The first year, he says, was difficult, without knowing the language or the laws well. Four later, he's doing very well. He earns the equivalent of almost 1,800 euros a month (above the average salary in Poland) thanks to his job as a delivery person and two kiosks. Just for the first one, he earns five times more than he would in Ukraine, he calculates. "I know that I would earn more in other EU countries, but Poland was closer and it was easier to come. Besides, I'm old enough to learn another language. And I don't want to suffer again that first year. So I better work here and one day I'll go to Tenerife on vacation, which is my big dream ", he sums up with a laugh.
Zhuk is far from being an exception. Last year Poland was the sixth largest economy in the EU and in need of labor to sustain its growth, the EU country that granted the most residence permits to citizens from outside the bloc: 598,000, almost double that of Germany or Spain, according to data from Eurostat. In more than half a million cases, for work reasons, especially in sectors such as construction or new technologies. And there, Ukrainians are legion (one million in a country of 38 million inhabitants), although Belarusians (with an added political dimension), Georgians, Nepalese, Russians or Armenians, among others, also migrate to the country. Foreigners make up 5% of the country's population, according to a government study.
"They are doing in Poland the jobs that the Poles do in Western Europe," says Aleks Szczerbiak, professor of political science at the University of Sussex and specialist in contemporary Polish politics. "They cover the job gaps generated by belonging to the EU. A Pole can earn much more in other EU capitals for the same work, "he adds. It is a kind of displacement of the work towards the West. In Warsaw, for example, it is easy to see Ukrainians in the same jobs (on the job site, in a cleaning contract or as a stocker in a supermarket) that in Spain, France or Italy it would not be surprising to see a Pole. Also as doctors or in information technology.
Poland, one of the most ethnically and religiously homogeneous European countries, has maintained a tough stance these weeks (supported by the EU) before the thousands of migrants, mostly Kurds, crowded at its border to enter illegally, in a maneuver orchestrated by the Belarusian regime. It is returning hot to the vast majority of those who make it across, which is illegal. Furthermore, in 2015, when the EU established a quota system for the distribution of refugees from that year's crisis, it refused – with Hungary and the Czech Republic – to take its share, just a few thousand. "They were Muslims. And Poland felt that accepting them meant choosing multiculturalism, "adds Szczerbiak.
Join EL PAÍS now to follow all the news and read without limits
Subscribe here
"Huge role"
Dorota Heidrich, professor at the Faculty of Political Science and International Studies at the University of Warsaw, considers that the difference between the attitude of the government led by the ultra-conservative Law and Justice (PiS) towards migrants to whom it facilitates employment contracts and permits of residence – Ukrainians and Belarusians have a similar language and culture – and those whom he returns hot does not only have to do with the former being in a legal situation and the latter trying to sneak in illegally. "Their status as Muslims plays a huge role, it makes them a symbol of the threat. If they were Belarusians, they would already be here ", he assures by phone. Zdzisław Racki, a lawyer specializing in immigration matters, explains that citizens of Ukraine, Belarus, Russia, Georgia and Armenia have a special labor regime that facilitates their hiring. All five are countries with a Christian majority.
Kristina Prykhalko waits for an order at a fast food outlet at the Warsaw East train station. His bicycle is parked outside and he is carrying one of the famous backpacks from the Glovo home delivery company. For her, this is a temporary job (to be able to send money to her family in Ukraine) in a temporary home, a kind of stopover to other EU countries.
He speaks no more Polish than four words to handle orders, nor does he need it. At the age of 19, he studied Information Technology in English. "For this type of study, here you have many universities that accept you. And it is much cheaper than other options that I looked at, such as Spain, France or England. Obtaining the visa is very easy. As for work, I get 25 zlotys (5.3 euros) an hour. In Ukraine I would never win this, "he explains.
Ukrainians totaled 72.6% of the 406,000 work permits last year, according to data from the central statistics office released last May. 97% were not extensions, which shows how widespread the option to come for a few months, save and come back is. The pandemic slowed the increase, but the trend is clear, with 340,000 more permits than in 2015.
The second largest group, with just under 10% of the new work permits, were the citizens of Belarus, another culturally close border country. Most have residence permits of Polish origins. One part also receives a kind of humanitarian visa for the repression of the opposition after last year's elections.
Among the group of Polish origins is Uladzislau Prapushniak, 29, an Uber driver in the capital, where he arrived four years ago. "It was easy to get the green card. It was more or less enough to make a call and show that the name of my ancestors was in a file ".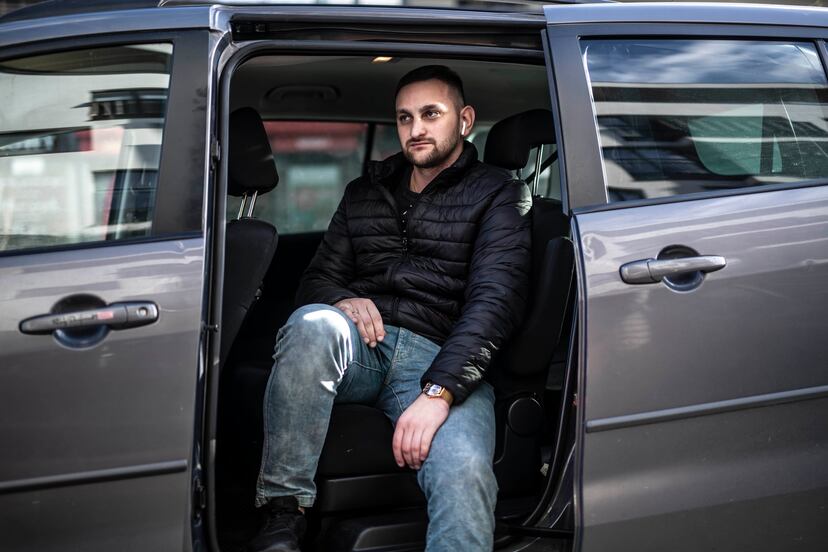 Prapushniak flips through the conversation between the main reason he packed his bags – the financial one – and the political complaint. "I am much better. Here you can progress. The political was only an addition, although it is true that if you hang the white and red flag [la original del país, que usa la oposición] They can put you in jail for as long as they want. I have my family there and I want to go back, but not right now, which is governed by old people and is going downhill ", he points out.
This is not the case with her compatriot Natalia Stsepantsova. She lives in Bialystok, the main city in the northeast of the country, 50 kilometers from Belarus, where she settled 20 years ago, at 28. Her husband had to flee in a hurry due to "a political problem mixed with a business one" and she followed him months later. "There is a kind of solidarity between those who arrived before and those who did after the elections. We support each other and say that everything will be fine, "he says.
Postman Zhuk has to go back to the delivery. But first he wants to talk about his house in Belarus, located in the forest next to a river. He has hired a company to mount photovoltaic panels and thus have free electricity in 10 years, when he retires and returns to his homeland. "Yes," he clarifies, "I trust that then there will be no war." His son, on the other hand, already married to a Polish woman, "will stay here. To 100%".
Follow all the international information at Facebook and Twitter, o en our weekly newsletter.



elpais.com