The Ecuadorian player of Real Valladolid, Gonzalo Plata, has appeared before the media to explain what happened yesterday, when he caused a traffic accident by colliding with a taxi in the early hours of the morning, and later testing positive in the breathalyzer test.
Plata has trained today together with his teammates, who have received him with a corridor of collejas, to then speak at a press conference. Before that, David Espinar, Director of the Club's Presidency Cabinet, spoke, referring to the statement issued by Real Valladolid and talking about three types of punishments: the one that the club will impose on him following its internal regulations, the one that decides Coach Pacheta and sports management, and the one imposed by Justice.
In his first words, Plata has expressed his regret for what happened. "I am very sorry for what happened to me, I thank God that it could have been much worse. I have spoken with the taxi driver and the girl and I have apologized to them. I also want to apologize to the city of Valladolid, to the fans , to the people of my country, to my family and to my mother. I know that many people saw me as an example and after this they see me in a different way, "said the Ecuadorian.
Next, Plata began to answer the questions of the journalists, and detailed how the accident was. "I did not see the car that was coming and being already in front I could not react. Unfortunately I crashed, I hope it is the first and the last time something like this happens. I was scared by my friend when he crashed because it was on his side, and when I went out and asked the other two people how they were I was calmer, they are already recovering"he explained.
The player, who has already spoken with those affected, did not want to find any excuse for what happened. "It has no justification, I know it was a bad act on my part knowing that I had to train. I let myself be carried away at night, it is a betrayal for the people of Valladolid and I want to vindicate myself," said a Plata who, despite this, did not wants to stop its progression. "I came to succeed here and this is not going to stop me, I will continue forward. I understand that the people of the club feel bad, the coach has spoken a lot with me. Doing this is deplorable for me, for the fans that have always shown their support. I guess they must be hurt".
Finally, the Ecuadorian explained how he lived yesterday, and said he knew the possible punishments that the Justice could impose on him. "Yesterday was very intense, I spent the whole day very badly thinking that it could have been more serious. When coming to the club some knew it and some did not. I gave my face in front of the companions, I apologized to them. Some understood me and others know that it was not right. I know I can face jail time. That people are well helps me that the sentence is not very serious, "said the player.
Fran Sánchez: "He deserves a second chance"
After Silver's words, the Ecuadorian left the press room to make way for Real Valladolid's Sports Director, Fran Sánchez, who announced that the player would receive a fine and would not be rescinded. "Plata made a very serious mistake that the club cannot ignore. The player is going to receive a financial sanction. Luckily there has been no personal injury. I want to acknowledge that Plata wanted to sit here and answer the questions," he explained Sanchez.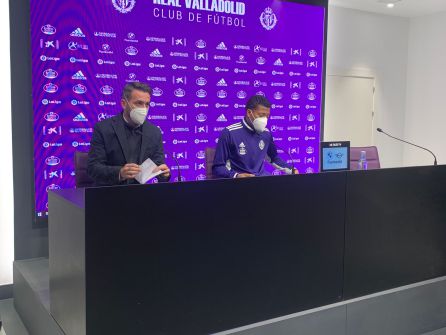 The club manager, despite everything that happened, admitted that he is betting on a second chance for the Ecuadorian. "It is very serious and so we have transferred it to the player. He deserves a second chance, we believe it appropriate. He is giving a good performance, but with talent it is not worth it. He has made a very serious mistake. He is a very young boy who is coming. from a different culture. You have to learn from these things if you want to have a good professional career, "commented Fran.
On whether Plata will be against Oviedo on Sunday, Sánchez has left the decision in the hands of Pacheta. "That he plays is a decision of the coach. We have opened a file on the player to fine him. Pacheta will decide if he plays on Sunday. What has happened is very serious, but he deserves a second chance. Disregarding Silver's services would affect the team and there could be contractual issues. Today he trained with the group and there are two more sessions left. The coach will decide whether to put it on or not".
Sánchez briefly explained the conversation he had with the club's top president, Ronaldo Nazario. "I spoke with Ronaldo yesterday and informed him of what happened. He was concerned and aligned with the club's statement," said Sánchez, who has preferred to leave the reception of the Ecuadorian in the hands of the fans. ""I have only been at the club for a few months, I cannot ask the fans for anything because they have had a bad time lately. I would like them to support all my players because they are very committed and want to win, they want to be promoted to the First Division. Each fan is free to decide your reaction. "
As Silver did before, Fran Sánchez explained in detail how he spent yesterday at the club. "Yesterday he was very sad, I don't know if he was sober when he arrived. Pacheta and I spoke with him and we were very tough. The words did not come out. Some colleagues also spoke and gave him their opinion. He stayed in the locker room crying."
Finally, Sánchez has been asked about the numerous controversies that have occurred in recent months related to night parties, such as a fight between Cristo and Kike. "I am the most responsible for what happens in the sports field. When the event of Kike and Cristo happened, it was also transmitted to them that they represent the club off the pitch. They are children's idols and represent a great club such as Real Valladolid and they have to set an example. I am not going to be at the door of a disco with a submachine gun, I trust that they are responsible and are the first involved in returning to the highest category. They have their private life and they are required to they are responsible and maximum commitment, all are greater for it ", sentenced the Sporting Director.



cadenaser.com