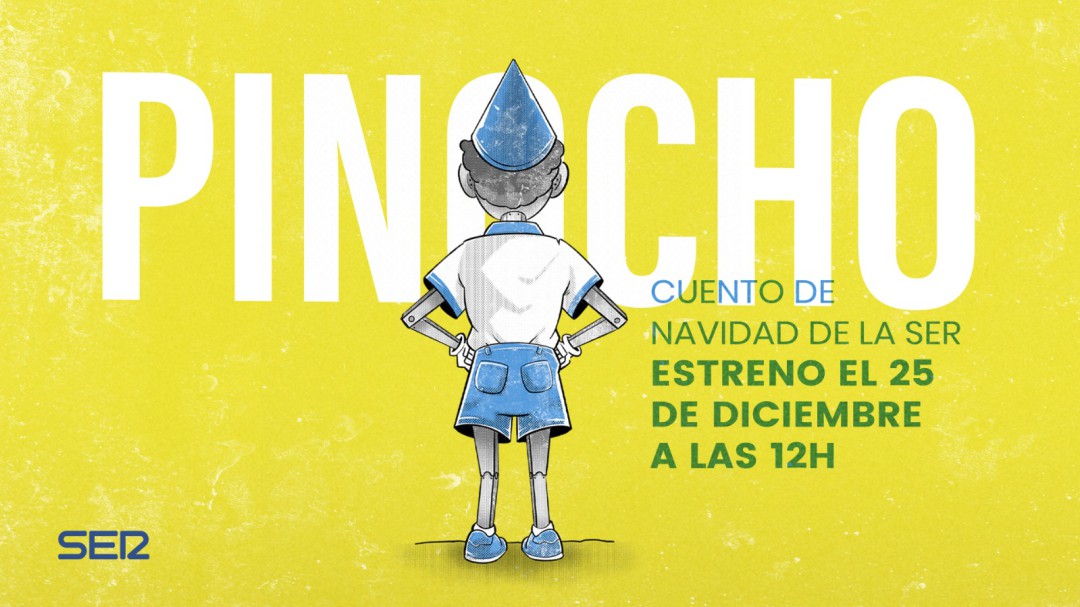 Christmas is a time of traditions, also radiophonic. This year the SER's Christmas Carol returns, which will premiere on December 25 at noon. In 2020, after the worst of the pandemic, the story was a tribute to the elderly with 'Love in times of cholera', by Gabriel García Márquez. This year the SER pays tribute to children, and it does so with the radio adaptation of 'Pinocchio'. Our colleague Ana Alonso, director of this Christmas Story, has come to the Window; Ramón Barea, actor who plays Geppetto, and Antonio Martínez Asensio, director of 'Un libro una hora'.
SER's first Christmas Carol was in 2013, with Charles Dickens. 'Pinocchio' will be the ninth Christmas sound fiction. It is a version by the writer Esther García Llovet, with the sound of Roberto García and directed by Ana Alonso. "I am happy because it is the version of the SER: very different. He has caught the adventures of Pinocchio but a part has been limited so that he has a lot of humor and a look at our time, "he explained. Although it has been fun directing this project, Alonso has admitted the exhaustion that comes with: "I have a great time. Sometimes I come out like I would have been beaten ".
Children to reach children
Although it is a tribute to infants, this story can serve all ages, especially parents, as Alonso has commented: "With the pandemic, the most punished are the elderly and children, and this year it is their turn. It is not childish, and it has various reading levels ". With the aim of reaching children, his participation in the play has been fundamental: "We were afraid to work with children, but Marco Guerrero -a Pinocho actor and only 10 years old- has done very well, especially for his great reading level ". Other participants have been Nathalie Poza as the narrator, Verónica Sánchez as the Pixie fairy. Raúl Pérez, Lander Otaola and Verónica Forqué, among others, collaborate in the story.
A father also adapted
If there is a character that goes hand in hand with Pinocchio, it is Geppetto, played by Ramón Barea. The actor has explained what the character is like in this Christmas Carol: "He is a mixture of many parents and grandparents and is very adapted to his son. The story is a pretext to get closer to a child -or Pinocchio- of today ". The experience of being an actor in a radio play, without visual references, can be a difficult task, although it has not been so difficult for Barea: "We make exaggerated gestures, but you defend yourself. There is an attitude of play that does not matter if they see you or not ". He has admitted that the technicians who were in the studio during the recording were amused by the way the actors gestured. One unknown that runs through this Christmas Carol is how it will reach its target audience, children. Barea has been clear about it: "They are more demanding because they receive many messages. Hearing something that appeals is very difficult, and I think this entry into their world is going to work ".
An ending that no one wanted
Another of the guests at La Ventana has been Antonio Martínez Asensio, director of 'Un libro una hora'. In May 2020 they approached the original work of Carlo Collodi, so he has been able to gather information about it: "We follow the original work to the letter, much darker". This qualifier does not seem exaggerated, because the original ending of 'Pinocchio' was going to be much more tragic: "Pinocchio was going to die, but having so much protest, he had to change it to something much more magical."
One of Pinocchio's own characteristics is, indeed, his nose. Martínez has clarified that it has taken on importance over the years: "In the novel it does not have much importance, but they are one of those myths that remain in the collection forever." Finally, he explained that the doll in the original story was somewhat restless … and something else: "The first time Pepito Grillo comes out, Pinocchio takes a wooden block and kills him. Luckily it is a spirit ".



cadenaser.com
George Holan is chief editor at Plainsmen Post and has articles published in many notable publications in the last decade.