Piedad Bonnett (Amalfi, Colombia, 1951) wrote in 2013 one of the most moving books in Latin American literature, what has no name, an intimate chronicle about the suicide of his son Daniel, a university professor and painter who jumped off a building in New York. "I started giving lectures at mental hospitals, universities and medical schools to talk about schizophrenia. They gave me the label of the lady who writes about her dead son, "says Bonnett sitting in an armchair and with a coffee in front of her.
Five years later, he published Where Nobody Expects Me (2013), the story of a boy who abandons everything to live on the street. It was a formula for Daniel to continue writing, who had once fantasized about becoming homeless to escape from problems.
—Daniel was a tireless worker, I don't know if you know his work.
I've seen it on the internet.
—It's very impressive, he was going to be a great artist, but the disease took away his creativity. Look at these photos I took. This is the entire wall of my house (a dog with a muzzle drawn on a white background). He was a painter of tremendous strength. The dogs symbolized his secrecy, the fear that people would know that he had something. He was hardly noticeable, but when his friends realized that something was wrong, they fled, with good reason.
—In the book about Daniel I am surprised how she achieves an ambiguous writing as a narrator, from inside and from outside. The text is written by a mother, but also by a chronicler, a journalist with poetic language. After all, you are a poet.
All the culture that goes with you awaits you here.
subscribe
—I started writing that book two months after Daniel died. He died in May and I started writing in July. I don't even know what dimension the pain was, but I decided that I wasn't going to do it out of sentimentality or self-pity. Not even since Daniel's exaltation as if he were the most extraordinary being. I decided to investigate a process, a process of knowledge and questions, of asking myself who he was, who I was with him, what that disease was like, what the mistakes were. And with the tremendous slogan that I was not going to allow myself excesses.
Bonnet is back now with the novel What to do with these pieces (2021), the story of a 70-year-old woman trapped in her intimate relationships and surrounded by small samples of daily violence. The author has presented the book at the Hay Festival in Cartagena.
Ask. The reform of the kitchen that the protagonist's husband undertakes without his consent is the trigger for a great confrontation.
Answer. Indeed, my husband decided to remodel the kitchen and we began that adventure that means the paralysis of a house. We went to New York on a trip and when we returned everything was a disaster. That was so, as it appears in the novel. We called to complain to the store that had installed it for us and they told us that the worker who had done it did not work for them. He had done the work for us on his account. Those things happen in Colombia.
P. In the book it reflects a dramatic moment, but it also has a lot of humor.
R. Notice that I have a great sense of humor in real life, but in literature it doesn't come out.
P. I would say yes, it made me laugh a lot.
R. Yes? This happened to us in a pandemic. It was as if a lead roof fell on our heads. She was locked up with my husband. Fear of the other arises, all those horrible things provoked a mood in me. At the same time my parents are getting older, I have both alive. Seeing all that horrible stuff, and my own old age, is what appears in the book.
P. In literature there are not many 70-year-old protagonists like hers. How does life change at that age?
R. When you are 60 you can still say that you are young. When you reach 70 you begin to see that there is something that disintegrates and that is very hard. The body changes you, the relationship with love, everything. I had those songs and suddenly I said I was going to write this. I saw the violence against women in a pandemic that was of great intensity. In addition, all my friends complained about the management of the masculine, who said that their husbands helped but did everything wrong.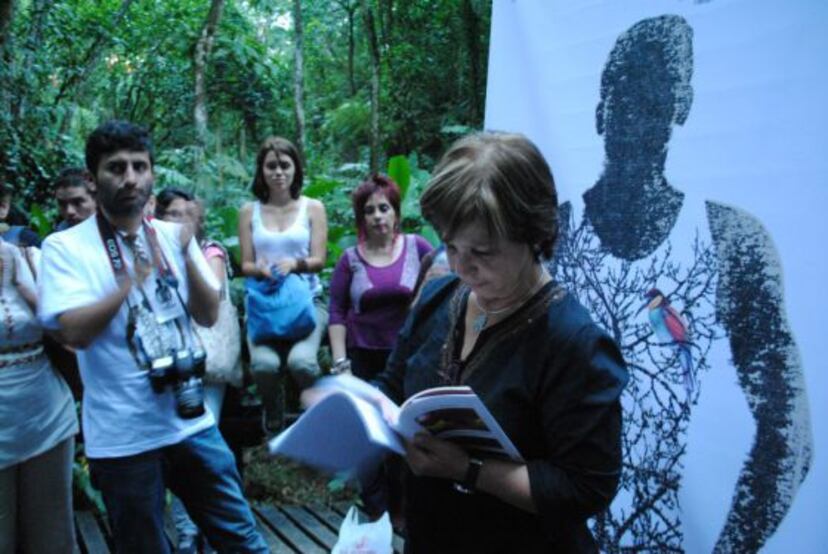 P. Those are the small violences.
R. I decided to talk about all forms of violence, from the most terrifying to those that are least seen, which are the ones that injure us the most. You go to the car shop and if you go with a man, the guy talks to the man. If not, he belittles you and he talks to you in any way. It occurred to me that the kitchen was the trigger, the element that allows everything to come to the surface.
P. The protagonist also experiences another drama, that of her huge library that threatens to colonize her entire apartment.
R. It happens to me too and the reality is that the library is going to bury me. My son Daniel left me a divine library of art, I keep it like a treasure. And I'm a compulsive book buyer. My husband rightly complains that we don't have room. I told myself that he was going to take advantage of the pandemic to fix this. There is a man in Bogotá who passes by the street shouting that he buys books. You can't imagine what this guy causes me, it's an existential anguish.
P. The absence of the domestic worker also erodes the coexistence between the protagonist and her husband.
R. In the pandemic we do without domestic service. We realized the importance of those women. In the running of the bulls we took on the most unusual corners of the house and we began to discover things that we had never seen before. This is a pandemic book, which does not mean a book about the pandemic. I had a hard time writing it. It was a banal subject that I had to write very well so that it would not seem like one of those ladies who write funny novels. The everyday narrated in a daily way loses strength, it has to be done with a language…
P. What type?
R. I like authors like Proust, Nabokov, John Banville, who take care of their prose but are not baroque. They can tend towards a baroque at a certain point, but I don't like that baroque effervescence. I like the thing between poetry and the concrete. Without anything ornamental. I am attracted to people who reflect within the novel, like Proust. As I have been reading for so many years and as I have taught and taught American literature for so many years, I have learned a lot from all those teachers and I am always searching like crazy for literature that catches my attention.
P. What's the last thing that blew your mind?
R. Vivian Gornick fascinated me, it was like an unlikely discovery. I barely discovered Gornick now! It happens to me that I don't read English well and I miss things, if they are not translated. French Leo. Gornick seemed to me… especially that prose. I read a lot of new people at this time of life. I always read two or three books at a time. I read a lot of essay. There is a guy called Didier Eribon, a French sociologist, a student of Bourdieu, who wrote a book called laugh again, about a homosexual who left Reims at the age of 16. Mistreated by his father, by society and from a working-class, low, brutal home, he leaves and becomes an intellectual. And for 30 years he does not see his father or his mother or his brothers again and he is ashamed and hides that he is from a working-class family. He returns to Reims and begins to discover with tremendous courage what that life was like and where that shame comes from. And women, I read contemporary women's literature.
P. Who do you read?
R. To many. I read them, I like them, but I want more. I read his books and say: for the man who buys books. I'm not going to read it a second time.
P. In his book, the feminine is told from different generations.
R. I talked about something very important. In my parents' generation, women were subjugated. In mine I lived through the entire revolution of the 70s, I entered the university in 69. I was influenced by hippies, by people on the left and I became a leftist. He brought an impetus of violent rebellion. However, the affective issue has evolved more slowly than professional life. In addition, paying very high costs. I had an executive husband, who do you think got the kids? To me. I have made many demands on him throughout life, all with infinite rebellion. It has been a factor of permanent conflict because he had been educated for something else. My daughters are another story, I educated them for freedom and self-determination. But I keep seeing things, very buried, like men don't think about food. She thinks, he doesn't. She knows what's in the fridge, he doesn't. There is an innate comfort in men.
P. You are 71 years old, your parents are 95 and 99. What is it like to grow old with living parents?
R. Painful. There is this ambiguous thing, on the one hand you have them and on the other there is that tremendous obligation that you have to make life as good as possible for them. You are always split, between that obligation and your life. It is a very complex thing. One Sunday I would like to write a chapter of a novel, but I think I haven't been to see them for two days and I'm going there. I think that tomorrow they will not be.
Subscribe here to newsletter of EL PAÍS America and receive all the informative keys of the current affairs of the region
Exclusive content for subscribers
read without limits

elpais.com
George Holan is chief editor at Plainsmen Post and has articles published in many notable publications in the last decade.