The philosopher Antonio Escohotado died this Sunday at the age of 80 in Ibiza, EL PAÍS has learned from family sources of the writer. He had moved to the Balearic island months ago to spend his last moments there. Essayist, historian and professor of Philosophy of Law and Sociology at the National University of Distance Education (UNED), where he retired in 2013, Escohotado was popularly known as a regular figure in television programs and gatherings in the eighties, invited usually for his best known work, General history of drugs. He wrote it, for the most part, in a Cuenca jail, where he was imprisoned for two years for drug trafficking. A case that, he pointed out, was due to a trap set by the police. In recent times, his crusade was, however, on horseback of the liberal current, as a staunch critic of the defenders of communism, with whom he had sympathized in his youth. Born in Madrid on July 5, 1941, a translator of thinkers such as Hobbes, Newton or Jefferson, his atypical and provocative speech was characterized by irreverence, in which the most controversial issue was his defense of the legalization of drugs, a matter that he had started studying in the late sixties.
Asked about how he preferred to wait for death, in an interview in the magazine Icon, In 2018, this freethinker declared: "The best thing you can do to make them look good is to have a kit of euthanasia and, when they come badly, a first-aid kit." This Sunday, his Twitter account, run by his son, posted this message after his death: "I rest in peace, wrapped up in my family." His will was to be buried in the Ibiza town of Sant Antoni, Efe reported.
The philosopher and writer Fernando Savater, who has known him for almost sixty years, since the San Sebastian thinker had just arrived at the Faculty of Philosophy, says by phone that "Antonio was always a thinker, a theoretician and in addition to practical repercussions." "Not only drugs, he also worried about fundamental issues such as nature, parent-child relationships …". He remembers from those times that Escohotado, he and others formed "a kind of club of people that we met to reflect; we listened to music, we consumed prohibited substances … Antonio was a seducer, charismatic, and he liked to be liked. It became the center of any gathering. It was unconventional, but, in its own way, it was very rigorous. " For Savater, he is the type of figure in which "the personality is above his work."
A fan of quantum physics, among other areas, Escohotado was also the author of the monumental trilogy The enemies of commerce (2008), in which he addressed consumer society from the French Revolution to the fall of the Berlin Wall and the subsequent disintegration of the Soviet Union. "It is an extraordinary work, of an unusual breadth, a reflection of how certain ideas that are good intentions become a social danger," says Savater.
In his career he published a score of works, such as the collection of writings Facing fear O Sixty weeks in the tropics in which he narrated his adventures of a year in Thailand, Vietnam, Burma and Singapore. A chain smoker, he could almost always be seen engulfed in smoke when he appeared on television. To his credit there were other facets, such as being one of the founders of the famous Amnesia nightclub in Ibiza hippy 1976.
To his great work, General history of drugs, Escohotado dedicated more than two decades to him. In it, he analyzed the consumption of these substances from ancient times, with their religious origin, to the present day. He made several reissues of this title, the final one in 1989. He had begun to collect data in 1964, when he passed a competitive examination at the Bank of Spain and worked at the Official Credit Institute. "I started to work and experiment with the various substances on the market," he said of that time, the time of LSD. His research continued thanks to a new job in Vienna that allowed him to have first-hand information on the subject. His life in Ibiza, in the psychedelic seventies, was also an opportunity to practice in the first person. In his speech he usually included his own relationship with these types of substances, although over the years he admitted that "smaller amounts" had more effect on him. "In order not to have a bad feeling, I must be more and more moderate when consuming them."
Precisely, his statements about his relationship with narcotics led to a search and arrest warrant by an Argentine judge in 1996 for apology for drugs, due to his intervention in a television program in that country, especially for having He told that he had introduced his children to the consumption of some substances, such as mescaline or LSD, when they were 18 years old. Luckily for him, he had already left Argentine soil when he learned of his arrest warrant. On this tricky issue, he believed that young people should above all have good information to act responsibly when faced with drugs.
Dutch model
Among his reasoning, he argued that the high drug consumption figures in Spain were the fault of a "prohibitionist and alarmist" policy, and he considered that this demand was also linked to wealth, the economic development of Spanish society, and the desire for the party, so he preferred the model of the Dutch authorities: "They have taken the healthy measure of convincing the youth with things like coffee-shops, and by opening their hands with hemp they have managed to get young people to listen to the authorities. So there are drugs in the Netherlands, but consumption is lower ".
The writer Fidel Moreno, director of the magazine Hemp, points out that on the question of these substances, Escohotado "put understanding before prejudice, and knew how to eloquently convey it to the media." "In his defense of the right to drugs, he did not speak from intellectual speculation, but he did so from his own experience, a bit like a guinea pig, so that humans could enjoy drugs, instead of suffering them or suffering without them" . Moreno adds that "he lived the life he wanted, in which he did not feel guilty about consumption, he was a brave man, whose way of thinking was dazzling." In short: "A cultivator of wonder aided by chemistry."
Escohotado also spread his ideas through the press, he was a collaborator, among other means, of EL PAÍS, in the eighties, until the mid-nineties. In another record, he was awarded the Espasa de Ensayo prize in 1999 for the work Chaos and order, in which he applied the scientific theory of chaos to various fields, such as political, educational and social. In it he defended the necessary nexus between the sciences and the humanities, artificially separated since the Renaissance, he argued. In that book he also predicted that, thanks to the internet, democracy would undergo a revolution, which would "demand new and more responsibilities from politicians." Politically, his thinking has been questioning the positions of the left for years, in someone who came from that spectrum ("democratic support for socialist solutions has been drastically reduced"). For another of his publications, The spirit of comedy, had won the Anagrama Essay Prize in 1992, while in his work Harlots and wives reviewed the male-female and mother-child relationships.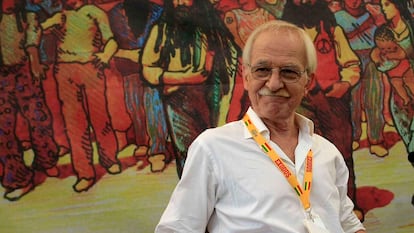 In 2017, thanks to his son, he became interested in social networks, which allowed him to spread his work through them and avoid pirates who were trying to get revenue from his publications. To do this, they created the website La Emboscadura. Always interested in everything that moved in the front line in society, his opinions were on matters as disparate as artificial intelligence, of which he was a defender because it could make human beings more rational and help reduce atavistic impulses such as jealousy. . Or football. He was very fond of Real Madrid and showed, for example, his admiration for Cristiano Ronaldo, whom he considered "a humble and hard-working guy". While with today's youth, Escohotado was very critical: "It is a generation that has not yet cut the umbilical cord and is still in the womb. I'm a little scared with his passivity. I believe that it is invertebrate, spoiled and that its will is residual ", he pointed out in the same interview. For those who want to see, in these times of thoughts in 140 characters, a brushstroke of his personality, there is the phrase that heads his Twitter account: "Dogmatism is preferring prejudice to judgment, legislation to law, accustomed to free examination."

elpais.com