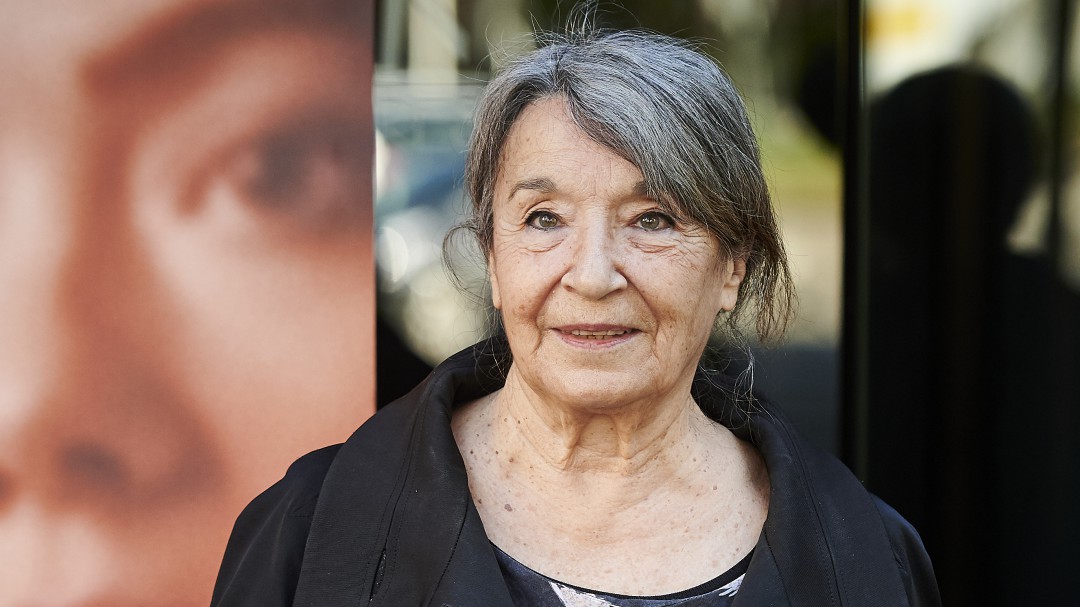 Speaks Petra Martinez with the temperance of someone who believes that everything in his life has been accidental except the family and the theater. As an actress, she carries the syndrome of the impostor and the puppeteer, she thinks that at any moment they are going to take turns. Independent theater has been her school, film and television have been knocking intermittently at her door and she, she confesses, has said 'no' to a few things. "I have so much fun performing, I have such a good time, but it's not my life. My life is my partner, my grandchildren, my house, watching a series of narcos or reading novels, my life is that. I can't call this work either. Many times I have the feeling that someone is going to come and say to me: Petra, it's okay, now to work. It is so difficult for me to think that I have been living from this for 52 years, doing a little what I want in the theater and what I have been offered in the cinema. In English it is to play, to play, and I really like to play, I have a great time ".
Now live a magical moment. His gaze turns bright every time he explains the experience he has entailed 'Life was that', a film by David Martín de los Santos for which he has obtained his first Goya nomination at 77 years old. "I never think about whether or not they give me roles, but I do admit that there is a very hunchbacked age, women of 50 or 60. On television I see very young girls playing roles of women in their forties and many years, and I see very good actresses from 40 who do not or say that there is little work. For people of my age there are few roles ", he explains without pessimism, as he perceives a hopeful change in the new generation of filmmakers that is making its way in Spain.
In the 70s she made her film debut with a couple of small roles, but accustomed to the stage, Petra Martínez did not like having to be aware of marks and signals for camera shots. Since his youth, he had been part of several theatrical groups that, during the dictatorship, managed to carry out some performances. "I have always been a hippie and I have been lucky enough to do independent theater, to move in a very liberal environment. I have lived in the time that they already called 'soft dictatorship', that things were improving in quotation marks, and then I lived to enter democracy ". With the fall of the Franco regime, the new television also became interested in her to enter thousands of homes with one of the most iconic children's series. "People don't remember you either if you don't do something to make them remember, that's why I put the cinema aside. On television I did some Study 1 and I worked in 'Barrio Sésamo' with Gallina Caponata and Pérez Gil. I had a lot of fun there because I was very spontaneous, I was wearing the clothes I was wearing on the street, they didn't make up on me, they didn't comb my hair. When that finished, we took a theater in Vallecas and I stopped thinking about the cinema, "he recalls.
Everything changed in the 90s when new voices emerged that would change the industry, such as Alejandro Amenábar and Mateo Gil. "It was Mateo who called me to do a short film, 'Home invasion.' I told him that I didn't like the movie signs and then he told me that he was going to be sitting all the time. The short liked a lot but I did not have the idea when they gave me a role to think about the projection that I was going to have, I did not have that feeling because it had the theater and also television. Then I have been lucky enough to make films that I really liked with Miguel Albadalejo and with Jaime Rosales, the two did something that was not normal, take an actress who was only known in small sectors and give her a protagonist. And now David Martín de los Santos has arrived and has given me this one. How lucky I have been ", he celebrates by recalling his career, which includes titles such as 'Bad education', 'Sunflower night', 'Loneliness' and 'Petra'.
In 'Life was that' she plays a Spanish woman living in Belgium who, after an encounter in a hospital with a young woman whom she gives life to Anna Castillo, go on a journey of self-discovery. A meeting between two generations of women, those who emigrated in the post-war period and the young women who, after the crisis of 2008 and in the middle of 15-M, went out to seek opportunities in Europe. "I have traveled a lot throughout Europe in the 70s and I have seen economic emigration and also exile. I did theater and went to democratic centers and I have met many people in that situation. What I notice with the emigration of the post-mortem is that they were married couples who were going to improve their lives because in Spain they could not and the women, some worked and others, did not. Those who did not work were more difficult, because of the language, because they did not have friends, these women have been very lonely. The character in the film is alone, even with an independent husband and children, and with the character of Anna Castillo she finds something that gives her life to do something that is not for her but that changes her inner life ", she describes of this adventure intimate and spiritual with which he confesses has connected from a distance.
Bowling through Europe and America with theater groups opened a world for Petra Martínez that many women of her generation have not known. Politically, culturally and also in the very social emancipation of the vestiges of the dictatorship. "For me, women of my generation have been the ones who we have tried, good, bad or regular, to move forward, to be feminists without knowing it, but it has been a very strong fight. It is so difficult to talk about feminism and machismo when we are so involved at the level of language, at the level of action. I'm a macho, I don't want to say no, what happens is that I fight every day to stop being one more and more ".
David Martín de los Santos captures with delicacy and subtlety, with looks, silences and gestures more than with words, the revealing path that the character of Petra Martínez takes to find herself, to look at herself as she had never done after years of loneliness and uprooting . And among his discoveries are eroticism and sexual pleasure that was 'taken away' by the emotional repression of National Catholicism. "It is terrible what has happened to women of my age on a sexual level. The word masturbation was not used, it was believed that it was for young children and men, it was not in our heads that we could masturbate or enjoy a lot. I don't know how to compensate for that because it is impossible, it is such an important part of life that they have not been able to enjoy that many times I think, what a shame that due to political reasons they have not been able to expand in many ways ", concludes the actress. After appearing last year at the Seville Festival, 'La vida era eso' has been screened at numerous festivals and now finally hits theaters with the incentive of the nominations of Petra Martínez for best leading actress and that of the author for best new direction.



cadenaser.com