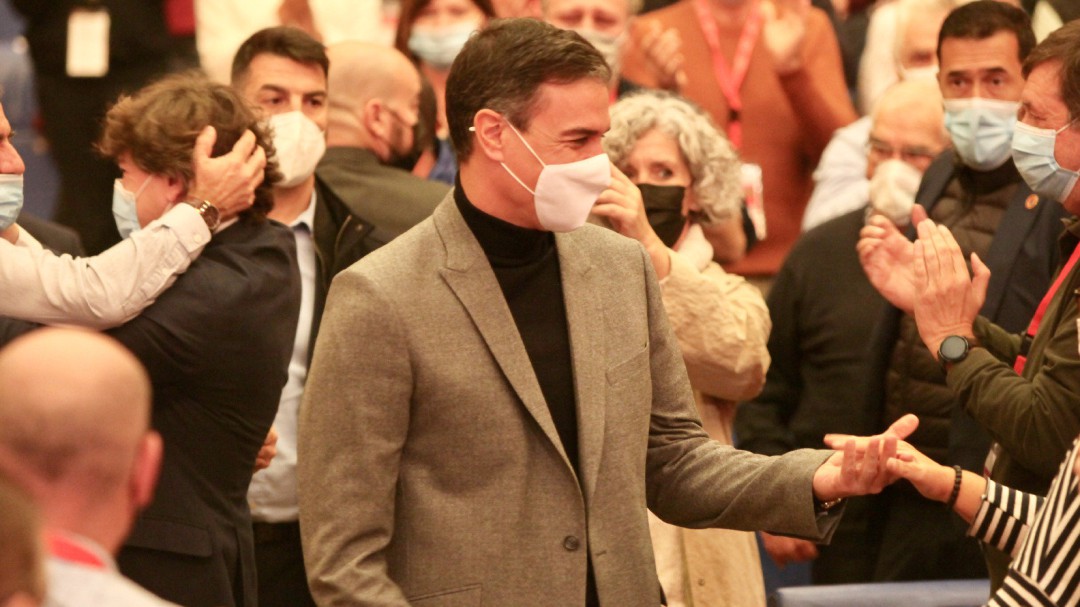 The President of the Government and Secretary General of the PSOE, Pedro Sánchez, affirmed this Sunday in Bilbao that the present of Spain "is written with three words: vaccination, recovery and social progress", and has criticized the "furious" attitude of the opposition , "which says the country is bankrupt."
Sánchez closed the ninth PSE-EE Congress this Sunday in Bilbao, together with the new secretary general of the Basque Socialists, Eneko Andueza.
During his speech, Sánchez highlighted the "lesson" that Spain is giving the world in the fight against the pandemic, by showing that the virus can be fought "with the fundamental weapon of responsibility, with masks and vaccination."
Likewise, he pointed out that the main challenge for Spain is to fight against generational, territorial and women's inequality, and has opted for a "fair" economic recovery led by the Social Democrats.
Sánchez has affirmed that Spain "does not deserve this furious right" that, in his opinion, exists in the State and has criticized that "any misfortune is being used to attack" the Government. After stating that society looks "with more hope to the future than a year ago", he highlighted that 89% of the target population is currently vaccinated with the full schedule and more than 94% of the workers who were in ERTE have been returned to their jobs.
In his opinion, and despite the growth in the accumulated incidence in recent weeks, Spain has "shown the world" that it is possible to fight the virus "responsibly, vaccinating and using the mask."
"Spain does not deserve this furious right"
On the other hand, he has highlighted the contribution of social democracy, a consequence of the fact that citizens want a "different way out of the crisis." "If there is no fair economic recovery, we will not be able to call it recovery," he said, adding that the PSOE governs to "raise the SMI, for gender equality, to protect workers and expand rights and freedoms."
In contrast, it has warned of the attitude of the opposition, which accuses Spain of "being bankrupt" and tries to draw a "sad, gray, bankrupt country without ideas." "Spain does not deserve this furious right, but neither does this furious right deserve Spain," he added.
In addition, he has reiterated his criticism of the opposition, which he has accused of "using any kind of misfortune to attack the socialist government," in reference to the pandemic. He has also valued the agreement reached with the social agents to reform the pension system and has said that unlike the PP that defended a 20% cut to guarantee the system, the current Executive is going to "fill the piggy bank that they emptied" through a small increase in social security contributions. "We give an equitable and effective response to the crisis", he stressed, adding that neoliberalism "chronifies inequalities and problems", as, in his opinion, was seen in the recovery from the 2008 crisis that also had " a lot of corruption. "
Likewise, he has indicated that there is no green or feminist party in the State because the PSOE is already present and has announced that the next Council of Ministers will approve a transfer of 35 million to reinforce teleprotection of victims of sexist violence.



cadenaser.com