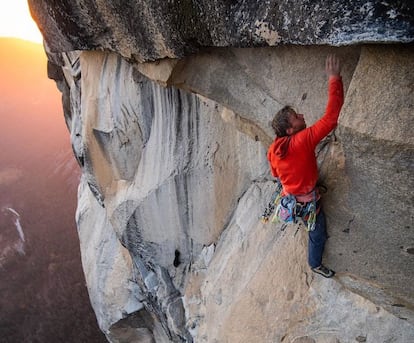 In the mountain world, material and clothing are sacred-looking icons. Perhaps because very few are fortunate enough to discover their first peaks wearing the best crampons or wearing the best windbreaker jacket and the most common thing is to have a bad time due to inadequate or outdated equipment, many aspire to dress as well as their models. If there is an iconic mountain clothing firm, it is the North American Patagonia: it has no clients, but parishioners. It has managed to create a certain brand pride that works: a North American mountain magazine recently collected testimonials of love from various athletes towards their clothes. The same goes for its surf division.
Patagonia extracts rubber from sustainable plantations of the Hevea tree, and when the firm shared the formula with the rest of the manufacturers so that no one would use oil in its preparation, nobody accepted it. When it was not talking about sustainability, responsibility in consumption or caring for the planet, Patagonia already donated 1% of its daily sales to environmental causes. Today, there are hardly any firms that have not included sustainability as a sales pitch. In this sense, Black Friday is the greatest aberration that can exist in the eyes of Patagonia: it represents the orgy of consumption without rhyme or reason. To combat this custom, the brand did not make any reduction in its products and has decided to donate all the proceeds, that is, the appreciable sum of 10 million dollars, five times more than expected.
Patagonia was one of the first detractors of Donald Trump, the former denialist president of the United States who wanted to eliminate obstacles to carbon emissions, cut expenses to prevent ecological disaster or cancel his country's participation in the Paris agreements. The firm's activism caused it to announce Black Friday as the 'fundraising day for the earth'. The message penetrated much deeper than expected and, although it did not include discounts in its offer, it mobilized many customers all over the planet. The company clarified that all the proceeds will be distributed among small groups, often anonymous, that operate on the basis of environmental protection "working on the front line to protect our air, water and soil for future generations."
Mountaineer and surfer Yvon Chouinard founded Patagonia in 1973 by chance. A pioneer in the infinite walls of Yosemite Valley, Chouinard lived in a van equipped with a homemade lathe with which he manufactured and sold rock pythons to climbers. At that time, the 60s of the twentieth century, he lived several meters below the poverty line: the adventure, whether it was climbing, surfing, or kayaking, took almost all his energy. But something changed when he understood that the nails hammering into the rock also destroyed it, and that the arrival of new materials did not make them essential. Then, after he stopped selling pythons, he discovered on a trip to Scotland rugby jerseys, their almost unbreakable fabric, the durability of their materials: he bought several and distributed them among his climbing friends so that they wriggled in granite chimneys and fissures. without finishing the day wearing rags and so that the material that hung from their neck and shoulder did not burn their skin. Soon, the effectiveness of rugby jerseys went viral and Chouinard started importing them: this is how Patagonia was born.
Chouinard would recognize long afterward that it took him 20 years to assume he was a businessman. His company now defends a maxim: buy less, but buy material that lasts over time. Do not accumulate nonsense garments, but have those that work in the mountains or in the water and that have a useful life as long as possible. It's a closing circle: rugby jerseys worked because they lasted and durability will have to be the future of Patagonia… and everyone's.
You can follow EL PAÍS DEPORTES in Facebook and Twitter, or sign up here to receive our weekly newsletter.



elpais.com